A month has flown by; Theerada updates us on her progress and reflects on lessons learned during her first month as a copywriter at The Munro Agency.
How Am I Doing So Far?
Hello everyone! Welcome to the fourth and final edition of A Week in My Life. It's been a month since I started my new role as a copywriter at The Munro Agency. I started blogging about my onboarding journey not only to keep track of what I have learned and progressed as a copywriter but also to reflect on how I have grown as a person.
On the technical side of things, I got introduced to a bunch of digital marketing tools that I probably wouldn't have had a chance to use if I wasn't working here. For example, I now know how to do basic keyword research on Ahrefs, write SEO articles on Surfer SEO, and see site performance (and why and where it goes wrong) on Google Search Console. By now, I would say I know a thing or two about SEO!
Besides that, I'm trying my best to absorb who our clients are and what products or services they offer. Understanding their bottom line is a must because it sets the tone for content creation and development, which can range from blog posts and socials to newsletters and email outreach.
I hope it's obvious enough that, in my previous blog posts, there're actionable tips and useful takeaways that I shared with you, apart from me being very candid about my experience easing into my new role. On that note, I'm doing quite alright; new job nerves can make you feel out of sorts sometimes, but they're temporary and will be gone once you get the hang of it!
ChatGPT + Copywriter = A Content Powerhouse
I couldn't agree more when people say: if you're not using ChatGPT for your content, you're probably falling behind. Using ChatGPT doesn't mean asking it to write the entire article for you (well, you can, but you must edit it anyway). Leveraging it is the key.
I really like the analogy that our founder Rupert drew explaining how we can utilise ChatGPT at The Munro Agency. Not in his exact words, but what Rupert said was along the lines of: think of ChatGPT like a calculator. It has the power to process and do the heavy lifting for you, but you have to give it the right prompts.
That said, after a couple of weeks of playing around with this AI chatbot that is taking the world by storm, I'm going to share with you how I use ChatGPT to assist me in idea generation and content generation for both The Munro Agency ourselves and our clients.
Getting feedback
Since this is in fact my blog post, I decided to ask ChatGPT its thoughts on the previous three. And here's the response.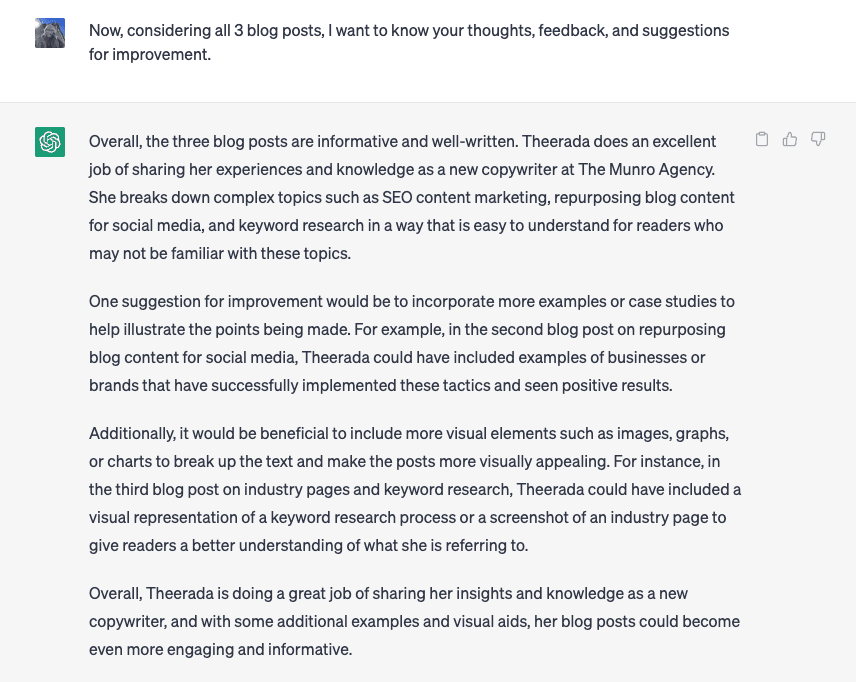 I found ChatGPT quite good in providing constructive feedback. Using my A Week in My Life blog posts as an example, ChatGPT was able to suggest areas for improvement, e.g. adding more visuals and including more specific examples, both of which you will see later on.
Though I preferred this series of blog posts to carry and maintain the same structure, I took ChatGPT's suggestions on board for the next pieces. (To give you a hint, we may have Q&As with the Munro squad in the pipeline!)
Getting examples
Apart from doing my own research to familiarise myself with the clients, I use ChatGPT to come up with different versions of, for instance, definitions, paragraphs, scenarios, or examples of whatever I work on that need clarifying.
To illustrate, we help our SaaS client, who provides employee mentoring software, build and gain topical authority through high-quality content, covering mentoring-related topics such as employee retention, employee engagement, and diversity and inclusion. When I asked ChatGPT to provide examples of the latter, here's the response.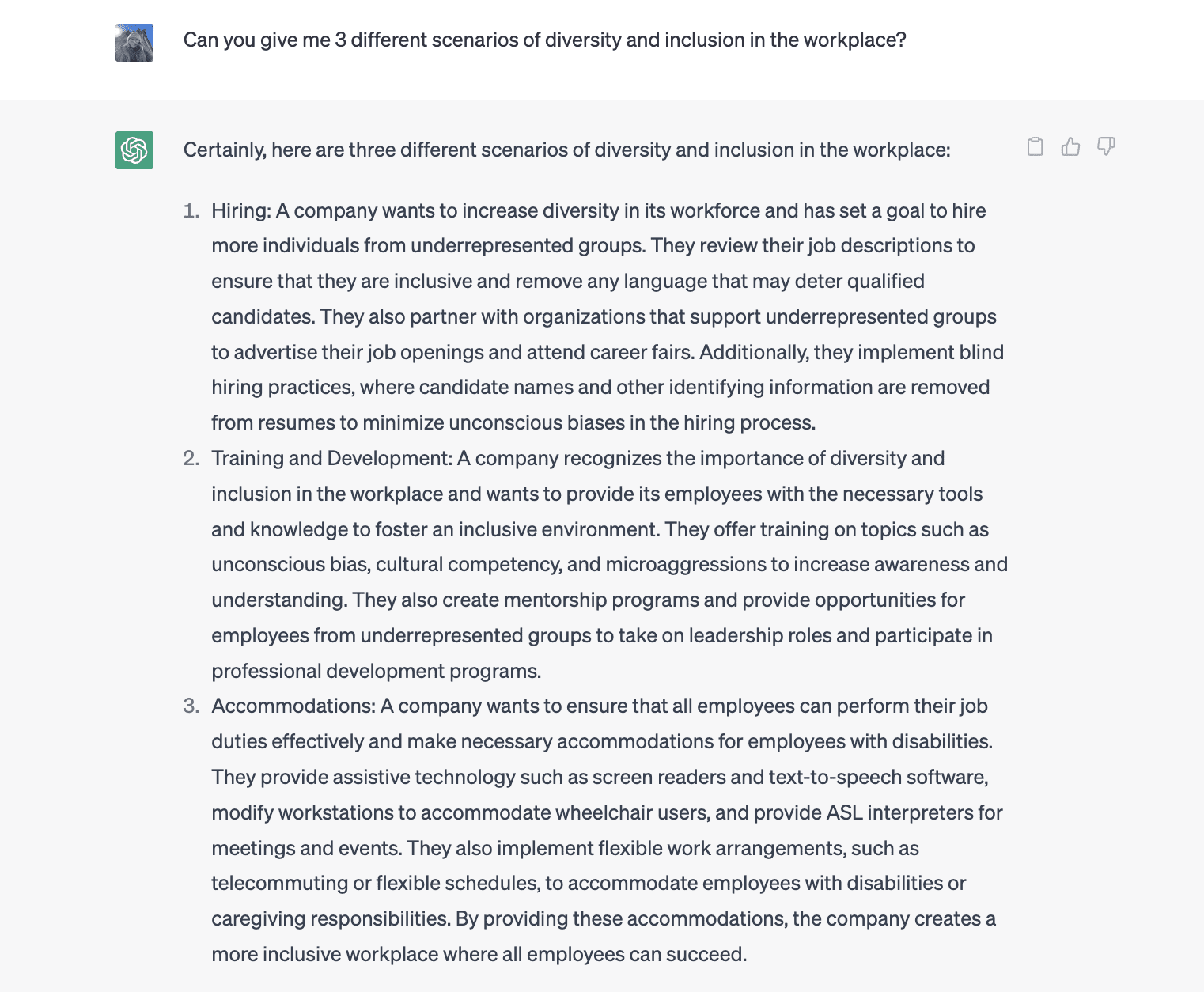 It doesn't sound revolutionary, no, but it helps a lot when you try to really understand something beyond the textbook definition. In this case, it allows me to approach a topic from different angles or use different storytelling techniques.
One thing to be aware of is when you ask for "real-life" examples of scenarios, you need to fact-check the response since ChatGPT, reportedly, tends to hallucinate facts and produce nonexistent references.
Improving personalisation
At The Munro Agency, we do email automation marketing at scale, meaning that we deal with hundreds of rows of data, and it's just impossible to craft a personalised message to every single one of the prospects (well, it technically is, but not such a smart way of using time and resources).
To give you an example, we're running a cold email outreach campaign for one of our clients who has recently launched a social rewards platform. The goal is to recruit online content creators to partner with them and promote the platform.
With over a thousand prospects, I asked ChatGPT to write a short ice-breaking sentence by leveraging data and information, such as name, channel handle, and social media bio. This AI-generated content helps tailor the email content to address the recipient with a hyper-personalised message—for each and every one of them.
For this one, you have to experiment with different prompts and refine them until you get what you want. Once you're satisfied with what comes up using your refined prompts, you can work with your team to integrate them into your spreadsheets and email marketing tools.
Repurposing content
ChatGPT may come in handy when you want to repurpose your blog for social media because, with the right prompts, it can summarise your in-depth blog posts and turn them into bite-sized content.
One example would be how I turned a 6000-word blog post into a 270-word LinkedIn post just below (shout out to Rupert!).
Again, the key here is the right prompts you input to ensure ChatGPT elicits the response (content) that resonates with your brand and your purposes. Though social media content and captions tend to be short, it's your job to fact-check and polish them before posting.
ChatGPT Prompts: Asking the right questions
There's no denying that ChatGPT helps us copywriters and content marketers generate not only ideas but also the entire content itself, of course, to a certain extent. To achieve this, you have to ask the right questions, giving ChatGPT the right prompts to generate responses. Here're some tips I picked up along the way.
Be specific: Don't be afraid to go very specific and detailed when experimenting with ChatGPT prompts. The more specific your prompts are, the better responses you get. For example, instead of asking a generic question like "what is business continuity," try asking a more specific one like "what is the relationship between business continuity and supply chain transparency." (Then, ask for examples!)
Provide context: ChatGPT can generate better responses if you give it context. The way I personally approach this is like asking my friend for advice. I need to provide as much context as possible so they have what they need to consider and give me good advice. For example, if you're after some content ideas for your client, tell ChatGPT who your client is, what they do, and what their goals are. Prompts like "Pretend you're [job title] working for [company]…" work, too.
Think about what you don't want: We ask ChatGPT to give us what we want so much that sometimes we forget to think about what we don't want. ChatGPT's responses can be very repeating and redundant, particularly when it comes to the characteristics and benefits of certain topics or concepts. Characteristics and benefits might be overlapped, but they are certainly not the same thing. One way to make sure you're not getting the same message at the core over and over is to tell ChatGPT just that, i.e. "don't summarise the outline" or "reduce redundancy."
Refine, refine, and refine: I cannot stress this enough. The most important thing is to refine your prompts, refine it again, and refine them again until you get what you really want!
Tools I Use for Writing
You probably know that there're many writing tools out there, free and paid, that writers and copywriters can make use of for various reasons, from grammar- and spell-check to AI-generated outlines and basic copy. I use some of them too. Here're some writing tools I rely on almost every day.
Surfer SEO: Although I was just introduced to Surfer SEO here at The Munro Agency, it's now easily my #1 content editor for SEO-optimised content. I like the ability to add or remove keywords for the main query, making it very easy to plan, write, and optimise the content at the same time.
Grammarly: I always strive for error-free content, and Grammarly helps me through and through. I use Grammarly to check the consistency of the text a lot, whether it's spacing, punctuation, or date and time format. And since we have clients from both the UK and the US, it's important to localise the spelling too, which Grammarly can help format in one click.
Ludwig Guru: For some whose mother tongue isn't English, Ludwig Guru never fails to provide me with contextualised examples of sentences. I find it particularly great for checking collocations; it really does make a difference to see how certain words or phrases are used by native speakers/writers.
What's Next?
And that's how it's done! I keep saying this, but I really learned a lot, and it doesn't stop here. There're many more things for me to learn, try, and probably make some mistakes as a part of my progress. I'm feeling optimistic about my future at and with The Munro Agency and excited to work with and help our clients with my skills and expertise.
Although A Week in My Life has come to its end, you can find me sharing tips, insights, and everything in between on The Munro Agency's Resources. Thank you for joining me on my onboarding journey; bye for now!
What's better than letting ChatGPT do the honour…
As Theerada wraps up her fourth and final edition of A Week in My Life, she reflects on her progress and the lessons learned during her first month as a copywriter at The Munro Agency. As she moves forward, Theerada is excited to continue honing her skills and exploring new ways to improve her craft.