What's Link Building? A Comprehensive Guide
Links are a valuable currency on the web. Websites with more incoming links on their website are considered "authoritative" by Google as it is one of the major ranking factors by search engines. But are websites that don't have any links pointing to them bound for obscurity? Whether you're new to SEO or not, it's crucial to understand how link building for SEO works.
Link building is the process of adding links pointing to your website from other websites. The more websites that are linking to your website, the more traffic you can drive to your website.
Therefore, it is important that you can obtain as many links as possible so that you can boost your site authority and increase referral traffic.
One-way links directed to your website can increase your visibility on search engines. Marketers and business owners employ various link building strategies that increase the amount of website traffic and consequently boost your ranking on search engines.
Importance of a Link Building Strategy
Link building is one of the most important components of search engine optimisation. Search engine crawlers consider the links as votes for your website. The more votes you get, the better your search engine performance. It will help your overall link building strategy in the long run.
As one of the major ranking factors on Google, a solid link building strategy will push your website to the top of the search engine results ranking. But it's not just about the number of links you have. Make sure you focus on acquiring high-quality links.
For example, one website has 100 websites linking back to them. Another website only has 40 links pointing back to them. From this perspective, you would think that a website with 100 links pointing to them have a higher chance of ranking on Google. But more factors are involved than simply the number of backlinks to your site.
Several other factors come into place ranking your website, such as the following:
The trust and authority of the websites pointing to your site.
The optimisation of these websites.
The anchor text for the incoming links.
Therefore, you need a link building strategy to be able to distinguish the best types of links that will add value to your search engine optimisation efforts. Otherwise, you could fall into the trap of spammy link building techniques that end up hurting your website ranking more than it helps.
How Does Link Building Work?
As mentioned above, there is a right and wrong way to generate links to your website. Think about the long-term viability of the websites when you build links to yours. Link building is not just about link popularity.
You must diversify your approach when you try to build links that would boost your search results performance. Even if you have tons of backlinks, they are no good to your SEO efforts if they are from spammy, irrelevant websites.
You can build links using any of the following methods or a combination of them: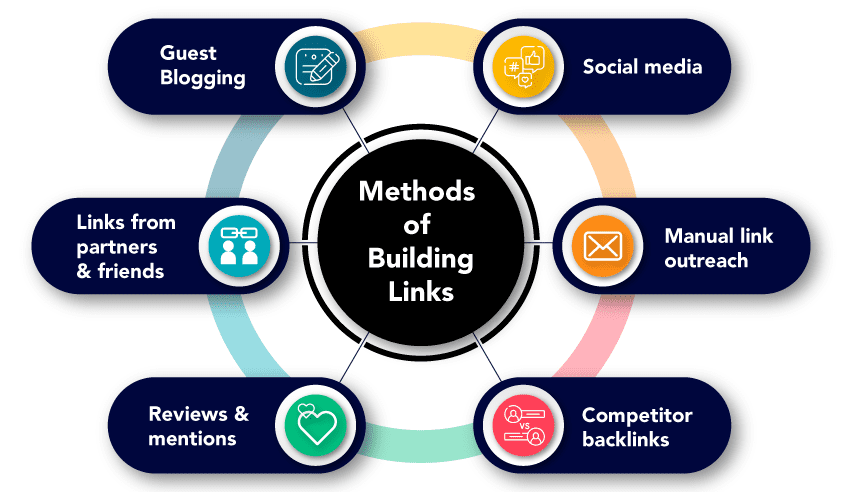 Guest blogging
Reviews and mentions
Links from partners and friends
Social media
Manual link outreach
Competitor backlinks
Later on, you will get a more detailed insight into each of these link building strategies so you can determine how to create the best and most effective plan. While it is important to diversify your link sources, it's important to focus on quality. Make sure that the links are relevant to your industry instead of just getting links that don't give value to your SEO strategy.
How to Find High-Quality Links
It can take a while to build high-quality links. Therefore, you need to focus on quality to make your effort worthwhile and get maximum impact on your search ranking. But you have to remember: shortcuts won't work. You have to be patient. You have to put quality first.
So, how do you recognise the best links to incorporate into your link building strategy? These are the characteristics to focus on in your link building campaign.
Site Authority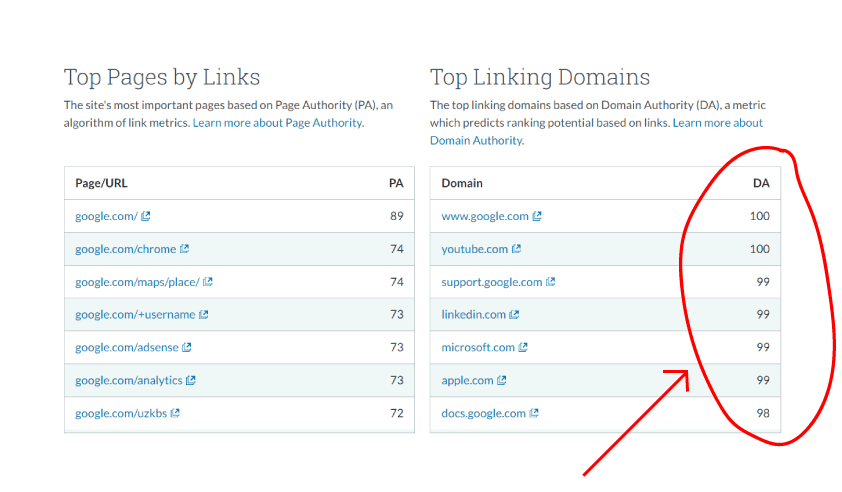 How is the page ranking of the site you are linking to? If they have an excellent page ranking, it's going to have a positive impact on your search results ranking.
Many SEO experts agree that the page authority you are linking to (and are linking back to your site) is more valuable than any other ranking factor. They matter because the authority of that website is passed on to your website, consequently improving your ranking performance.
There are tools available that you can use to check the PageRank of a website. You can use that information to decide if they are a good website to link to or get a backlink from.
Site Relevance
Aside from the page authority and ranking, the site's relevance is also a significant factor.
For example, if you run a website on sports and nutrition, a link from a website about car detailing isn't a good link. Therefore, getting that link might increase the number of links pointing to your website, but it won't add any value.
Some SEO experts even believe site relevance carries more weight than page authority in its impact on your SEO ranking. While that requires more supporting data, it is important to pick websites closely related to your niche or industry to get a link.
Link Position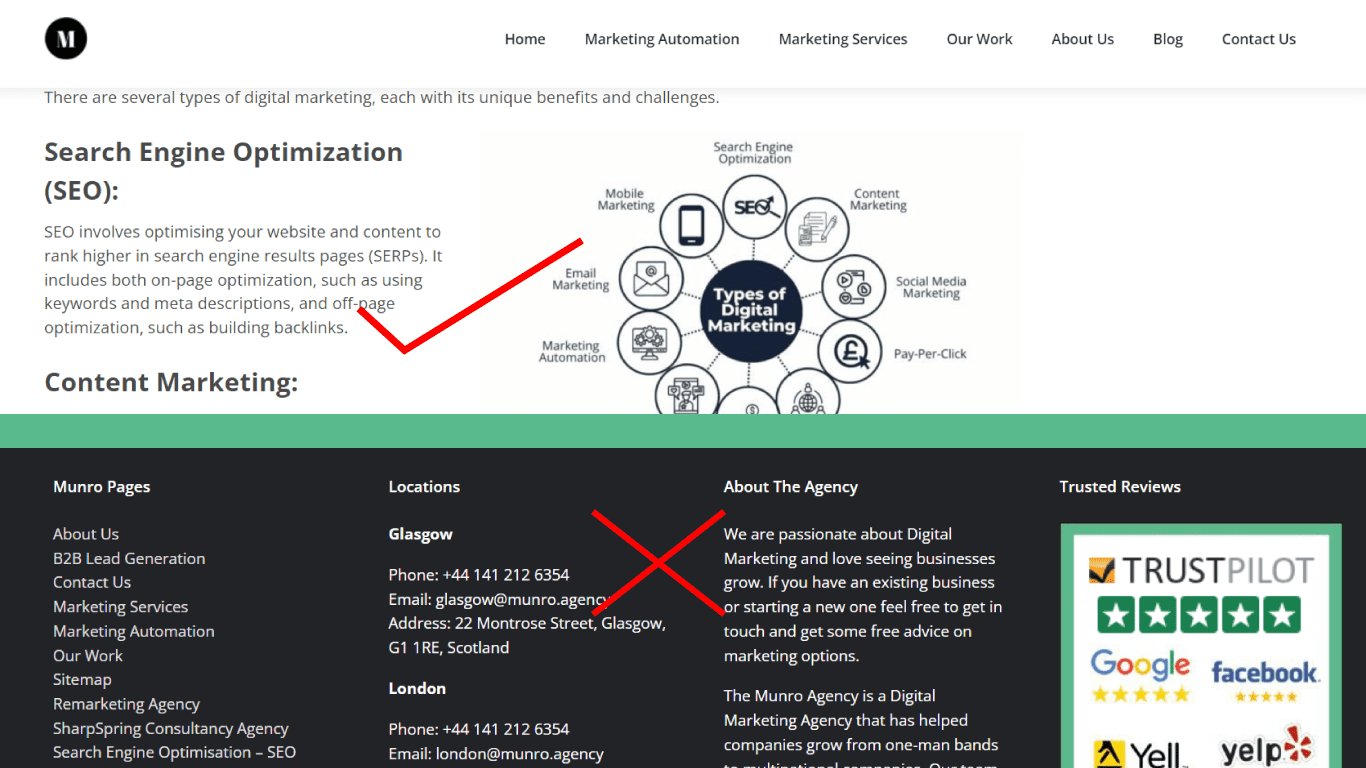 A lesser-known factor in getting high-quality website links is the link position. Where does your link appear on the website?
You can get more juice from the link if it's in the content. Valuable content, such as a blog post or website content, will have more impact on your SEO strategy than a link in the web page's footer.
Therefore, high-quality links are those that appear on the content of the website.
Anchor Text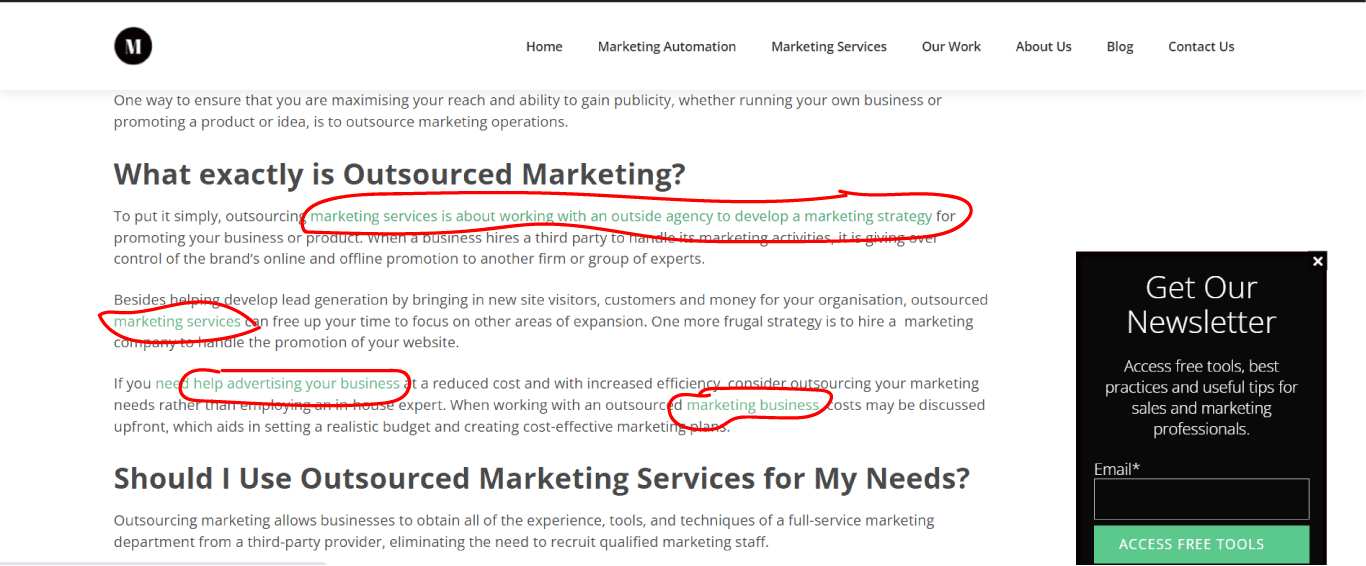 Anchor text is the visible and clickable text on the website. Google also uses the anchor text as an important ranking factor.
Using the same example above, if another website links back to your website using the anchor text "weight loss supplements," it is a good link. But the link must point to the internal page featuring weight loss supplements.
An exact match link to the anchor text is important for SEO ranking. If not, it might be considered a spammy link.
Link Co-Occurrences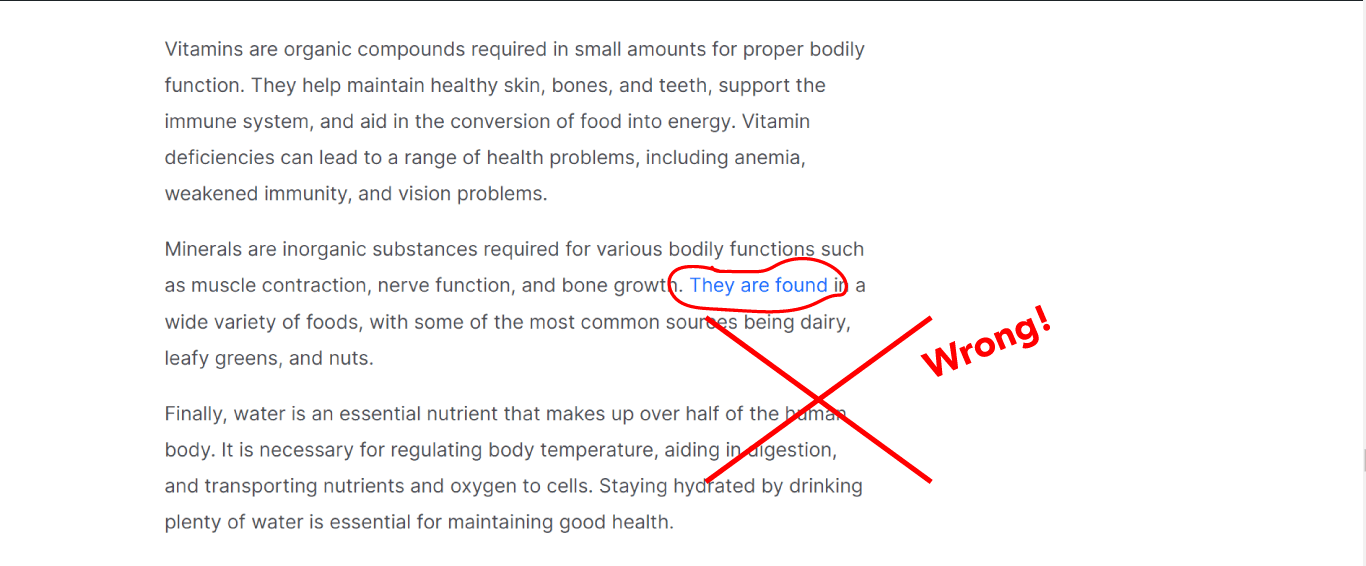 Google is more particular these days about making sure that you only add relevant links for it to be considered helpful to your ranking. Adding a relevant anchor text is often not enough.
One of the most important factors for an effective link building strategy is known as link co-occurrences. It refers to the words or phrases that are present around your link. Google experts like to call them 'baby anchor text'.
For example, if you are getting a link with the anchor text 'weight loss supplements,' there should be other related keywords around your text. Therefore, a good link co-occurrence would feature phrases like diet, health, and nutrition. The keywords and phrases should give a clue as to what the page you are linking to is about.
An Insight into Editorial Links
Is your link editorially placed?
An editorial link is an important factor when acquiring links. It is a type of link when someone adds your link to their website because they believe your link is valuable and you have link-worthy content.
If it was added randomly because they need to add an external link from their website, then it won't impact your SEO efforts.
Non-editorial links are also considered unnatural links by Google. The links are added there, but they don't add value to the content of their website or aren't useful to their readers.
Types of Links
There are several types of links available that you need as part of your link building strategy. Let's take a closer look at each of these link types to know how to use them to your advantage.
1. NoFollow vs DoFollow Links
When talking about acquiring links, there are often two types of links: nofollow and dofollow. So, what's the difference between the two?
NoFollow links are those links that you add to your website, but you don't want to let Google crawl through that link. Therefore, that page won't receive any authority from the backlink. When adding this link to your website (or vice versa), you must add the attribute rel=:"nofollow" to the link code.
You would want to add the NoFollow code to the link for two reasons. The first reason is you want to link back to the site, but you don't endorse that site. Another reason is if the link you added is profitable; for example, if you were paid to add that link to your website via sponsorship or affiliate marketing.
On the other hand, DoFollow links are those links that Google will check for page authority. It can have an impact on your page ranking. You can use the DoFollow link structure if you trust that website, and linking to them would benefit your SEO strategy. Another reason is when you want to help search engine bots understand what the link is about.
2. Natural Links
Natural links are those that are added organically to or from your website. These links are added by the website owner without you asking for that link. It's also important that those links aren't sponsored or added to paid content.
Simply put, natural links are those added based on their value to your content. Therefore, website owners aim to get as many natural links as possible.
It is also an efficient way to promote your blog and boost authority.
3. Links from Users
The third type of link to consider for your link building strategy is user-generated. It isn't the best type of link to acquire for your website. In fact, Google used to impose penalties for this type of link.
User-generated links are those with the intent to promote your work or website. A few examples of this type of link are:
Blog comment links
Profile pages
Press releases
Guest post signatures
Advertisements
Embedded links in widgets or infographics
These links won't necessarily hurt your SEO. However, you don't need to invest time and resources to generate these types of links.
Best Link Building Strategies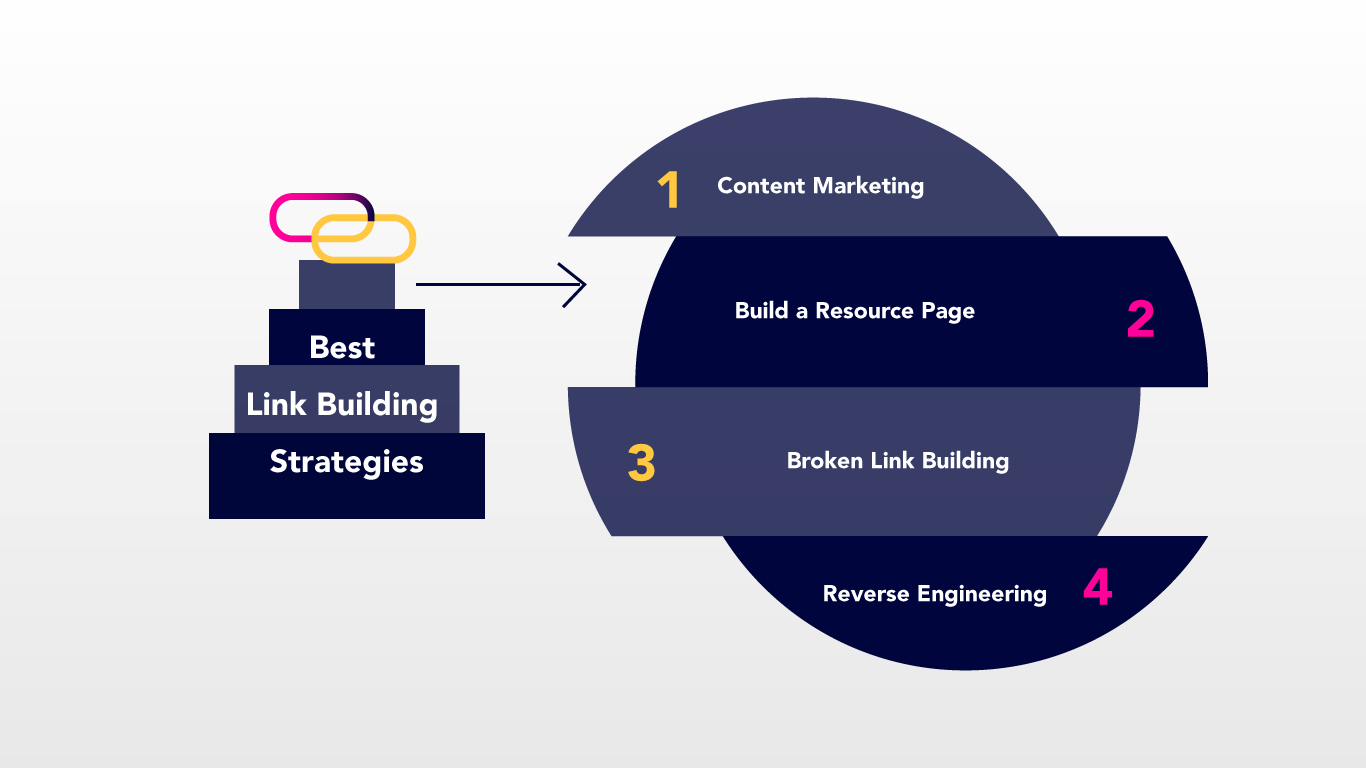 Link building for SEO involves using numerous link building strategies that will push your website to the top of the search engine ranking. Follow these best practices and link building tactics to improve your ranking on Google and other search engines.
1. Content Marketing
As mentioned above, links within your content are more valuable than those placed elsewhere on the page. Content marketing is a great approach to building links to your website.
However, you cannot expect website owners to immediately link back to your site simply because you've added content. The link should be desirable, useful, and easy to share.
What types of content would be ideal for building links?
The first one is visual assets. The best examples of visual assets are infographics, images, charts, and diagrams. They are effective because they can be used as resources for relevant content from other website owners. When the other content marketers use those visual assets as a reference, they can link back to your website as the source.
Another excellent type of content to encourage referral traffic to your website are list posts. This numbered list can be for any topic, technique, strategy, etc. They offer much value to the reader and are easier to digest. Plus, they are more fun to read!
Creating list posts makes your content more shareable and easy to refer to as a valuable resource on the topic. It tells the readers what they can expect from the post and why it's important.
Meanwhile, you can also publish results from an original research study. Again, this type of content can be used as a relevant resource for a post on another website. Whenever someone cites your research, they can link back to your website, and those links can add up quickly.
Finally, you can create link-worthy content through in-depth guides. Long-form blogs are popular for SEO strategy because they provide comprehensive information on a given topic. In-depth guides work in the same way. Google favours them because they are easy to link to and offer readers value.
2. Build a Resource Page
A resource page is another traditional method for building links. It is a great way to give your readers additional resources on a given topic. These are also excellent for building external links and encouraging other websites to bring referral traffic to your website.
If you want to add your links to a resource page, you can perform a quick search on Google. For example, you can input "keyword + helpful resources" and receive a list of websites with a resource page within your chosen niche.
Take time to evaluate each page to see if they are a good authority website to get your links from. Check the page authority and the quality. Is this a good website for your link building strategy? Use the criteria above to determine its relevancy and quality.
If you think it's a good candidate to get a link from, you can write a script to email the website owner. Remember to emphasise why you would fit their resource page well. It's important to personalise your message and not make it seem like you are sending them a scripted template.
3. Broken Link Building
Another excellent link building strategy is broken link building. This method works by researching pages with broken links in them. Broken links can be bad for SEO; therefore, website owners will pay attention if you alert them about any broken links on their websites.
Once they follow up on your initial email, you can establish a relationship with the website owner and pitch in your link or content as a possible replacement for that broken link.
You might not always be guaranteed a link placement using this method. However, the ones you secure for your website will be valuable in your effort to generate links that are high quality.
4. Reverse Engineering
Using a reverse engineering approach is helpful for your link building strategy. This requires much work, but any links generated using this method can benefit your overall strategy.
First off, identify your target keyword. Input that keyword on Google.
Check out the list of websites that are ranked for the keyword used. Grab one link at a time and run it on a backlinks analysis tool. You can see the list of websites that link back to that particular website. The list of websites is likely linkers to your website, so make sure you examine them closely.
You need to check each website thoroughly to see which ones would be a good candidate for adding links to your website. If you find any website that would be good for your link building efforts, find their email address and contact the website owner.
Link Building Tactics to Avoid
Developing a solid link building strategy is important if you want to win over Google and get them to rank your website higher for a relevant query. However, if you are unaware of your link building tactics, you could hurt your efforts and get penalised by Google.
It pays to know about black hat link building tactics, so you can avoid them. Black hat link building tactics negatively impact your site's ranking.
It's easy to spot black hat link building methods: they violate Google's guidelines on link building.
What happens when you are discovered violating Google policies against black hat link building? You can get penalised by dropping your page authority and losing your current ranking. Or worse, your website could be banned by Google.
Below are a few examples of black hat link building tactics to avoid.
1. Buying Links
Buying links is one of the most obvious violations of the Google Webmaster Guidelines. And yet, many website owners willingly violate this guideline.
Paid link building is popular because it brings the website owner immediate results – at first. Over time, when Google discovers those links, you could be penalised for them.
The reason why it doesn't work is that many of these links are unnatural. They do not add real value to the website content they are linking from. Some of these links are even forced because they are inconsistent with the rest of the website content.
You can perform a backlink audit tool if you don't want to be penalised by a website linking to your site. This tool lets you see any irrelevant website linking to your site. You can contact the website owner and ask them to take down your link.
Google does not link paid links because it is a lazy form of link building. It also attempts to manipulate the search engine algorithm to work in your website's favour, which is unfair to other websites that consistently and manually build links.
2. Linking Only to the Homepage
Another common link building practice that can hurt your SEO efforts is linking solely to the homepage. Why is this a bad link building practice?
When you add a link to another website because of the value they offer to your content, you cannot expect to find that relevant information on the homepage alone. It looks unnatural.
Instead, adding a link to internal and individual pages makes more sense because that is where most of the valuable information can be found. As a bonus, this type of linking strategy boosts the conversion!
3. Duplicate Content
Another link building practice that must be avoided at all costs is using duplicate content. Many website owners recycle the same content from their website in another website (through guest blogging) to get backlinks to their website.
However, it's bad for your SEO to have duplicate content. The links you get in return for sharing similar content are not worth the potential penalties for this practice.
If you want to use guest blogging for building links, make sure to provide original content. It's a lot more work on your part, but that's part of link building for SEO.
Key Takeaway
Link building, like other aspects of SEO, requires time and effort to get results. Link building for SEO requires more work than any other SEO strategy, but if you use the right strategies, you will see results over time.
However, it's also important to focus your efforts internally. This means working on your website and producing high-quality content that will make it easier to attract links. It's only a matter of time until other website owners link back to your website, and you can generate organic traffic through those links.