In a span of a few years, social media marketing has developed from a nice-to-have into a must-have component of a strategy for digital marketing. In fact, social media marketing is emerging as one of the top marketing platforms in the new media era. The reason why social media reigns supreme as a marketing platform is obvious – it's where most people spend their time on nowadays.
Below are some crucial statistics that you must think about when developing a social media marketing strategy:
As of 2021, there are nearly 2.8 billion monthly active users on Facebook.
The current global total for social media users is 4.59 billion.
Social media users spend an average of 147 minutes (two hours and 27 minutes) per day on various social channels.
These are compelling statistics that indicate that social media is the best place to go if you want to promote your brand and reach your target audience.
The short answer is that social media marketing is a vital component of your overall strategy. It's a fact: your business and brand need a social media presence for it to thrive and compete.
Whether you have a small local business or a multinational company, you must invest in your social media presence. Social channels are more than just a fad. It's emerging as a crucial marketing platform that enables you to directly communicate with your followers.
It is important to note, however, that social media marketing itself is not enough. It's particularly true if your objective is business growth. Social media platforms provide you with an opportunity to connect with your target customers and build brand awareness. You can also leverage the popularity of social media to increase your leads and sales.
There is so much work involved from building your social media presence to seeing results. It requires a solid content marketing plan that is tied into your social media marketing strategy.
To summarise, here are some of the reasons why you need to boost your social media campaigns :
You can leverage social media to reach your audience and tap into a new market.
You can use social media to build engagement with your target audience, which consequently earns their trust and loyalty.
You can position your brand ahead of your competitors by showcasing your industry knowledge and expertise on social media.
Now that you know what social media can do for your business, the next step is to develop a solid social media marketing strategy. But before you do that, you have to identify your niche and establish goals. Do you want to increase your social media followers? Do you want to generate more leads for your small business? Or do you want to build brand awareness?
Knowing your goals will help you to effectively market your brand and its products or services on your chosen social media networks. It is also crucial information when developing your social media campaigns to achieve better results.
Know Your Target Audience
Knowing your target audience is one of the most important social media marketing tips to keep in mind for small businesses. It plays a key role in how you develop your content for an effective social media presence.
If possible, you have to identify your target audience according to age groups, gender, social class, and other factors. You can even create various segments of your target market and develop your social media content accordingly.
A targeted approach to social media strategy is important for an effective social media strategy so you can get leads and convert those leads. It's how you can make the most impact on your audience and achieve your social media objectives.
You can also utilise the audience data for analytical insights and to inform you on how to build more effective social media strategies for small businesses in the future.
Choose the Right Platforms
There are several social media sites for you to choose from if you want to market your business using this method. And yet, the number of social network sites continues to grow every day.
Small business owners don't need to set up an account for each of these sites. It will be a futile effort because you won't be able to achieve significant results and it would be a waste of your time, resources, and manpower.
The best way to approach this, especially if you run a small business with no designated social media marketing strategist, is to choose only a couple of social media platforms. It's important to start with the tip above – know your target audience – because it will inform you about where your target customers spend the most time.
For example, you are a travel booking company and you want to boost your social media presence. Instagram is one of the best social media marketing platforms for your sector.
Many people post about their travel experiences and share photos and videos with their followers on Instagram. This visual platform is the ideal choice for a travel company since you can attract this kind of audience.
The key takeaway here is that you need to have an understanding of your audience and the channel they use. You have to find a match so you can maximise your social media marketing efforts and target the right audience.
Quality Content
Being on social media is not enough. You have to build a solid content marketing plan for your social media profiles.
For this, you need to build a content calendar. The content calendar will inform you of what your focus will be for creating content on a particular date, holiday, or season. Your goal is to create compelling, catchy and relevant content on social media. A content calendar allows you to plan your social media content based on particular events, such that you can compel your audience to engage with and share your posts.
You can use a variety of approaches for writing your social media content based on your platform. The first strategy is to provide useful content that showcases your industry expertise and knowledge. For example, if you are a skincare brand, you want to create posts that educate your consumers about how to choose the right ingredients for their skin type. You can share instructional videos, infographics, and other engaging content to increase engagement in your posts and make them viral.
Another content idea for your social media marketing is to use visual assets. Videos are highly popular in social media right now since Instagram stories and reels were introduced. You can also share videos on Facebook and Twitter. Social media users prefer video content because they are engaging and easy to digest. You can also invest in high-quality or professional tools, such as a high-end camera to capture compelling photos and videos to use on your social media channels.
If you're not sure how to get started with developing content for your social media, you can perform a competitor analysis. Spend some time checking out what your competitors are doing on their social media. Take pointers on what you can incorporate into your strategy. It does not mean that you have to duplicate what they're doing. Instead, check out what types of content are getting the highest amount of engagement and incorporate that into your strategy, but make it fit your brand and style.
Otherwise, it won't be effective in engaging and converting your audience because it will come as lacking authenticity and inconsistent with your brand.
Building Relationships and Community
Social media is unique from other marketing platforms and channels because it is the only one that enables you to directly interact with your audience. Facebook, for example, has a messaging feature that allows your customers to initiate a conversation with you online and allows you to respond in real-time.
Therefore, you should not lose sight of the most important element of a successful social media marketing strategy: engagement. You cannot expect to succeed in this type of marketing if you over-promote and blast your audience with too much information about your products and services.
Put yourself in your audience's shoes. Think about how you can offer them value so they will earn your trust in return.
If you're a travel booking company, you can offer value to your audience by sharing travel tips to a particular destination. It gives value to your audience because you are giving them useful information they can use if they decide to travel to that particular destination.
You can also create polls and ask them questions on your feed. Focus on engaging with the community and appealing to their emotions. Over time, you will be able to gain their trust and support. But don't expect it to happen overnight. You need to nurture that relationship by engaging regularly.
Reputation Management
Social media is one of the best marketing channels because you can build relationships with your primary audience. However, there will be instances when you encounter negative feedback about your small business. That is the great thing about social media marketing because you can use it to manage the reputation of your business online.
Whether you are dealing with existing or new customers, you have to respond to issues quickly. If there is negative feedback, get in touch with your customer right away and ask them about the issue. Make sure to offer a solution to reverse a negative experience into something positive. You don't want to ruin your efforts just because of one negative feedback. Do your best to remedy the situation instead of ignoring it.
There are several social media platforms to choose from. For a more effective internet marketing strategy, you must utilise a different strategy and approach for each platform. Depending on which major platforms you use, take the time to learn how to build an effective strategy for these different social media platforms.
Facebook Marketing Tips & Strategy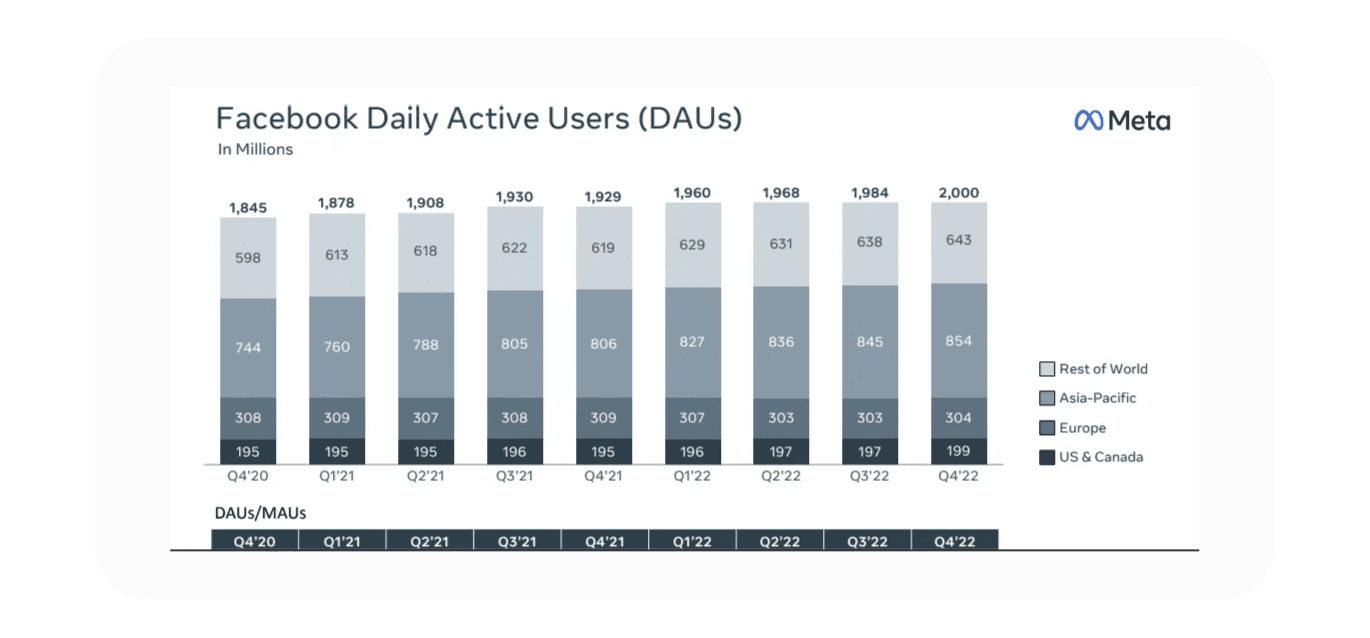 Facebook is still the number one social media platform for digital marketing. The number of daily active Facebook users continues to grow, which means it remains the number one choice for brands and businesses to achieve maximum visibility online.
Once you set up your Facebook page, you need to implement the following social media marketing tips to optimise your social media efforts. We've already tackled the importance of setting goals and knowing your target audience. Therefore, we'd skip that part and move right ahead to the marketing strategies that will help ensure success.
1. Pick the Best Time to Post
Facebook is a popular social site. However, you must plan when to post content to maximise the reach of your posts. There are automated tools that provide you insight into the best times to post on Facebook according to your niche and target demographics. There are no hard and fast rules here, but according to a study from Buffer, it is during weekdays and Saturdays from 1 PM to 3 PM. Engagement rates are higher on Thursdays and Fridays (up to 18% higher).
2. Schedule Your Content
Once you identify the best times to post on Facebook, schedule social media posts to publish on your feed at these times. You can go directly to Facebook Meta Suite to schedule posts a few days or weeks ahead. This will ensure that you have a steady stream of posts that are optimised for the best times. It makes it easier to manage your posts and maintain higher engagement on your Facebook page.
Keep your content planning flexible so you can also post according to top social media trends and trending hashtags.
3. Post Facebook Ads
Facebook advertising is one of the best tools available for business owners and brands to reach a wider audience on this social platform. You must identify the specific demographics for your target audience to ensure that you can generate more leads and boost conversion rates. Using Facebook ads also work for retargeting your audience, or those who already like your page.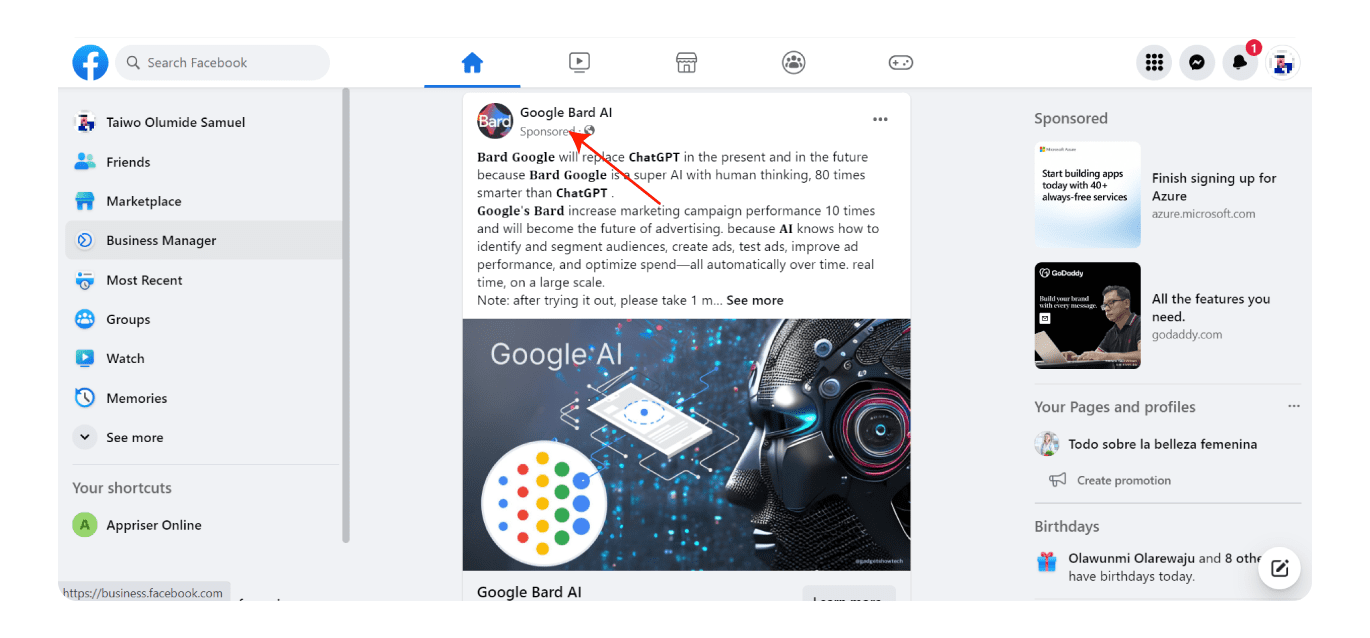 Do note that paying for social media advertising does not guarantee that you will get more followers, engagement, or sales. You have to build a solid Facebook advertising strategy so you can target the right people.
4. Promote Employee Advocacy
Do you have employees for your company? They can be the major advocates for your business. Research indicates that people are more likely to engage with a Facebook page if their employees share information about the company on social media.
Employees are one of the invaluable assets of your company. Convert them into brand ambassadors and encourage authentic engagement on your page. It also reflects your company culture when your employees advocate for your brand.
5. Analyse Results and Refine Strategy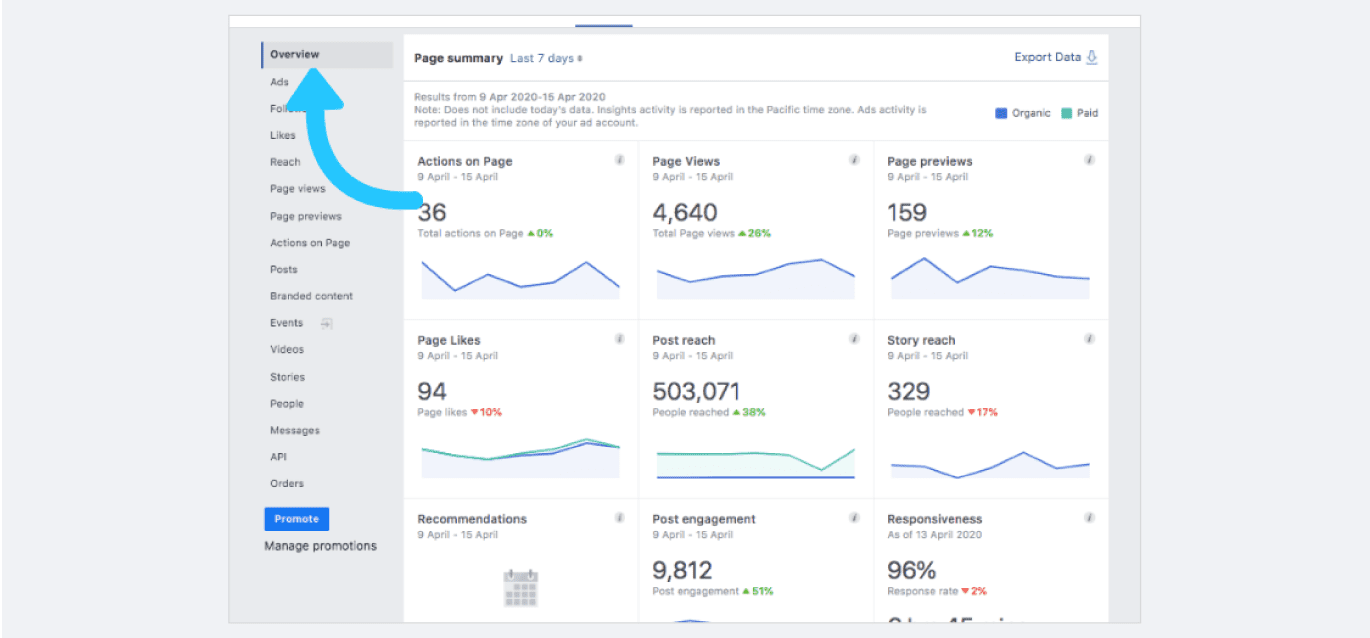 Keep track of and monitor any results from your existing Facebook strategy. You must identify important metrics to keep an eye on so you know if your current marketing strategy is working. It will also enable you to pinpoint any areas to improve on for better results. Some of the key metrics that you have to focus on are page impressions, engagement, and fan growth.
It would be a good idea to compare your results with industry standards to ensure that you are on the right track.
Instagram Marketing Tips & Strategy
Excel in your social media strategy on Instagram by incorporating these tips:
1. Use the Link in Bio Tool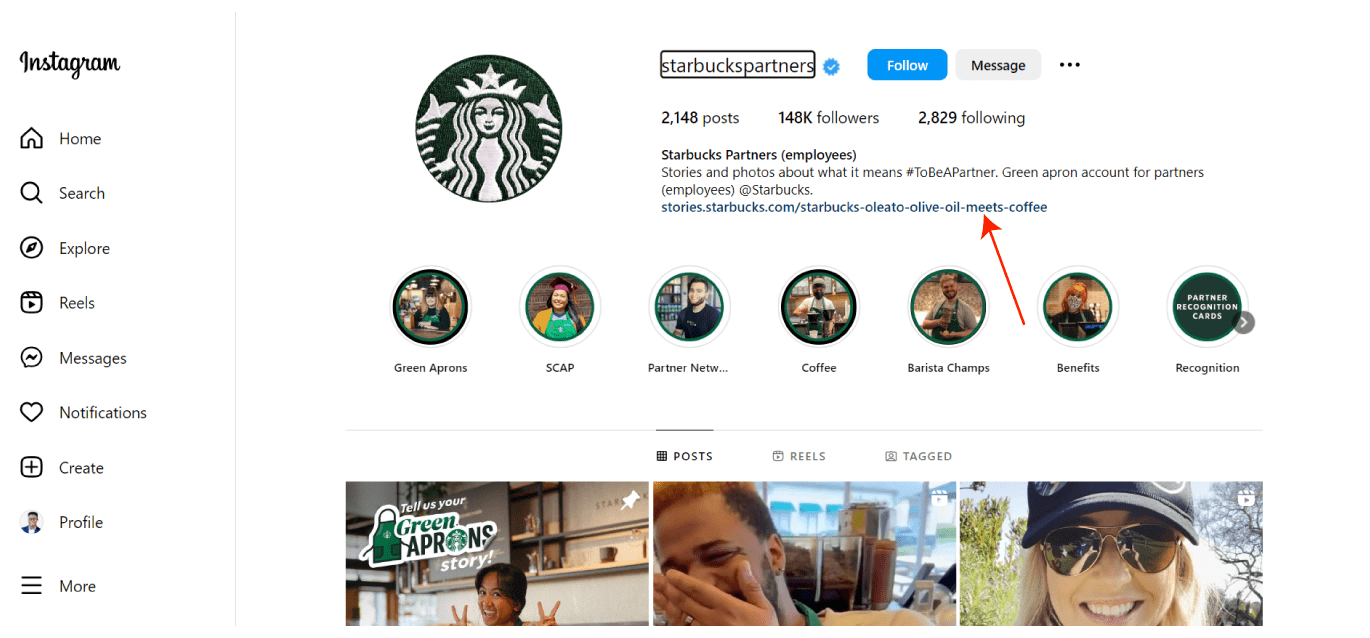 Instagram marketers have the objective of increasing website traffic and boosting sales. The Link in Bio tool is one of the tools that small businesses can use to achieve that objective.
What is the Link in Bio tool? It's a mini webpage that Instagram users can click on when they visit your business profile, which displays a link to your company page, a specific blog post, and your shop. You can use Linktree to showcase more links. This tool makes it easy for users to click and shop when you post content on your feed. It's like a shoppable version of your Instagram feed!
2. Identify Content Pillars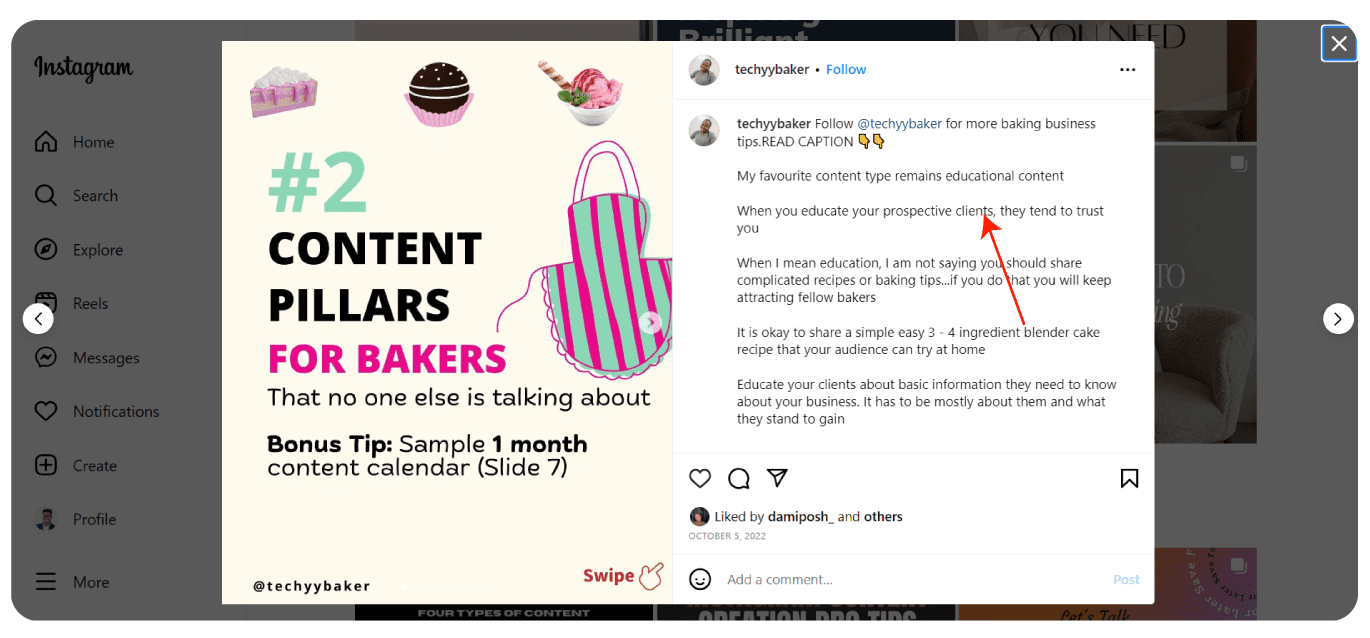 Differentiation is a crucial part of a successful Instagram and social media marketing. Therefore, pick three to five topics that you'll focus on with your social media content, also known as content pillars.
Content pillars are useful in many ways. You can use them to identify your niche and audience. It also makes content planning easier because you can tap into these topic ideas. You can also leverage it for Instagram algorithms to assign your account and posts to the right niche.
3. Post Instagram Reels

To excel on Instagram, make posting on Reels a habit. Since Instagram launched Reels, content creators jumped on this trend to generate higher engagement, more views, and build communities. It's also a surefire way to generate buzz about your content.
Several ideas are available for creating your Reels content, such as a how-to video, product demo, behind-the-scenes footage, and before & after clips. Customise your Reels content according to your niche and the products you have to showcase.
You don't need to be a video expert to create Reels that will capture your audience's attention.
4. Focus on Visual Assets

Aside from Reels, memes and other shareable graphics are one of the most popular content types on Instagram. You can use funny memes or inspirational ones – it's up to you. Refer to the Content Pillars for ideas on how you can make compelling content that your audience wants to see on your feed.
5. Post Instagram Stories – And Do it Often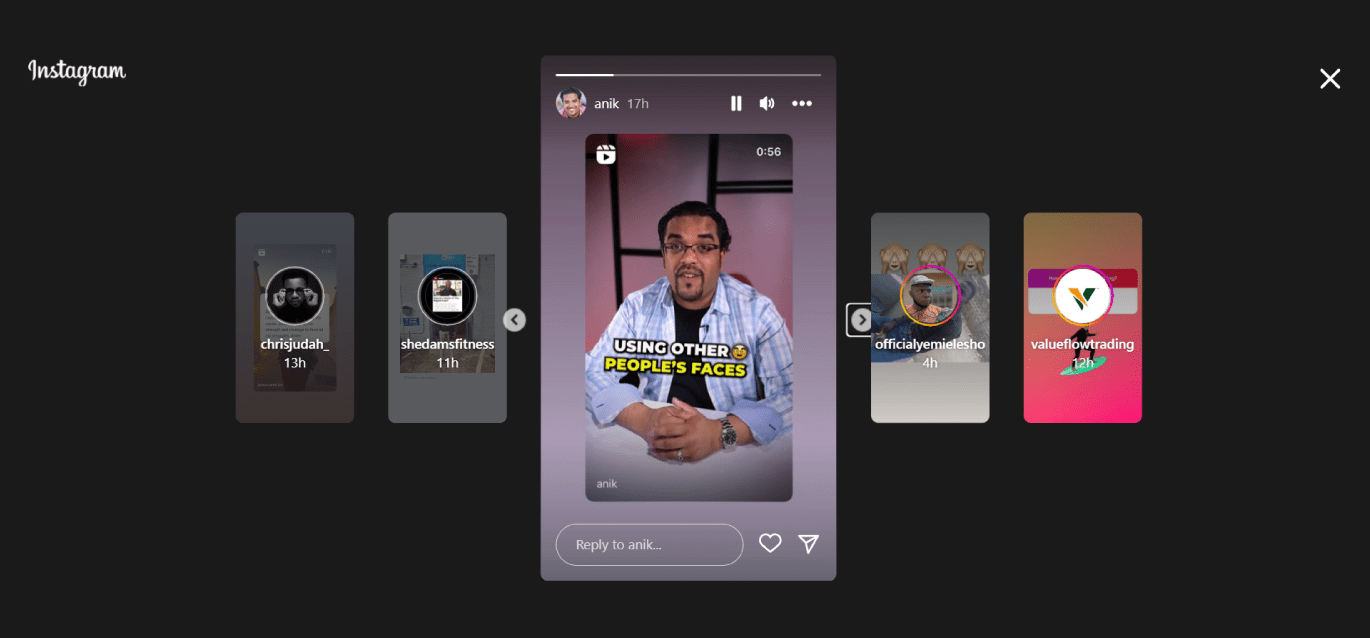 Instagram stories are a great way to build a connection with your audience and encourage engagement. Ideally, you should post at least one story per day to keep your followers engaged.
Posting a story is one of the ways to stay on top of your customers' minds. It is a fun and interactive way to remind them about your business and gain some insights into your products or services.
Twitter Marketing Tips & Strategy
Twitter remains one of the top social media channels for marketing because it has over 397 million active users. It's also the social channel that introduced the concept of hashtags. This social media platform is a great way for engaging your audience because you can set up threads and keep the conversation going.
The secret to making the most out of your Twitter account is to interact with your audience and keep an eye on the trending hashtags to join conversations.
1. Establish Your Brand Voice
Twitter is home to many businesses using it for promotion. You must establish your brand voice on Twitter that is consistent with your branding.
For example, these are the best examples of brands that use humour on Twitter. Post content that fits your brand personality.
2. Automate Twitter Posting
Like Facebook and Instagram, you have to identify the best posting times to maximise your reach for each tweet. Once you understand what time is best to post on Twitter, use automation tools to schedule content to your Twitter feed at the ideal times.
Automation tools help plan your content so you can formulate posts that will be relevant to the holiday and target specific hashtags that are popular.
3. Get Verified
Twitter is a popular social media platform. Therefore, it's not uncommon to find poser accounts on the platform.
Make sure your brand profile is verified (the blue tick next to your Twitter handle). A verified Twitter account means that your profile is trustworthy and that it has been authenticated by Twitter.
4. Join Twitter Chats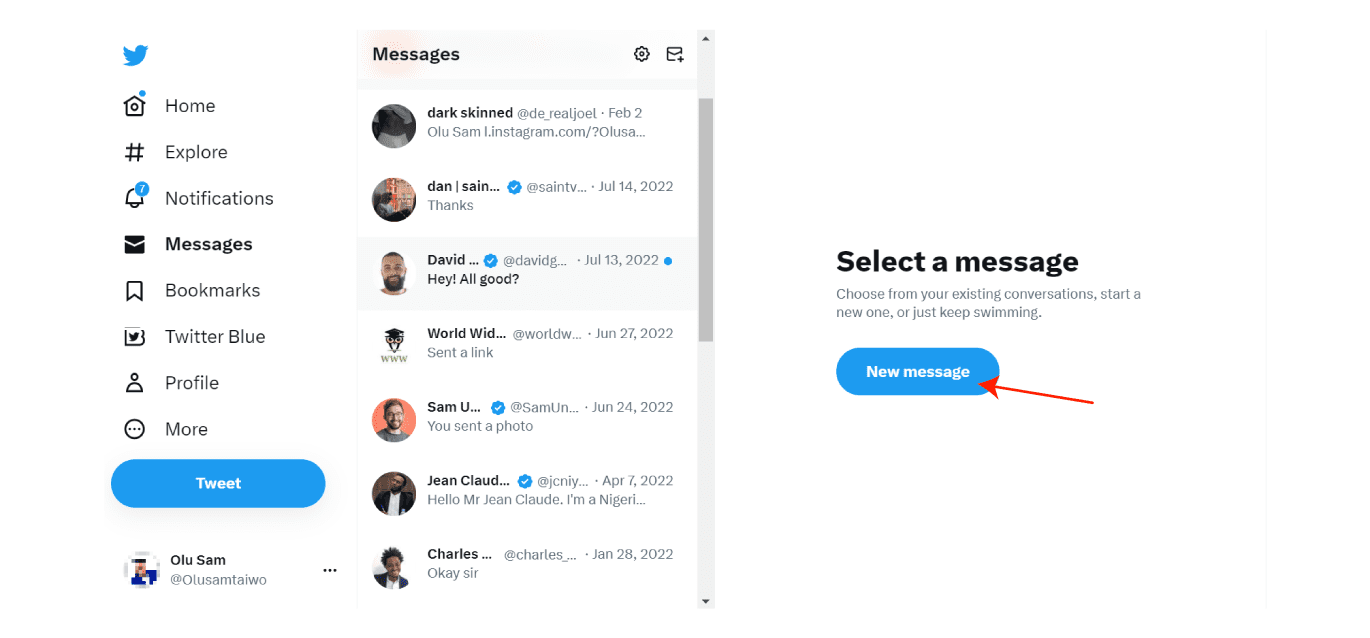 Success with marketing through Twitter is all about engagement. Find or start Twitter chats around a relevant topic to your niche. Get as many Twitter users involved as possible. You can leverage reach for your brand by engaging in these Twitter conversations. This technique will help you get more organic tweets, replies, and retweets on your profile.
5. Track Analytics
Check your analytics data on Twitter. You can access this data from your Twitter dashboard or using other Twitter analytics tools. Focus on data such as your audience, popular tweets, retweets, and activity summary. This information will provide actionable insights to identify your focus in building future posts.
LinkedIn Marketing Tips & Strategy
LinkedIn is unique from other social media channels. It is a social network site for professionals, small businesses, and entrepreneurs. Therefore, it requires a different approach from other social media sites listed here.
1. Find targeted connections.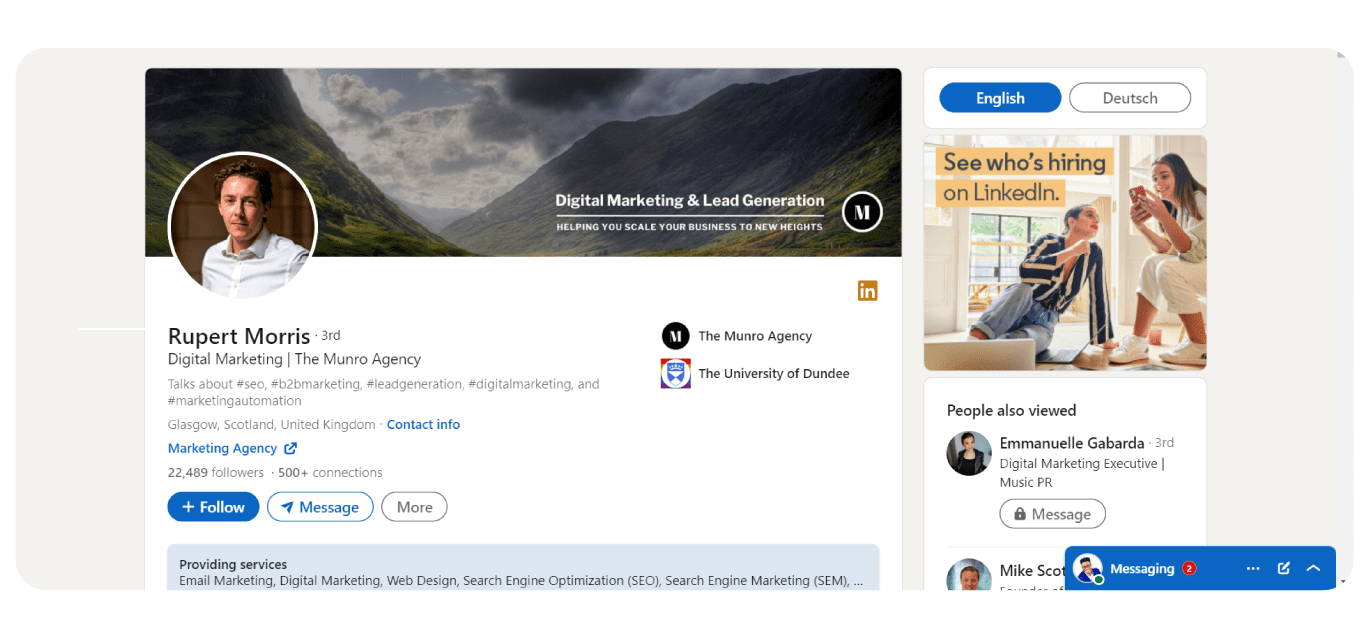 Targeting is one of the secrets to success with LinkedIn social media marketing. You can connect with small businesses, business owners, and professionals within your industry to build your professional network. You can also use other targeting criteria, such as your job role and company size.
For example, you can choose to connect with businesses in the US that have 100 or fewer employees. Or you can connect with marketing managers in the retail or e-commerce industry. Spending time to target your connections can help you succeed in using this platform to promote your brand or business.
2. Stay On your audience's radar.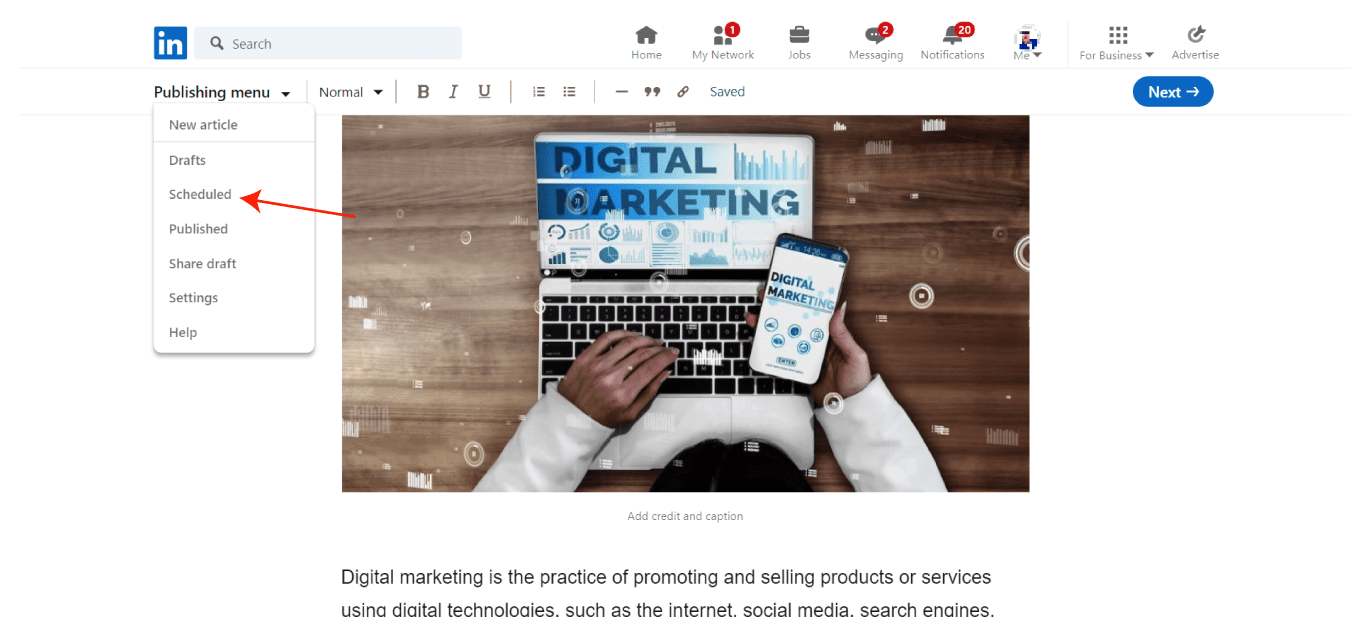 Once you find those connections, your goal is to put your business' name in front of your network. Posting consistently on your LinkedIn feed is the trick to doing this. Share other relevant news and blog posts in your industry.
If you have events like webinars, you can invite the people in your network. You can also post clips from your webinar and other industry-related events to your page after the event.
Stay patient with this approach and you can leverage it to generate more leads for your business.
3. Build your email list.
Your LinkedIn marketing strategy can also involve gathering email leads to grow your subscriber list. Email marketing is one of the best ways to nurture your leads and increase conversion.
Once you have established a relationship with the people in your LinkedIn network, you can send them a link to your email signup. When you ask them to join your email list, think about reciprocity. Make sure to offer them something to encourage them to sign up.
4. Make your employees shine.
Small business owners must take advantage of their employees on LinkedIn to add credibility and gain the trust of the people in their network. Your employees are the best advocates for your brand. Get your employees to sign up to LinkedIn and add them as your professional connections. Your employees provide prospects with an insight into your company culture; remind them about your brand initiatives and make sure their LinkedIn profile is consistent with that.
5. Avoid hard selling.
Hard selling is a no-no in social media. While you focus on building your followers count or the growth of your network, make sure building relationships is your priority.
You have to connect with fellow professionals first before they can be your customers, prospects, and strategic or referral partners.
TikTok Marketing Tips & Strategy
TikTok is a social media network that recently exploded in popularity. It is a video-based platform wherein content creators can share short or long video clips. TikTok has over 800 million monthly active users with an average viewing time of 52 minutes.
TikTok isn't just for teens, though. Big brands, influencers, and marketers are also using TikTok for marketing purposes. Use these strategies to make the most of TikTok for social media marketing.
1. Create Valuable Content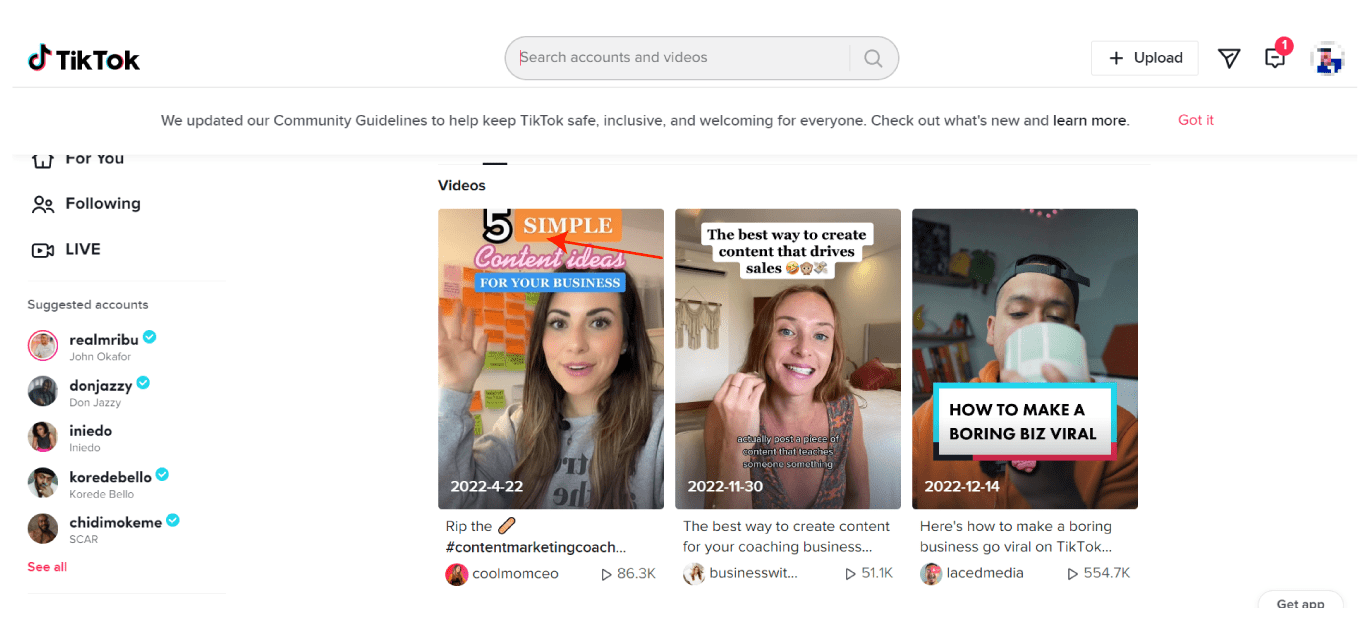 Your content on TikTok is the heart and soul of your marketing strategy. Most content creators will focus on how to create interesting content but that isn't enough. Make sure it offers value to your audience. You can achieve this by posting educational content about your industry. For example, an organic food brand can create content on the benefits of a plant-based diet or share plant-based recipes featuring their products.
You can also use your TikTok content to share your brand story. Is your brand supporting an important cause, such as fundraising for cancer research? Talk about your current efforts to help this cause and encourage your followers to support the same cause.
The most successful TikTok content can either inspire, make your audience laugh, or encourage them. To sum it up, you must elicit an emotional reaction.
2. Utilise user-generated content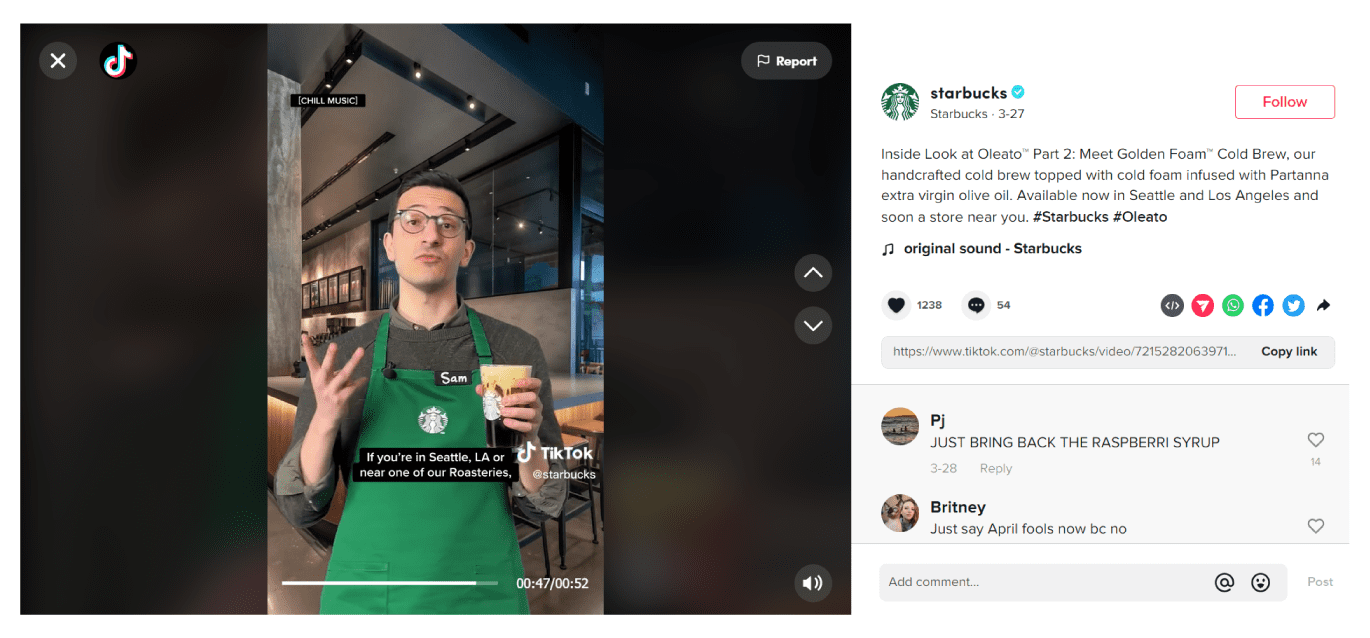 TikTok is a popular platform with millions of active users. If you are a brand or business, you can encourage your followers to share content on the platform using your products or services. You can then share those videos on your brand or business profile. User-generated content promotes better engagement and is more authentic.
3. Optimise length of the video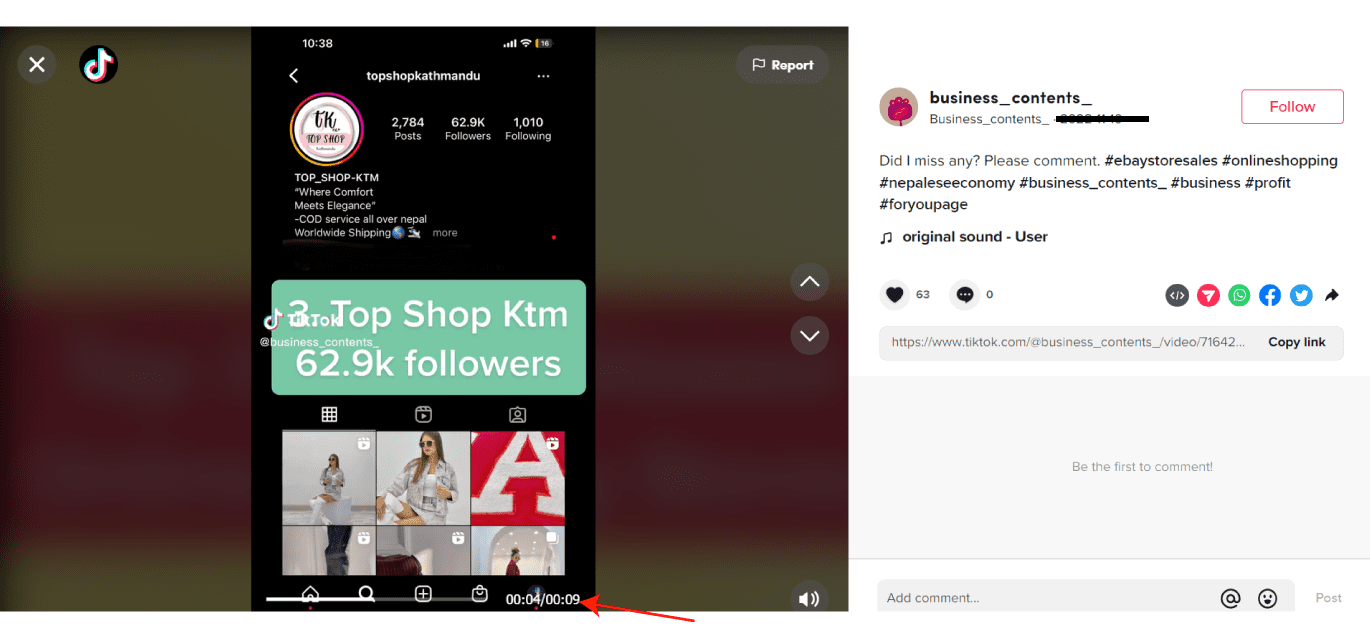 The best TikTok videos with the potential to go viral are the ones that are succinct in length. This makes it easy for people to watch the video repeatedly.
For maximum optimisation, TikTok videos can be at least 15 minutes to a minute long. You can vary up your strategy by providing a mix of short and longer videos on your profile. Keep track of the analytics and see which types of videos generate better engagement.
4. Cross-Promote Your Tiktok Videos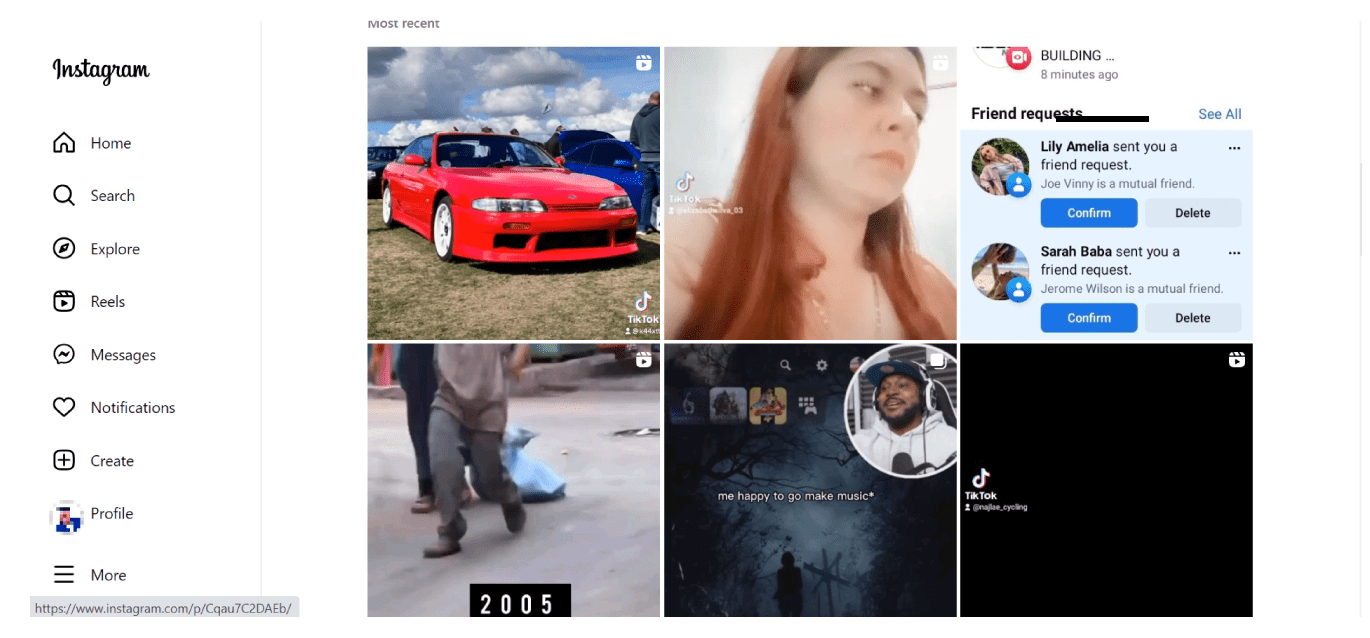 One of the main advantages of using TikTok to promote your brand is that the content can be easily shared on multiple platforms, like Facebook or Twitter. Repurposing your content to other social channels is a good way to expand the reach of your TikTok videos and make them go viral. It's also a win-win strategy because you can get more exposure for your TikTok channel where your potential audience can find other videos they might like.
Conclusion
Social media marketing is the easiest and most cost-effective way to build an audience and reach potential customers. But only if done right. Social media experts can make your business stay in front of your audience's eyes and outdo the competition.
If you need this type of service to boost your social media marketing efforts, you can reach out to The Munro Agency. Our social media team will help build a solid social media strategy for your brand that will improve engagement, build trust and loyalty and increase conversions.