Exposure to any entity, be it a business, a product, an idea, or a person, can only increase with effective marketing strategies. Without a proper marketing campaign, spreading the word about a new concept, product, or service is next to impossible.
Outsourcing marketing operations is one way to ensure that you are maximising your reach and ability to gain publicity, whether running your own business or promoting a product or idea.
What Exactly Is Outsourced Marketing?
Simply put, outsourcing marketing services is about working with an outside agency to develop a marketing strategy for promoting your business or product. When a business hires a third party to handle its marketing activities, it gives control over the brand's online and offline promotion to another firm or group of experts.
Besides helping develop lead generation by bringing in new site visitors, customers and money for your organisation, outsourced marketing services can free up your time to focus on other expansion areas. One more frugal strategy is to hire a  marketing company to promote your website.
If you need help advertising your business at a reduced cost and with increased efficiency, consider outsourcing your marketing needs rather than employing an in-house expert. When working with an outsourced marketing business, costs may be discussed upfront, which aids in setting a realistic budget and creating cost-effective marketing plans.
Should I Use Outsourced Marketing Services for My Needs?
Outsourcing marketing allows businesses to obtain all of the experience, tools, and techniques of a full-service marketing department from a third-party provider, eliminating the need to recruit qualified marketing staff.
Even before opening their doors, businesses that haven't built out their marketing department will need access to a wide range of marketing expertise. No matter how large, all businesses need to market their products and services, and even the largest ones have trouble meeting their needs with just one marketing firm or even one marketing employee for growing business.
How Can a Marketing Agency Help My Business?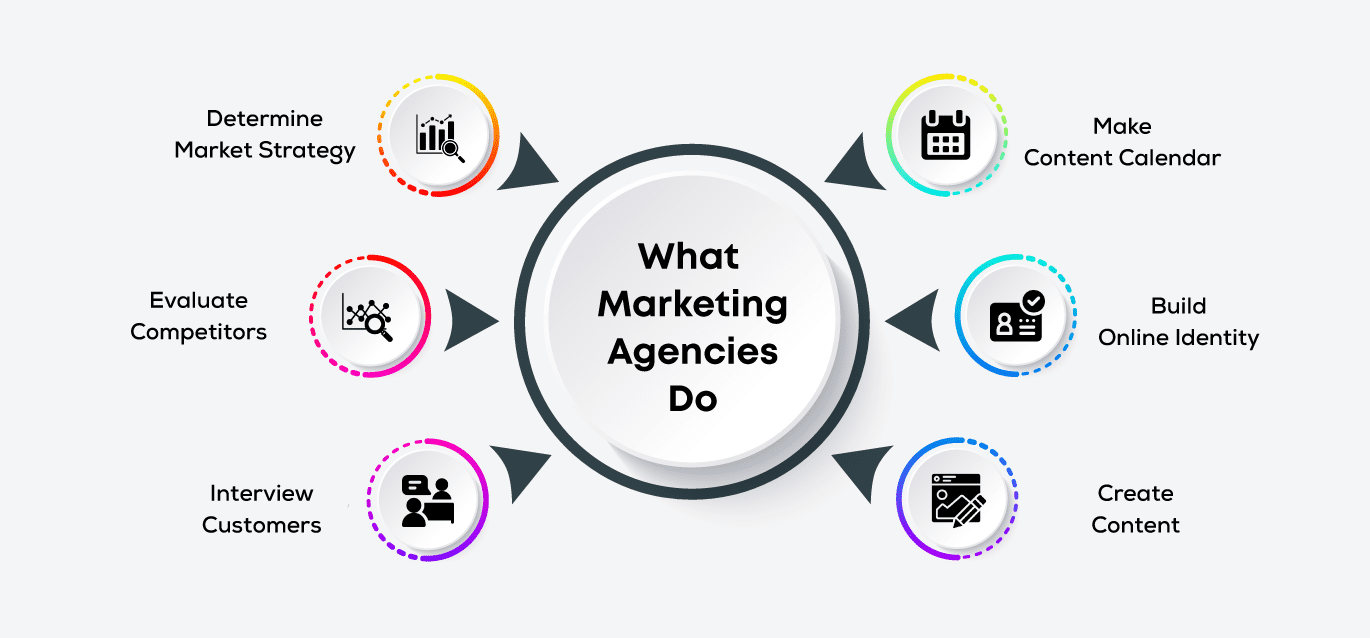 The idea of handing over your marketing activities to someone else might be daunting. But suppose you don't feel entirely in charge. What if it isn't written in the voice you'd like? What would happen if offensive content were posted to your social media profile?
These are legitimate worries, but good outsourcing practices should allay them. Here are a few tried-and-true methods for outsourcing your marketing that is both effective and efficient.
Determine Your Approach and Marketing Strategy
How will you know who to attack if you don't have marketing strategies and plans? What specific websites do they frequent? What are your competitors saying about you? Whether you want to outsource your marketing, this is the first step you should do.
Every employee in your company has to be aware of these essential qualities. Include the outsourced team in the conversation about training and development. Surely you see the relevance; the question now is how to outsource such critical components.
Evaluation of the Competitors
It is essential to have a solid understanding of the competitive landscape, including what your competitors are saying, what they excel at, and where they can be found online. Without this, your company won't be able to stand out from the crowd. How do you plan to set yourself apart?
This is another important facet of strategy that may be effectively contracted out. Hours might be spent reading through your competitors' blogs, social media profiles, ebooks, newsletters, etc. You should constantly keep a close check on what your competitors are up to, but many great competitive research tools may help you save time.
Interviews With Customers
Interviews with the customer are the first step in each project a marketing agency should undertake for a client. The idea is to choose 10–15 of their most valued customers and conduct in-depth phone interviews with them to learn as much as possible about their business.
You want to know everything about their online habits, from the websites they frequent to the search keywords they might use to find your services. It is much easier to pick up on themes when you are not living the firm daily, so outsourcing this element to an external organisation is a great idea.
Besides your two e-books, you also have a newsletter and a blog. Is there some kind of problem, or is everything okay? Just barely. One of the most important components of content creation is establishing a system. It all starts by conducting thorough keyword research to determine when and what kind of material your target audience is looking for.
The next thing to do is to use the keywords to develop monthly themes. Next, make a complete inventory of all the content marketing you expect to produce and estimate how many pieces will be dedicated to each. Finally, plan how you will reuse material each month depending on your themes. After you've finished constructing this section, you could think about contracting out some of the strategy's content.
Build Your Online Identity
You need to expand your focus beyond your expertly designed website. It's time to put in the effort to network, amass relevant data, and secure backlinks to your website.
There are several facets to an online profile, but the one we'd want to discuss in this article is social media. Having a social media strategy in place allows you to connect and interact directly with your existing and potential customers.
Creating a Twitter account with no one following you might be intimidating. However, it may take a lot of effort to discover relevant content to share with your thousands of followers on different social media platforms.
You need to do some research about this. Several companies offer content marketing services nowadays. Some of them fall short of the mark, though. The more data you can provide when determining which outsourcing company to work with, the better.
A good place to begin is by submitting elements of your plan, such as your ideal client research, competition research, and content schedule characteristics like keywords and monthly subjects. A voice, branding guidelines, and a first framework are all things you should think about implementing into your first posts.
Everyone can start on the same page with this. After getting the reply, you should never just copy and paste. It's important to double verify and revise your work before submitting it, whether using it yourself or delivering it to a client.
Why Should Your Marketing Be Outsourced?
One way to ensure you have a solid marketing strategy in place without sacrificing your ability to focus on other parts of growing your business is to outsource marketing. With the aid of professional marketing firms and a team of experts, you can develop a comprehensive online and offline strategy tailored to your company and its target audience. Partnering with a marketing agency that understands the "Rule of 7" can help ensure your brand's message is delivered to your target audience frequently enough to make an impact and drive conversions. The following are the primary benefits of working with an outside marketing agency.
Lower Costs of Higher Output
It might be expensive to employ a dedicated marketing staff or a Marketing Manager to oversee your marketing efforts. Finding skilled people who can deliver the desired results may be time-consuming and expensive, depending on human resources, recruitment, training and compensation.
Take, for example, the salary of a Marketing Manager, which averages between $120,000 and $200,000 a year (and that's just one individual, not a team). Instead, your business might save a lot of money by hiring a team of outside marketing experts (including top-tier strategists, copywriters, designers, digital media gurus, web developers, etc.) through outsourcing.
Access to a Large and Experienced Marketing Team
Is it just you or a small, overworked crew doing all the marketing? It's possible that if you hire an outside marketing agency or CMO (Chief Marketing Officer), they'll be in charge of your entire marketing operation, from strategy and planning to content creation and activation to analysis. A group of marketing experts will be available to assist your company in its strategic direction and to create the assets and campaigns necessary to achieve your objectives.
Help With Your Internal Team
Using marketing outsourcing as a backup resource for your in-house marketing team is possible. The finest results come when both parties work together and capitalise on one another's advantages. Many businesses often outsource the services and projects they need help with while keeping in-house tasks within their capabilities. Viewing your agency not as a replacement for your staff but as an addition is crucial.
Broaden Your Access to Potential Employees
You may quickly broaden your team's capabilities by adding experts in areas such as strategy, content marketing, design, copywriting, online marketing, etc.
When marketing requirements get more complex or when competition in your sector increases, it's possible that your in-house team won't be able to keep up.
Hiring a professional marketing agency to do your work might boost efficiency. These contracted workers will have the know-how, resources and experience to coordinate and carry out advertising initiatives across several channels.
Sharp Analysis and Reporting
Continuous measurement of performance monitoring, insights, and data is optimal for marketing. From logos to campaigns, all marketing can be tracked and assessed. The software tools required can be pricey, with the average agency paying $15-$100K per year in software alone, but it is the intellectual property associated with data analysis that provides the biggest advantage to firms.
All actions can be measured and tracked by highly programmed automated technologies to ensure accountability versus goals. It is important to constantly assess and monitor all brands, websites and campaigns and make adjustments to maximise the impact of your customers' brands and marketing efforts.
Sometimes marketing staff and business owners have too much on their plates. Forget about urgent new releases and constant digital marketing. This often leaves little room for strategic planning and the design of promotional programs to increase sales (such as social media, blog writing, and video production).
An external or outsourced marketing team has the resources and workforce to develop and execute a plan or campaign and can devote the time and attention required to see it through successfully and on schedule.
Coherence, Cohesion, and Influence
A cohesive marketing group knows the value of maintaining brand integrity and integrating advertising across several platforms. Ensuring consistency in the appearance of a brand across its social media pages (Facebook, Instagram, YouTube, etc.) and other digital platforms will boost its recognition among consumers.
Internal marketing and design teams may become stagnant and unimaginative in promoting products and services and finding solutions to business difficulties.
By enlisting an outside marketing team to assist with strategy, creativity, branding and content, you can take advantage of these additional resources, expertise and fresh perspectives. Thus, creativity is fostered while narrow-mindedness is avoided.
The Bottom Line
When you work with an outsourced marketing firm, you can gain access to fresh ideas and experiences, both professionally and personally. Once you have a marketing group on your side, you may learn more about your current industry and the audience you want to target.
To help businesses like yours make more money online through channels including your website, email, social media, and online advertising, marketing agencies offer all sorts of digital marketing services that satisfy your complete outsource marketing requirements.
The Munro Agency takes advantage of cutting-edge marketing automation software and our knowledge in inbound marketing and advertising to significantly boost your company.