Optimising Lead Generation
Lead generation is an essential aspect of marketing that you simply cannot ignore. It involves any tactic used to attract people to your product or service and gather their contact information. Lead generation gives you a tangible record of the source, channel, or initiative producing the best outcome. The more people you can connect with, the higher the chances you have to create long-lasting and sustaining relationships. Forms and landing pages are some of the concepts we use in lead generation and the sales process. 
Why is lead generation so important? 
Lead generation helps you identify the needs of your audience and provide them with insights on how you can help. It allows you to understand what exactly they are looking for so that you can offer what is most relevant to them. 
It also helps you identify where your leads are coming from. Based on this information, you can nurture them to convert by using tailored content. Being aware of the channels that bring you the most leads helps you focus more on the areas that produce the best results. 
Forms and Landing Pages
Munro Agency fits together forms and landing pages to help you get the most out of your lead generation activities. We have a 'forms and landing page' builder that allows you to customise your form sheets and landing pages to suit your brand and aesthetic preferences. 
Forms
Forms are a great tool to use because they let people initiate and provide you with information. When a prospect fills out the Munro Agency form, their information immediately uploads into your database. You can also use these forms to get a better understanding of who the people you are interacting with are. The essence of getting their information is to capitalise on what they are attracted to and looking for. 
The Munro Agency form also helps you develop a strategy that produces things that are most relevant to your customers, based on what they tell you about themselves.  
Landing pages
Landing pages are just as valuable when it comes to implementing your marketing strategy. They enable you to be more focused on presentation. Using a landing page, you can be unique in your presentation. Landing pages give you the ability to try something new and fresh. You need to be uniform in your primary domain. Landing pages, however, come with some level of freedom to try something different.  
You need to be aware of what you want to accomplish from a landing page, not just from an aesthetic or presentation standpoint, but also in content.  There is a process base where you can use landing pages to create a funnel that allows you to have a very directed progression. For example, if you have high-value information on the second landing page, then you can have people fill a form in order to access it. In this case, both sides can benefit from the interaction.
One thing that landing pages offer you, which websites do not necessarily provide, is the customisation option. You can leverage the customisation tools we offer on your website. Our landing page tool is user-friendly, so using the different tools can help you tailor the experience for each participant. For example, as people come to the page, you can use merge variables to greet them or acknowledge things we know about them. You can also use things like dynamic content to produce pieces that will have more impact on them. The result of this is increased conversions rates.  
Landing Page Best Practices 
A good landing page structure has:
A goal on the headline
One of the things you should focus on is limiting the landing page to a specific goal. The goal should be placed on the headline to be visible to anyone who visits the landing page. Depending on the channel that brings people to your landing page, have a goal that is relevant to them. 
Minimal buttons or links
Too many buttons and links on the landing page will distract people, and they end up missing the goal of the content. Have a few buttons that are straight to the point and that guide people towards taking action. 
Limited to no menu bar
Just like having too many buttons on your page can be a distraction, a menu bar can also be a distraction. A menu bar is a graphical control element with a drop-down menu. It may create a barrier and prevent people from taking a step further on your page. 
Customer Success Stories or Badges 
Showing potential customers that your product has been helpful to other people makes them want to try out what you have to offer. It establishes trust and draws them towards making a conversion. 
A personalised thank you page
Your focus should be on creating a user-friendly experience. Customers and potential customers need to feel appreciated, and a "Thank you" page does this. Sending personalised "Thank you" messages can make your leads more responsive to your marketing efforts, especially after filling a form. 
In-App Tour of the Form & Landing Page Builder 
One of the marketing tools that Munro Agency offers is a form and landing page builder. This platform has a form styler that allows you to create your own-style templates right in the app and then add them to your landing page.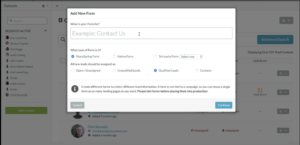 Added to that is a field section, where you can add more items to your fields. There are standard fields and custom fields that you can choose from. Here, most people use first name, last name, and email fields.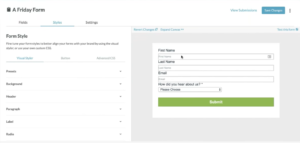 The form also gives you the ability to adjust the styles for it. On the right is the live view of what the form will look like once it is done. You can create your style sheets on our platform according to your preference.  
Some of the style options that you can apply to your form sheets include background colour, headers, labels, font color, font size, letter spacing, line height, among others. You can customise every part of your form. You can see in real-time what your style changes will do to the form sheet. When you are done editing, save your form.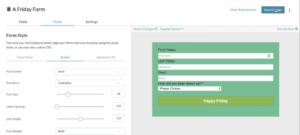 Using our tool, you can take each form you create and turn it into a landing page. You can access this function by using the landing page theme style. Alternatively, you can maintain it as a form by using the form theme. This means that you have complete control over the branding and style of the form. 
Case study
As a case study, we will be looking at one of the companies that use the Munro Agency form and landing page building tool. 
Before using the landing page tool, the company utilised a landing page that was very spread out with different goals. It was not very clear where a client should go once they get to the landing page. The landing page also did not have any focused content, which means that people would have to look elsewhere on the page for more information. 
The funnel below provides a visual representation of the company's strategy at the time – which was to build a lot of awareness and hope that people convert.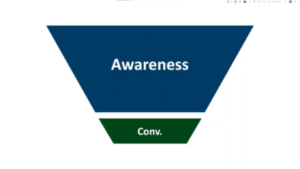 After implementing the Munro Agency landing page, we were able to make the landing page more effective. We helped them change their funnel strategy by adding a nurturing aspect. This is where you create different forms with specific types of offerings.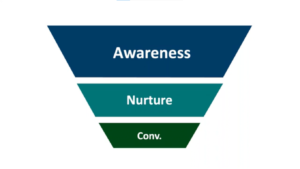 They are now able to give people fewer barriers, thereby improving their user experience. People can fill out a form, get in touch with someone, and get the information they are looking for. We also helped them add nurtured follow-ups, which contain dynamic content that goes out to leads and gives them a view guide for the items they are interested in. 
In addition to that, we helped them develop a workflow that assigns team members to prospective clients to allow them to send emails to leads. This adds a personalised touch that results in increased conversions. 
Form and Landing Page Q&A
Question 1: Where should you present the form? Is there an ideal approach?
One thing you want to keep in mind is that a majority of people, especially in the Western World, read from left to right. This means that it is best to have your headline at the top but also ensure the rest of the form advertises itself. For the best results, keep the form on the side of the actual content you are trying to provide. You can also have the form somewhere at the top and include multiple buttons throughout the page that take people back up to the form. 
Question 2: Is diversifying fonts on the landing page a good idea? 
Our forms and landing page builder has six base fonts that you can use when producing content. Alternatively, you can expand these by importing the fonts you have access to. To create a continuous experience between your website and the landing page, try to use the same fonts so that your form and landing page can feel like an extension of your brand. 
When it comes to creating a landing page that helps you improve your lead generation and conversion rate, Munro Marketing is the agency you want to rely on. The Munro Agency is a SharpSpring Platinum Agency dedicated to helping you bridge the gap between your marketing efforts and desired sales results. Reach out to us today and request a trial of our form and landing page builder.