Managing Remote Workers
Remote working has become a part of day-to-day life as more companies choose to coordinate their workforce remotely, even as the pandemic begins to ease in some countries. As remote working continues, we have found sales and marketing teams need more concise and useful tools to help them with their daily work schedule. There is the need to have a platform where you can manage all remote workers easily.
Many team members get overwhelmed when working remotely because they cannot focus their energy on a particular task. While we have found this to be a particular issue with remote teams, it is actually a problem that persists across the board. How do you prioritise your daily tasks? How do you make sure you are following best practices? If you have lost your train of thought or get distracted, how do you know where to pick up again? 
This is where our set of tools for managing remote working come into play.
Munro Agency provides a remote working tool that is a one-stop productivity centre for your team. It is a combination of the task manager, activity feed, and custom report options that make the tool very useful to your sales and marketing staff while allowing managers the overview they need in this new working environment.
Features of the tool
Task Manager

 
The task manager feature in the remote working tool maximises efficiency with a streamlined to-do list of the daily scheduled tasks for all your team members. It automatically prioritises leads who have recently interacted with your team, which makes it easy to either do a follow-up or set up meetings with them. You can also access the specific records that you want to view without having to sort the information yourself.  You can simply go to the data set you want to access and get the information you need. 
Activity Feed 
This feature gives you complete visibility of all ongoing engagement with the entire team in real-time. It provides you with a birds-eye view of your active leads for optimal outreach. You get to see when they open emails, view media, visit tracked pages, and so much more. The best thing about this feature is that it allows you to filter on activities so that you can look at what you are most interested in, such as lead assignments, social interactions, or email engagement. 
Custom reports 
This feature helps define success your way with dozens of pre-built widgets that make it simple to build the reports you really need. You can personalise the remote working platform we offer by adding reporting widgets that keep the most relevant KPIs top of mind. It gives you the ability to highlight and isolate the things that are useful for each person that is actively using the application.  That could vary from a management perspective,  a sales perspective, or a content-generating perspective. The unique thing about this feature is that you can access your clients' data right from your own log-in. You will have access to not just your infrastructure, but also to what your clients are bringing to the table.  
In-App Walk Through of the Remote Working Tool
One of the key benefits of this tool is that it gives you control of how you interact with the data in the system each day. It gives you control over your productivity, the relationships you have with the leads in your system, and your data. When you first log into your remote working platform, you will have the tasks on the launch pad pop up. This gives you an overall glance at the information system. To access this, you can click on the circular icon with a number on it. You can find this on the top right side of the screen. The number displayed there shows the number of tasks that you have currently for that day. 
You can see the three main components of the remote working tool here. This includes the activity feed, the task manager, and the combined dashboard, where you can customise the information you are getting. On each component, you have the option to 'set as default' when you hover over each of them. Under the task manager, you will view all the tasks that are currently assigned to your user. There are four different types of tasks, which include email tasks, meeting tasks, phone tasks, and general tasks.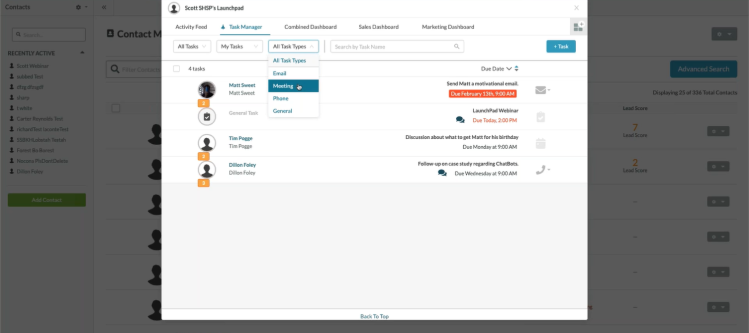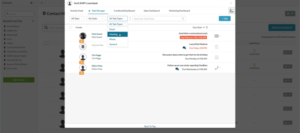 Creating a New Task
You can create a new task by clicking on the 'Task' icon. Once you add the task, it will show up in the task manager. As you can see above, there are other functionalities to the task manager, where you get reminders for overdue tasks like the 'Due February 13th' reminder highlighted above. You can complete the task you need to do directly from this section. If you need to complete an email task, for example,  you can send out the email from here directly. When you add a task to the task manager and add your email, you will get the tasks placed on your calendar, allowing you to keep track of what you need to do. You can create tasks both for yourself and for other members of your team. 
The other important component of this platform is the activity feed. This feature allows you to consolidate all your leads. If you log in, you will see the activities your leads are undertaking, such as opening emails and filling forms. It increases engagement and gives you an understanding of your lead's behaviour. You can pin activities you are focused on and would like to come back to later on. There are options you can use to sort the leads, which allow you to choose the lead type you want to look at. You can either filter by the lead owner or by activities, as seen below. 
The dashboard section gives you a visual representation of the custom reports. This feature is not just powerful in terms of analytics and reporting, but it is also fun to play around with when using the widgets. You can come up with the reports that give you the relevant data.
Using the Dashboards
There are default dashboards in our system to help you keep tabs on what is happening. These are the combined dashboard, the sales dashboard, and the marketing dashboard.
From the combined dashboard, you can see the number of added contacts, completed tasks, open tasks, and other metrics. This is a great report when you are looking to create quarterly reports or annual reports for your team. It is a combination of everything going on in the system.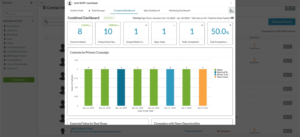 Sales Dashboard
The sales dashboard is more focused on the sales side of the application. It includes things like sales, revenue, open tasks, and tasks completed. There are also some pipeline reporting values in this dashboard. 
Marketing Dashboard
The marketing dashboard is more focused on the marketing content and how that plays into your system. It has information such as the number of email opens, sales influenced by emails, and sales influenced by forms, among many others. This dashboard allows you to create and share your own custom marketing dashboard. There is no limit to the number of dashboards that you can create. You can also rotate the dashboards to have the ones that are important to you immediately accessible.
Choose a title for the report and the theme you prefer. There are different widgets that you can use to build your report. They include campaign widgets, chatbox widgets (these allow you to pull in and data from your chats), contact widgets, email widgets, media centre widgets, and opportunity widgets. This interface uses drag and drop to add items to your report.  Every widget has a set of parameters that you can set to get the information you want to obtain. You can add multiples of the same widget and sort them out by client accounts.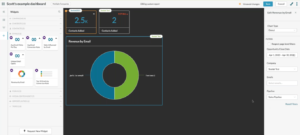 There are report filters that you can use as you customise your page. These give you parameters that you can use to sort our information. When you finish creating your report, save it. You can share your report using a private link that allows you to share a link with a team member who is also logged into the system as well. You can also create a public dashboard and broadcast the marketing dashboard reports using the link. 
Why use our remote working platform? 
The dashboard interface in this tool is impactful to the success of a team's sales and marketing activities and in increasing conversions. You can focus your attention on the things that increase your revenue. Our remote working tool makes this possible because through the reports, you can identify the areas and channels that bring the most to your company. You can then give attention to these channels in your marketing campaigns. 
The remote working tool is also beneficial to the internal operations of a team. It makes remote working easier because you can have all members of your team work from one platform and coordinate all their activities. This, in turn, increases productivity and makes running organisation tasks and activities more efficient. 
If you would like to see how our remote working tool can help your business grow, feel free to give us a call and request a free trial at Munro Marketing. Besides our remote working tool, we work with several marketing packages for small to medium-sized companies. These tools are designed to improve your productivity, make conversions easier, and take the stress of your sales and marketing teams. Get in touch with us today!