Sales Automation – The Fastest Way to Close Deals
Are you tired of getting slow results or poor ROI from your digital marketing efforts?
From the point of first contact to when you actually close a new deal, nurturing leads can be a hectic task, and the amount of work involved varies depending on the kind of business you do. Every salesperson knows that closing a single deal could take several contacts with a particular prospect. It takes a lot of time to manage and nurture relationships with customers and communicate with them regularly to keep them happy and interested in your product or service.
However, it doesn't have to be this challenging to nurture leads and close deals. If you keep trying to maximise sales all by yourself, chances are, you won't make much progress. You most likely will be playing the catch-up game with your competitors. To compete effectively, you need a digital marketing expert that knows how to optimise your sales.
What Is Sales Optimisation?
Sales optimisation is a technology we use at Munro Agency to help businesses improve their sales performance and increase the rate at which they close sales. This process involves monitoring your sales team closely, showing them ways to sell effectively, analysing their interactions with prospects and customers, and automating their sales processes. Based on the information you gather from the process, you will be able to optimise their performance, and by extension, improve your sales figures.
Using Sales Optimiser: The Ideal Sales Automation Tool
Sales Optimiser is a sales-based automation tool that we use at Munro Agency to streamline the sales strategy of our clients. We utilise this tool to automate task creation, creating opportunities, and actions depending on prospects' stages in the opportunity pipeline.
It allows us to expand our efficiency by controlling the quality and flow of your sales process towards increasing close rates and improving revenue.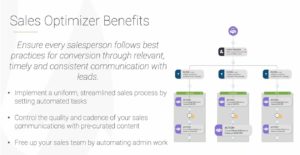 The tool benefits both the marketing and sales sections of any company. It utilises sales-based automation to achieve consistency in our sales and marketing efforts while reducing labour for your sales team.
Sales automation is an integral part of any tool that helps facilitate or automate the manual tasks of a sales team. Its purpose is to manage different mundane tasks that sales representatives spend their time on to free up more time for actual selling.
Sales Optimisers open up a whole array of automation purposes by using triggers from the marketing side and then converting them by leveraging opportunities.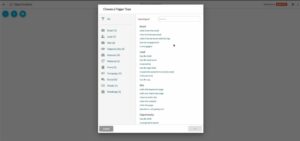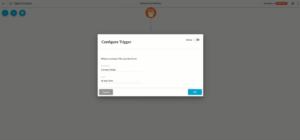 How to Leverage Sales Automation?
Sales Optimiser (also available with marketing automation) is useful for administrators, company managers, marketing managers, sales managers, salespersons, and even junior salespersons.
It helps our team to control and improve the quality of your sales communication by using its automation features. These features take care of most administrative tasks so that your sales team can invest more of their time in communicating with leads at different priority levels and successfully closing more deals.
Our sales managers also use this suite of tools to monitor the performance of their salespersons through comprehensive reporting features. By having access to the communication between their salespersons and customers, any sales manager can better guide their sales team to improve performance and increase close rates.
With this time-saving software, you can reach out to your prospects at the right time and set up real-time notifications for their activities.
Major Features of Sales Optimiser
Our Sales Optimiser has several user-friendly features that allow us at The Munro Agency to effectively manage your company's digital marketing strategy and help you to generate high-quality leads.
Here are some of Sales Optimiser's major features:
Opportunity Workflow Builder
The Opportunity Workflow is an automation process created in the Visual Workflow Builder, which controls activities and movements of opportunities based on the interaction of users with your content.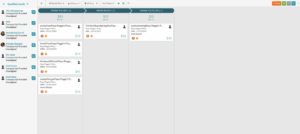 Using a rules-based list or well-configured visual workflow, we can automate the way an opportunity moves across a sales pipeline. In essence, we can easily control where an opportunity drops in the pipeline and manage it there. Keep in mind that the process of moving opportunities through a pipeline triggers necessary action.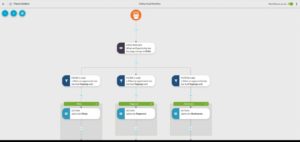 Generally, the Opportunity Workflow allows us to create sales tasks, change opportunity fields, change opportunity stages, change opportunity statuses, assign opportunity owners, and remove them from Opportunity Workflow.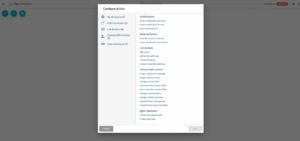 With this feature, we can configure automation to schedule events whenever an opportunity's parameter changes or when an opportunity moves through the pipeline to a different stage.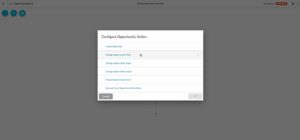 Task Manager & Activity Feed
Sales Optimiser has a direct impact on sales activities. At a glance, we can view tasks and all other activities that the sales manager has assigned to each salesperson on the team.
Task flow is seamless through the Task Manager of each salesperson. As the task flows, it displays a daily to-do list for every member of your team.
As each prospect opens your email or engages with your digital asset, their activities will show up on the Activity Feed in real-time. This then moves up to the top of the notification list. If the owner needs to follow up, you will see a highlighted notification at this point.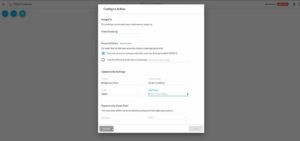 Task Report
A Task Report provides a simple-to-read breakdown of all the tasks created from automation to how the tasks are being completed or rescheduled within a particular time frame. The information provided by the Task Report can be displayed on either separate users or sales teams as a whole.
The Task Report provides a very detailed report on how each salesperson is managing their prospects and how well they are adhering to the rules guiding the sales process.
Sales Tasks
This is another useful feature that increases accountability. You can visualise it from a task report. It enables bilateral communication between your sales and marketing teams.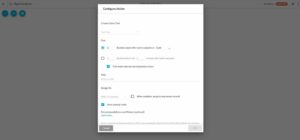 User/Tasks
Sales Optimiser User/Tasks help us at Munro Agency to assign specific tasks to members of our sales team with special skill sets. For example, we can include data on the proficiency levels of our salespersons in different languages.
This data becomes useful when a prospect encounters a landing page in one language and needs to communicate with our team using a different language. By using this feature, it is easy to identify the best salesperson for the task.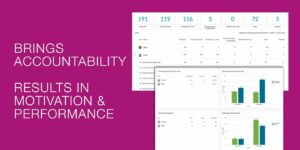 Customer Reporting
With Customer Reporting, we can create widgets based on task creation and completion so that our managers and administrators can monitor the progress of their team members.
Sales Dialer
This feature is for documenting calls. We schedule tasks and drop caller transcripts so that other team members can access this information easily. It is useful in training salespersons on specific keywords to use when making calls.
Chat Box
This interactive tool allows us to create and collect information so that we can create opportunities and visualise the performance of our marketing campaigns. We can create or customise an opportunity at any stage of the pipeline.
Case Study
As a case study, we will be looking at one company's use of this tool.
To this business, the Sales Optimiser's value to end users is doing the mundane tasks that your sales teams may not have time to do. The tool is easy to use, and it ensures productivity. However, it does not substitute human interaction or replace your sales team; rather, it helps handle mundane tasks in-house.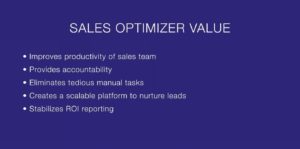 This company uses Sales Optimiser to send automated emails and messages more consistently without having to create a new one each time.
Also, Sales Optimiser helps to create podcasts and task reminders. Sales managers can use Sales Optimiser data to see how salespersons are doing and monitor their productivity levels.
When they get the opportunities from the optimiser, they use it to track every document. They create another pipeline showing the stages of people's engagements – for example, if they have registered for a demo. The company can then relate it with different prospects based on their engagement levels. The more data they have, the more flexible their work becomes.
With the Sales Optimiser, the company helps businesses see the bigger picture and achieve their goals.
Top 3 Sales Optimiser FAQ's
Question 1: 
How would you handle movements through the pipelines with Sales Optimiser?
Answer:
You can create actual opportunities and drop them into the pipeline, then move them within their own pipeline. It will not move the opportunity from one pipeline to another, as pipelines give you the ability to customise some of the metadata surrounding them.
Also, with opportunity and workflow, you can prompt a new opportunity to move to another pipeline.
Question 2:
If you're setting up a qualified marketing pipeline, what does it look like? Has Sales Optimiser expanded how you approach pipeline creation?
Answer:
Yes, it has. For instance, it helps us to know whether or not we should create opportunities. With this tool, we can initiate any pipeline and monitor it until the last action.
Question 3:
Is Sales Optimiser malleable?
Answer:
Sales Optimiser is quite flexible in application. It gives us data from reports to see opportunities in different stages and their value, tweak some processes, and make informed decisions.
So, What Should You Do Next?
If you're interested in optimising the performance of your sales team and improving your ROI, Sales Optimiser comes highly recommended for your business. You get free up more time to focus on actual selling instead of doing mundane tasks. Sales Optimiser is a great tool for any business that wants to have a more successful sales team.
However, to get the best out of this marketing automation tool, partnering with The Munro Agency will be the key to your success. At Munro Agency, we always look for ways to improve your company's sales automation process. We will take you through how you can optimise your sales using our sales optimisation tool. Our digital marketing and lead generation agency is equipped with the best sales automation tool to help your business generate higher revenue and profit. Contact us today and get started with this tool.