Using Forms to Generate More Business Leads
The importance of lead generation forms can hardly be overemphasized, considering how ubiquitously many business websites use forms today. To begin with, forms essentially constitute a crucial part of your digital marketing strategy, which explains why they are widely used. Unfortunately, many businesses do not realise how important forms are to their marketing efforts. This lack of understanding partly accounts for the poorly designed forms on many websites.
A cumbersome contact or quote request form can be overwhelming and unattractive to visitors, meaning that you might be losing potential clients if your forms are not optimized for a seamless user experience. Simple, optimized, and easy-to-fill online forms can help your business attract more prospects, generate more leads, and build your clientele base or subscriber list. In this article, you'll learn the benefits of using forms on your website, the features of the Munro Agency forms, and how to use them to build out customized forms in the Munro Agency Form Builder.
Benefits of Forms
Forms are beneficial because they allow you to:
Ask the right questions for any stage of the lead's journey
You can create have a contact form, an email or online newsletter sign-up form, or even a robust question profile building form. All these forms are ultimately aimed at the same thing. Form submission is essential because it allows people to self-identify, meaning that they get to drive the narrative. Many marketing tools are driven by engagement, and forms allow people to take active consent.
You may choose to take a generic approach to get people's contact details through forms. However, you'll find that it is more useful to ask different questions as you go. Forms allow you to ask the kinds of questions that determine how you react and cater to those people. This applies to data entry and expansion of your base.
Give and get information from leads
In terms of functionality, when an individual submits a form that is attached to our platforms, a contact record will be created for that individual. If that individual already has a contact record in the platform,  their details will be updated upon submission of the form, provided there are any changes. If there are no changes, then their information will simply be confirmed.
Form submission is one of the most impactful ways that you can add to your audience base. You are providing a service to them and in return, you gather information from them, which means there is an exchange of value. 
Learn how they heard about your company
The active consent by people comes from when they initiate this type of activity (filling a form). This allows you to execute a lot of the features that Munro Agency offers you when catering to your audience. Whenever you receive a form submission, the tracking ID is attached to the device from which they submit the form.
This unlocks our platform in a variety of ways and really opens up the functionalities that you have access to. You get to identify the sources of your traffic and you can capitalize on that information. 
Launch personalized marketing campaigns
Forms are also a critical point of conversion because ultimately, form submission is one of the tipping points when it comes to campaign membership. This is a way for you to confirm that people are enthusiastic. Forms allow people to come into your orbit or to confirm their connection with you.
Getting a form submission allows you to move forward in a manner that is more robust based on the information you have gathered. Ultimately, this is how you build personalized marketing initiatives and strategies. You can get insights into how people find out about your services. You want to understand your clients and to have them identify with you.
Munro Agency Forms 
There are two aspects of a form; the aesthetic aspect and the functional aspect. Forms work best when they are very specific to the environment in which they operate. Being able to identify the kind of information people are trying to find based on the pages they have visited, even before they fill out a form, can be very helpful. To get the most out of the Munro Agency forms, here are things you can do:
Create custom fields to ask the right questions
You can use custom fields to get specific information that you require from your leads. Plan out your custom field strategy from the beginning because everything you collect on your form is hinged on those custom fields. 
Set up a queue of questions to be answered over time
You can use the information from the custom fields to drive your automation, nurturing, and segmentation forward. You need to be able to express the data you get in a manner that resonates with both you and your marketing team. Some leads may not be comfortable giving you some information at initial contact, which means that it would be more effective to introduce some questions at a later stage of the interaction. 
Automatically sync in-app form updates to every site
There is only one base requirement when it comes to Munro Agency form creation; you need to have an email address on the Munro Agency form for you to generate it. That email address is our unique identifier for each individual. To create an active and accurate contact record, we need to collect an email address.  
Building Out Forms in the Munro Agency Form Builder
In the navigation section, forms will be underneath the marketing side in the content section. When you click on 'Forms' you will be taken to the form submission reporting. This is a great place to keep track of your form submissions once they have been filled out. From here, you can see which forms are getting the most submissions from your leads. There are several graph options you can view to get the data on all your submissions. You also get to see which of your forms are currently active.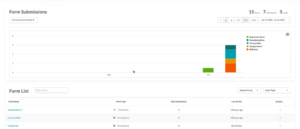 On the upper right, click on 'Create Form' to create a new form. It will first ask you to name your form. You will then choose the type of form you want to generate. You have three options here: a SharpSpring form, a native form, or a 3rd party form. You will also need to choose what your leads should be assigned as. This will be based on the strategy of your form. The "Contact us" form is a common example of standard qualified lead forms. You might want to have your sales form assigned under 'Qualified leads' because you need to know when you get new leads.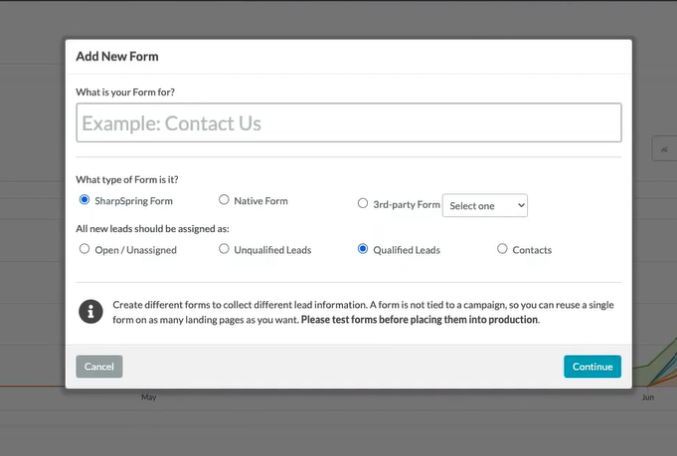 Once you have filled that and clicked on 'Continue,' you will be brought to our form builder. There are three different tabs here: the field tab, the styles tab, and the settings tab. 
The field tab
On the field tab, you have access to standard and custom fields. The basics on your form can include a first name, last name, phone number, and email address.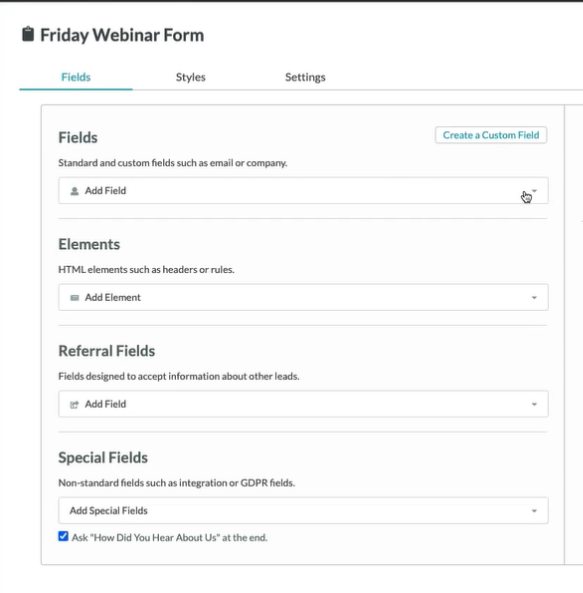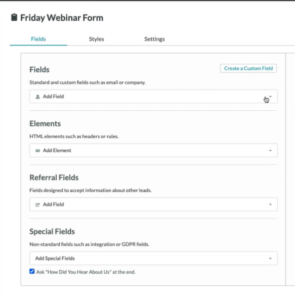 You can add custom fields in your form and this is where having a plan for your custom fields becomes useful. You can have a drop-down list for your custom fields where people can choose from any o the available options. You can also add things like HTML elements, such as a header, to your form.
Once you are done creating your form, click on 'Save changes' on the upper right to save the form. This allows you to see the changes you have made in real-time. Immediately you click on save, an embed code pops up. You can copy this code and paste it wherever you would like to have your form displayed. The embed code will be dynamic which means that whenever you make any changes to your form, the embed code will immediately reflect those changes on your website.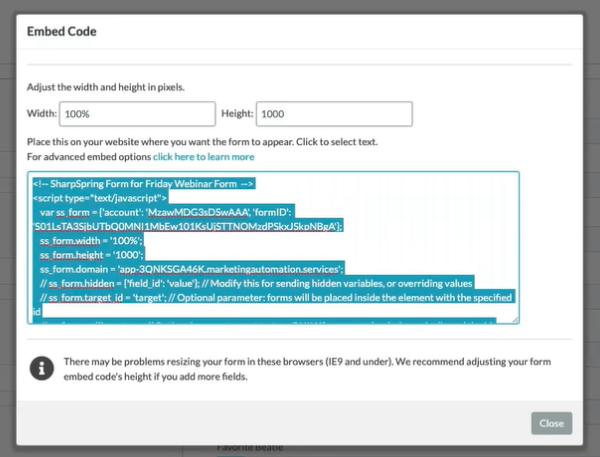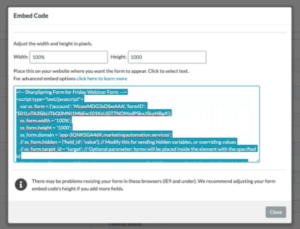 Referral fields are fields designed to accept information about other leads. You can add a referral field. Once you do this, you get the basic fields that you would get in a normal form, but it also creates a lead on your behalf. This means that you can have multiple people fill out a form on your device without jumbling up the tracking information. It is a great tool when it comes to lead collection and lead generation.
You want to take into consideration the type of form you are generating, depending on the type of information you are collecting. It is worth noting that if you are collecting information for a sales process, then it should be from someone already interested in what you have to offer. In such a case, you can take a little more liberty with the volume of information that you are requesting. 
If it is more of an initial reaction,  you can take a more generic approach and be a little more focused on your asking.  People who are not familiar with you or what you have to offer may not be as comfortable providing you with all the information you may be asking for. 
One of the most useful features of this form builder is the progressive profiling field. This feature allows you to control the tempo at which you are requesting information. You can take any of your created fields on the form and drop them into the progressive profiling section.  What this does is that when a new lead visits your page, they will fill the first basic fields.
If they leave and return to your website page again, the form will show different options based on the progressive profiling fields. It will cycle in the fields from the progressive profiling information, allowing you to get more information about that person.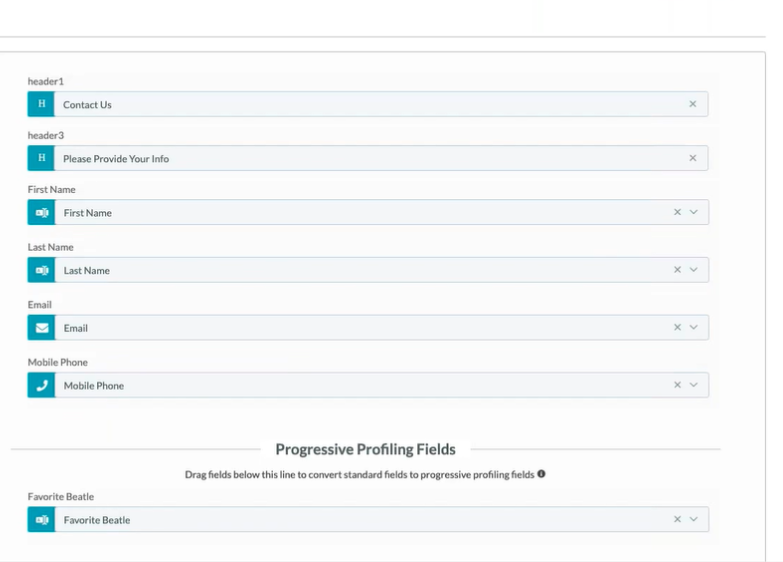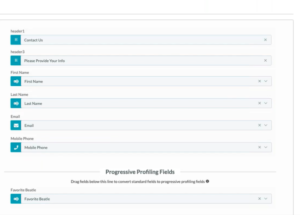 There are also special fields in your forms, such as the Informed Consent (GDPR) option. The GDPR is where you get to ask people to opt-in for consent. You cannot edit the text on the 'Informed Consent' field because it has been crafted in a manner that satisfies all the legal requirements. It would therefore be ideal to use it as is. You can also have a "How did you hear about us" section under the special fields. 
The styles tab
The form styler allows you to change the style of the form without needing to upload your own CSS file. You can link it up to any CSS file you have and then will also have the option to use the visual styler under the advanced settings. This allows you to see what the form will look like when it is done. 
You can play with different features of the styler and see the changes reflected in real-time. For example, when you change the color or the font, you will see that change reflected on your form immediately.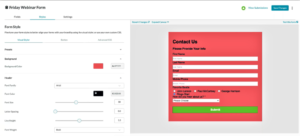 You can click on 'Test the form' on your upper right to preview the form. It will open up to a new window and let you see the page. When you click on 'Save changes,' the form will ask you whether you want to save the form as a pre-set or you want to change it as an independent form. A pre-set form will be available anytime you want to create another form in the future. There are also button settings you can play around with, which allows you to change where the 'Submit' button is located and what it looks like on your form. 
The settings tab
This tab has all the general settings related to your form. You can change your form name and your form dimensions from here. You can also grab your embed code from here when you need it. We have the reCAPTCHA option here, which stops bots and website crawlers from filling your form. You can turn it on by sliding the toggle button.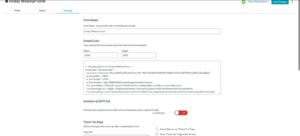 Another option that we have here is the 'thank you page'. You can add your data to the "thank you" page so that the page can reflect data that was submitted. You can show the 'thank you page' directly or you can use a page URL to redirect leads to that page. Under the 'Auto-responder', you can add your email to the automation engine to respond to emails that come to you. You can adjust how your leads come in under the 'lead status'.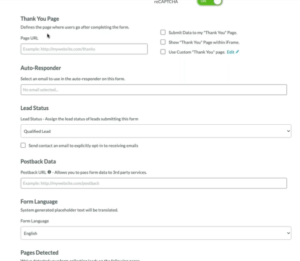 Postmark data is very useful if you want to integrate your forms with third-party platforms. For example, you can postmark your form data into a third-party application for various purposes. The 'Pages detected' section helps you track where your form is on your website.  Here is an example of a completed form made through the form builder.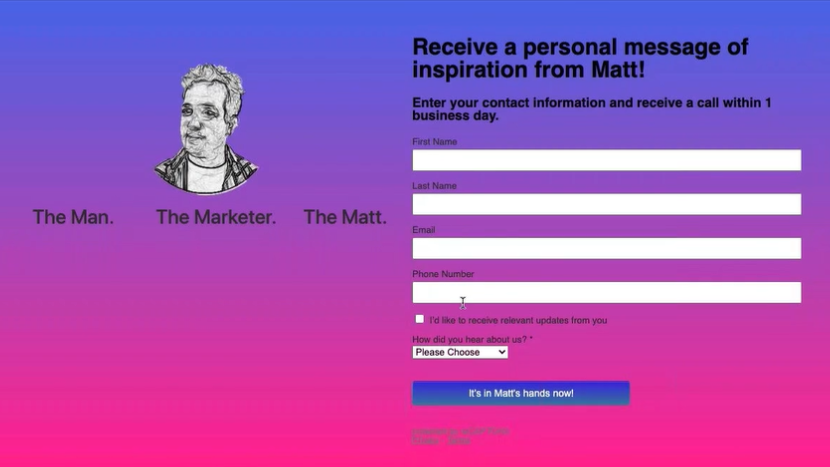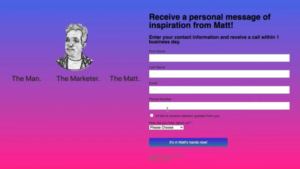 You can connect your form to your visual workflow. For this example, the trigger will occur when a contact fills out the form. The action taken will be the creation of a phone task due the next business day. This allows you to get back to your lead in good time. When you do this, the task will reflect in the form builder automatically, where you will see that you need to make a phone call to the lead.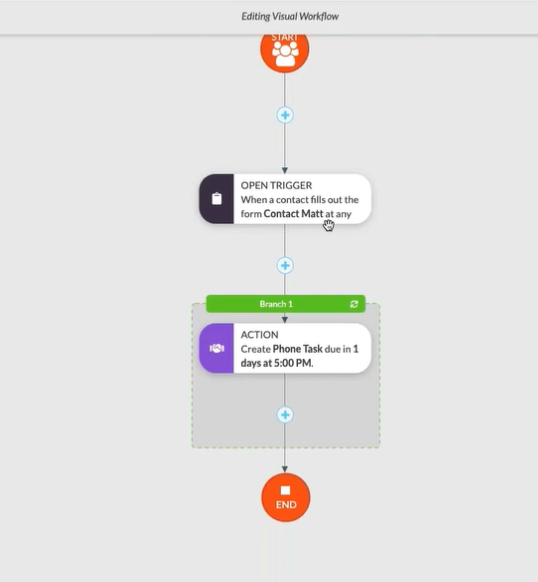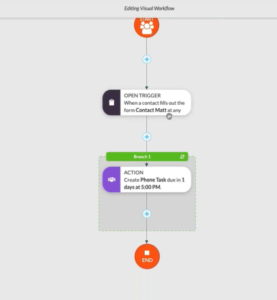 This way, you will be more consistent in how you handle your leads and opportunities, regardless of when the engagement happens. This ties into sales optimizer because it gives you the ability to create your opportunities directly from the form submission. You can drop your lead into the correct pipeline and assign them a lead owner to handle their needs. This helps you keep everything in place without having to do all the manual work.
3rd Party Forms 
The Munro Agency works with other data collection portals to help you collect information easily. Our tool is not the only data collection tool available and we want to make sure that you have access to other complementary tools as well. This is where third-party forms come in. They can be of use when you already have a process in place and you prefer not to alter the systems, or when you have a form that you are comfortable with and you prefer to continue using it. 
Keep in mind that getting any type of form collection portal connected to our platform can be a critical undertaking. You can easily sync with other form builders in just a few clicks. We provide you with a pre-built code that can fit in almost any type of form provider. The Munro Agency provides tailored integrations for major form providers such as Gravity forms, Salesforce, and Wufoo. 
When we were looking at our form builder, there was a section for native or 3rd party forms under the fields tab. Clicking on the 3rd party form generates a pre-built code that pushes the submission to an end-point that will mimic a direct submission.  
Let's do a walk-through of how to connect your 3rd party form directly to your account on our form builder platform. 
When you click on 'Create new form', you will select the 'native form' under the form type instead of the 'SharpSpring form.'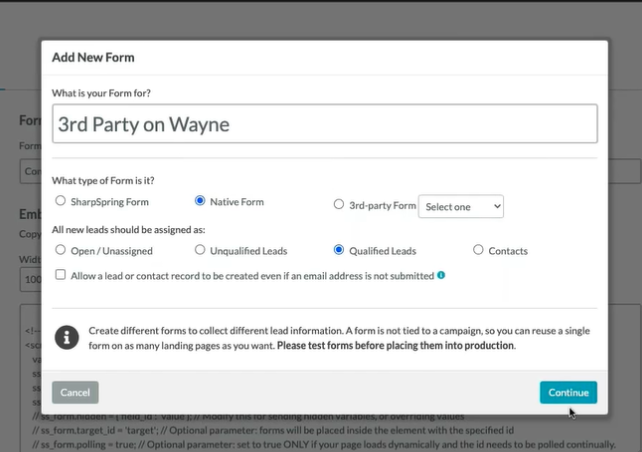 You will be provided with a piece of code that takes the data collected by your native or third party form and push it directly to your Munro Agency account which is identified automatically. Once you have the data in place, click on "Reference this page" and it will show you the data that you have received from the form.
The information will be saved based on the mappings that you already have in place, such as first names, which will be mapped onto the first names section.  You can save your mappings to now have your form up and running. You will see who submitted the form, which form was submitted, the time of submission, including the email address or phone contact of the individual. 

Facebook Lead Ads 
This is one of the new features – which is an expansion of our integration process. Facebook Lead Ads is a feature that will automatically sync Facebook lead data with Munro Agency to engage prospects with marketing automation. They are a great way to connect with people in a more open marketplace.  
Lead Ads is a method of form collection on Facebook. We cannot place our relay script directly onto Facebook so we looked for a way of providing ease-of-use that allows you to render the data that you collect on Facebook directly to your Munro Agency account. 
This integration will automatically create a record inside of your platform, as well as create a campaign, and add that individual to it. This is created for expansion because it connects to where leads are coming from. You will be able to collect any data from lead ads and directly render it into your Munro Agency account.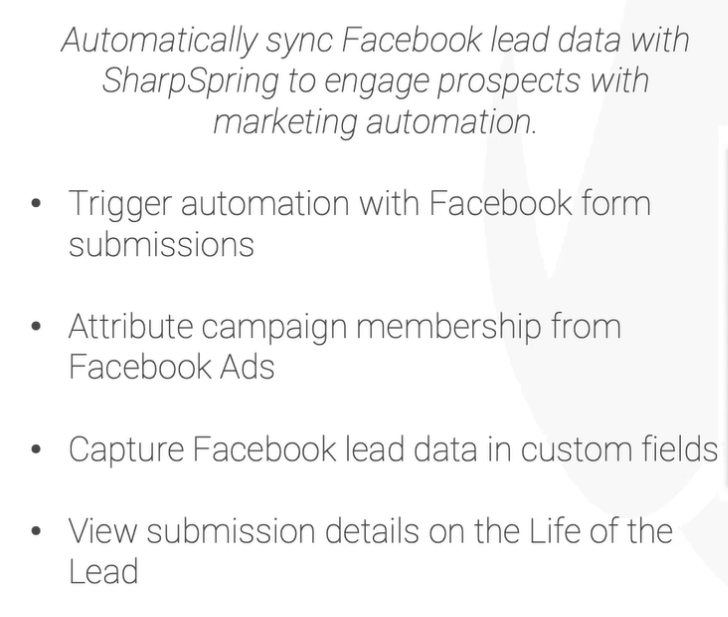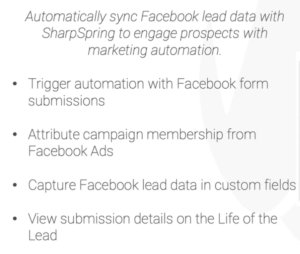 Let's go through how you can create this connection from our platform. 
The first thing you need to do is access the settings on your Munro Agency account. You can do this from the upper right section of your homepage when you click on the profile icon. 
You must be an administrator to access the 3rd party settings. All integrations lie on the 3rd party settings on the dashboard. Right at the bottom of this section is the Facebook Lead Ad prompt.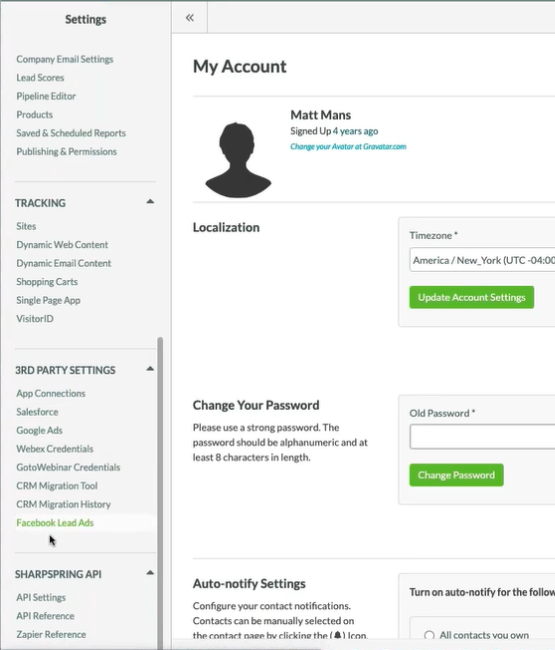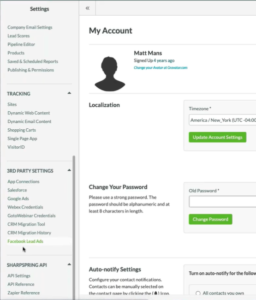 When you click on that, it will take you to a Facebook connection area. Here, you can connect to many pages or lead Ads. As long as you are an admin on Facebook, you can log in with your credentials. 
When you first collect the information on the Munro Agency platform, you will need to map the information as we did for the native forms. This is simply directing the platform to place the incoming. information. After you map the information, the form will be connected and you can then save it.
Here is an example of a form on Facebook and the information coming into the Munro Agency account under campaign insights. 
The tag that we integrated into Facebook for these campaigns is the 'Facebook Lead Ads' tag. If you have connected 10 different lead ads, you can run campaign analytics on the individual Lead Ads and you can also run analytics based on the tag. This will give you the aggregate of all the performances of your leads Ads.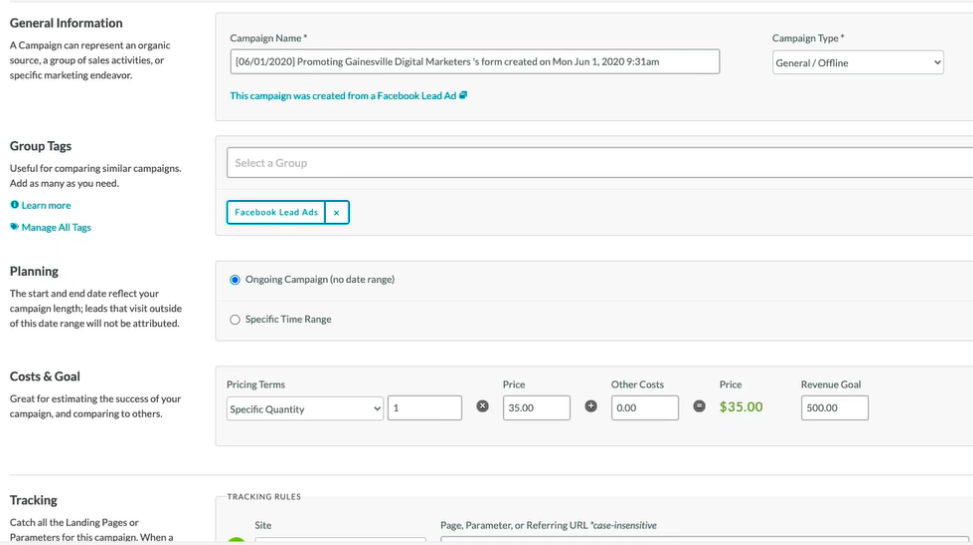 Facebook Lead Ads help you maximize the audience you are engaging with. You get to connect with people in an impactful way, which allows you to generate leads automatically. 
Now that you have learned about forms and how how to build out your own forms using our form building platform, it is time to leverage what you have learned. At the Munro Agency, we offer you an interactive and easy-to-use remote working tool that boosts your business growth.
If you need to create lead generation forms for your website or need help integrating with a third-party platform like Facebook, we are happy to help. Give us a call today at +44 141 212 6354 to get started. You can also request a free trial at Munro Marketing. Whether you are a start-up or SME, you can take advantage of our Small Business Marketing Services; we build custom B2B Lead Generation Campaigns for our customers and also help you create optimized forms to generate more leads for your business.