Yes, content is king. Content is the most effective tool for sharing valuable information and getting recognised as an industry authority. This is why content marketing effectively gets your name across the internet, develops a brand, establishes a presence, and drives sales. However, content has a shelf life.
No matter how engaging, well-written and valuable content is, it is only relevant or useful for a short time. That is if it's not evergreen content.
Seasonal content, such as news articles, statistics, trendy blogs about pop culture events, etc., create buzz, and their relevance and value last for about a week, two weeks at most. On the other hand, Evergreen content brings people back again and again. So when planning for initiatives or topics for your content, it is vital to add evergreen content to your strategy.
But how exactly do you create evergreen content? And more importantly, how do you use it for your content strategy or social media marketing?
What is Evergreen Content?
Evergreen content has perpetual life.
Evergreen content is a type of content that retains its relevance and value to your target audience no matter when they read or watch it. It doesn't have an expiration date and doesn't become outdated. Unlike news and pop culture posts, celebrities, movies, TV shows, current trends, and fads, which are generally time-sensitive, evergreen content is optimised for search engines. It is not tied to current events or publication time.
Evergreen posts can be about anything and everything as long as they serve their purpose at any time.
How-to guides, fundamentals, and comprehensive tutorials are good examples of evergreen posts. The post can be updated with related information, data, or dates, but the post itself can stand the test of time.
As a matter of fact, it doesn't always have to be in an article or blog form. Examples of evergreen content can be an e-book, a video tutorial, a social media post, or an infographic.
Evergreen content is timeless and retains value for years. More importantly, it continues to drive traffic long after its publication date.
Why is it Called "Evergreen"?
In botany, evergreen refers to plants that retain their foliage and remain green and functional throughout the year. The same idea is applied in evergreen content – they stay relevant and valuable long after they are published.
The biggest benefit of evergreen article ideas is search engine optimisation (SEO). Since they hold their relevance and value over time, they keep their ranking on the first page of search results. Thus, by creating evergreen content, you are providing value to the target audience and simultaneously helping your search engine optimisation long-term through continuous traffic and engagement.
Aside from the optimisation benefits, a relevant long post that focuses on evergreen topics establishes your brand and business as an authority in your niche and industry. The informative and valuable contents keep your name out there not just for an online presence but, more importantly, positions your reputation as an expert your target audience can trust. This leads to another cycle of more traffic, engagement, and, ultimately, conversions.
Why Should I Create Evergreen Content?
Think of evergreen article ideas as a long-term investment for your brand. Unlike trend-focused posts, news articles, pop culture blogs, product announcements, etc., which are time-sensitive and have limited shelf life, the evergreen will continue to serve its function for months or even years to come. How exactly will your brand benefit from evergreen articles, blog posts, e-books, infographics, etc.?
Faster and more efficient search engine optimisation
Evergreen topics are subjects that are popular 24/7, 365. Thus, writing content about these topics will likely rank you on the keywords you targeted and keep it there. This means you are hitting multiple birds with one stone in your search engine optimisation; improve traffic, boost your online presence, establish your name as an authority, increase conversion, etc.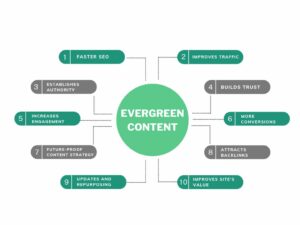 Improves website traffic
Evergreen articles and various formats will continue to drive significant organic traffic straight to your website if it's associated with relevant content and updated with applicable information. The more consistent traffic you have, the better it will be for your brand and business. 
Establishes your name as an authority
You establish your name and brand as a thought leader in your niche and industry by providing informative and valuable content. Ultimately, this positions your business as a trustworthy name, leading to more engagement, traffic, etc.
Builds trust
You can only become an authority in your industry if people trust you. One of the best ways to gain your target audience's trust is to continuously provide them with the information they need, answer their questions, and solve their problems. This is what evergreen writing is about – creating search-optimised content that addresses the needs of your audience.
Increases brand engagement
By driving traffic, building trust, and establishing your name as an authority in your industry, evergreen marketing will boost your brand's engagement with its target audience. This means more engagement in your social media (reactions, shares, and comments), blog posts, and more interactions for your business across different online platforms.
More conversions
As with any other content marketing strategy, the benefit of any evergreen content revolves around more conversions. Increased organic traffic, brand engagement, and customers' trust lead to more leads, sales, and overall success.
Future-proof your content strategy
As said earlier, writing evergreen content is like a long-term investment. The information you share will remain interesting, relevant, and valuable to your audience long after they are published. Thus, long-lasting evergreen posts will serve their purpose for years through search-optimised content.
With that said, evergreen pieces of content will continue to provide long-term return on investment by:
Attracts links from other authority sites
Since an evergreen article can stay relevant and helpful for a long time, it has the power to attract other websites. And if other authority websites from your industry like and link with your evergreen post of the same topic or relevant post they have, your search engine ranking will boost even further, giving you more opportunities for traffic and conversions.
Updates and repurposing
Another valuable advantage of evergreen articles or content is the opportunity to use them through updates and repurposing continuously.
For example, you can update an old evergreen post using new information. You can also create a new and relevant long post about a subject you touched on in your evergreen content and internally link the two posts together. Over time, this will help you create more evergreen and relevant content on your website.
This is the key to an efficient content marketing strategy – keeping your content useful for as long as possible.
Improves your website's value
An evergreen content strategy will improve your website's value and overall quality by continuously creating informative and helpful content that will remain relevant for years. This means you are positioning your website to become an important source of information in your industry and establish your brand as a go-to authority for the target audience.
Evergreen SEO & Content Creation
Evergreen SEO gives you the best of both worlds – it combines the strategic benefit of ever-useful content and the traffic and conversion benefits of search engine optimisation.
You are hitting multiple birds with one stone by making content that will hold its value and relevance for a long time and using relevant keywords that are commonly searched by your target audience in that specific topic.
By combining thorough keyword research with a sustainable evergreen writing strategy, you can boost your website's quality and authority and improve its SEO and organic traffic performance, which ultimately results in better conversion and success for your business.
So, How do I Create Evergreen Content?
Your guide to evergreen writing
Writing posts considered evergreen articles may be daunting. However, writing evergreen content is not so different from writing seasonal content. While there are no hard and fast rules to evergreen writing, there are guidelines or formulas for great evergreen content. They can also be applied to videos, infographics, and other forms of content.
Know who you are writing for
First and foremost, you need to understand who you are creating evergreen content for (your audience) and their needs. From here, you can identify what is interesting, relevant, and valuable for them.
You need to find out what your target audience wants to know. You can ask questions in Quora and Reddit, or better yet, use your social media platforms to ask people about certain things that they need help with.
Get the right keywords
As with any content creation, you must have the right keywords for your evergreen content. This means doing keyword research. The best way to do this is to use a keyword tool.
You can use many keyword research tools, such as SEMrush, Moz, and Ahrefs. Once you familiarise yourself with the guidelines of keyword research, you can easily find the right ones for any topic you wish to write about.
Check out Google Trends
This may sound counterintuitive, but you can use Google Trends to search for evergreen topics that have remained popular for years. Head to "Interest over time" and start your search from there. Find keywords and topics that continuously trend. They don't have to be extremely popular. If the chart shows a downward slope or is highly seasonal (interest spiked and went downhill), then that is not an excellent evergreen topic to write an article about.
Narrow your evergreen topic
Sometimes there are broad topics that you want to write about. While a relevant long post has its place in content marketing, it is not always ideal.
Thus, the best way to do this is to break down broad evergreen topics into narrow ones.
Write your evergreen pieces well
Well-written contents rank better; that's a fact. Thus, before publishing anything, make sure you polish your content. Moreover, ensure your content is in-line with your brand or relevant to your industry.
Also, people want to know what you think. Thus, share your unique viewpoint about specific topics or put some unique spin on common subjects in your industry. Again, use specific examples when trying to make a point.
Fact-check everything and double-check, especially if you are sharing data. Avoid overly technical language and jargon; use plain and simple English as much as possible. 
Optimise it
You can have the most fantastic content with the most valuable information or a unique spin on a specific topic, but if nobody can find it, it will not serve its purpose. Thus, you have to optimise your content for the search engine.
Backlinks are essential, but so is on-page SEO, such as targeted keywords included in the title and H2 subheadings, links that lead to the subcategory page, outbound links to authority sites, data with reference, etc.
Ultimately, make sure your evergreen posts serve a purpose. It should answer the reader's search questions clearly and directly, address common concerns in your industry, solve people's problems, introduce new and unique options, etc.
Update your evergreen content
You cannot just create content and leave it at that (while some posts can be timeless). It is best to update your content as soon as you find new information to help elaborate and support your position. Reflect on new developments and refresh your old content with new outbound links.
Moreover, changing your opinion on certain subjects is essential should new information and data disprove your claims.
The best way to do this is to check your old content after a year or two, update them with new information, correct statements that were proven to be wrong, and remove sections that have become outdated. Include a "2023 update" in the H1 title.
Share and reshare your evergreen content
Since they are still relevant after publication, an evergreen piece can be shared and reshared routinely across various social media platforms. Spark interest or regenerate awareness for your content by republishing your posts across your social media channels.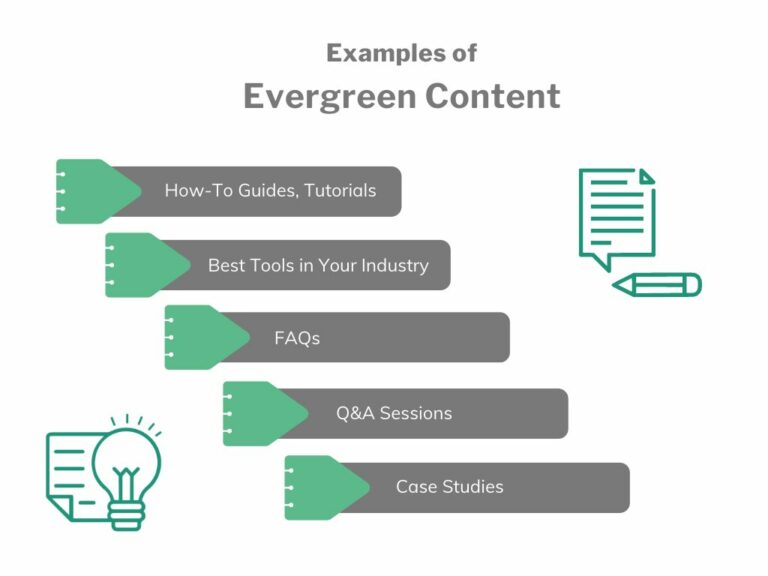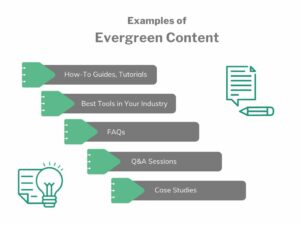 Common Evergreen Formats
You can use these evergreen content ideas to develop a content plan for your website or blog.
How-to guides and comprehensive tutorials about popular topics and problems in your niche
Roundups, "listicles" or best products, resources, and tools in your industry
Articles or blog posts about frequently asked questions (FAQs) and their answers in your industry.
Quickly scannable visual guides and infographics to explain complex topics and sophisticated subjects in a more straightforward way
Side-by-side comparison or "versus" article on certain products, services, or approaches in your niche
Question and Answer session from an interview with an expert in your industry
Insights about the future of your industry
Tips and tricks about different topics, solving problems, and overcoming challenges on certain subjects relevant to your niche
Case studies, evergreen stories, etc. that can help clients and customers solve various problems
Example of NOT Evergreen Content
In general, evergreen content is different from time sensitive topics or topical articles that become irrelevant over time. Therefore, the content performs consistently well regardless of the season or year. These are blog post ideas you want to avoid if you want to generate evergreen content.
Special deals, time-limited offers, and promotions valid for a limited period
News articles, current events stories, recent industry developments
Ratings and reviews may change over time
Event schedules or event listings relevant for a specified period of time
Research findings that may be revised and statistical data that may be updated in the future
Final Thoughts on Evergreen Content
Creating evergreen content provides a wide array of benefits for your brand, from your websites, social media presence, and business. People long for informative, useful, and valuable content, and if you establish yourself as a go-to source for the information they need, then you are giving your brand and business the boost it deserves.
At Munro Agency, we believe in the power of evergreen content and are here to help you create and implement the best content marketing strategy. Contact us today to learn more.