What is Inbound Marketing?
Inbound marketing is a highly rewarding marketing strategy that's fast becoming the mainstay in the marketing industry. Unlike outbound marketing that seeks out customers through ads, cold calls, email marketing, press releases, and TV/radio advertisements, inbound marketing extends an open invitation to prospects to engage with your brand without compelling them to do so. In essence, it relies on several forms of pull marketing like content marketing, blogs, local SEO, social media, videos, ebooks, infographics, etc., to attract potential customers.
According to Marketo, "93% of B2B buyers begin their buying process using Internet search." In other words, businesses with relevant content that answers the questions of users are more likely to record more sales than others that do not publish any content at all. The content provided by inbound marketing is educational, entertaining, and welcomed by consumers. While outbound marketing uses paid ads to bring customers in, inbound content builds on organic marketing efforts to provide answers to the questions of prospects and give them the information they need to make an informed choice. it focuses on positioning your brand for search, building awareness, developing relationships, and generating leads.

Inbound marketing encompasses all marketing activities that bring prospects in, as opposed to marketers having to go out to get prospects' attention. If implemented correctly, inbound marketing is more effective in ROI and engagement. This time, you're not interrupting customers, neither are you pressuring them to buy. Instead, they reach out on their own, since you're offering what they're looking for. Customer retention is less stressful with inbound marketing, especially if you invest in producing interesting content consistently.
The major themes of Inbound Marketing are:
Content Creation and Distribution – Create targeted content that answers prospects' and customers' basic questions and needs, then share that content far and wide.
Lifecycle Marketing – Promoters don't just materialize out of thin air: they start as strangers, visitors, contacts, and customers. Specific marketing actions and tools help to transform those strangers into promoters.
Personalisation – Tailor your content to the wants and needs of the people who are viewing it. As you learn more about your leads over time, you can better personalise your messages to their specific needs.
Multi-channel – Inbound marketing naturally utilises multiple channels because it approaches people where they are, via the channels they most interact on.
Integration – Content creation, publishing, and analytics tools all work together like a well-oiled machine – allowing you to focus on publishing the right content in the right place at the right time.
Inbound Marketing Strategy: Planning and Implementing Effective Inbound Marketing Campaigns
According to a study conducted by Search journal, Inbound Marketing leads can cost up to 61% less than outbound lead generation. But there's a bit of work to be done before you begin to see the results. The good news is that inbound marketing strategy typically employs a rather straightforward process. The inbound marketing strategy mainly focuses on:
Attracting
Engaging, and
Satisfying your prospects
First, you want to create high-quality and engaging content and distribute these using channels that the prospects interact on. When they do reach out to you, you can use the opportunity to provide the best answers and solutions that address their pain points. at every stage of the prospect's journey with your brand, you want to make sure that they have the right answers. For this, it is important to first study the buyer personas before pushing out content. This helps you to create content that attracts people who are looking for what you're selling and are ready to buy.
The last stage of inbound marketing focuses on continuously delighting your customers with great support and timely assistance throughout their journey with your brand. This actually wraps into the first step because as you continue to provide useful content, the higher your chances of attracting more customers. As an example, one effective way to improve your online marketing results is by ramping up your blogging and content marketing efforts.
If you deal in medical equipment supply and servicing, for instance, you can consider creating regular blog posts that thoroughly address the concerns of your customers while also focusing on the best on-page SEO practices, such as keyword research, backlinking, title tags, site load speed, optimization for mobile, etc.
Getting Started with Inbound Marketing
Here are the important steps you need to tasks:
Define your business goals: Before you start, the most important thing you want to establish is what you hope to achieve from your marketing efforts. Are you looking to build your brand authority, increase your visibility and awareness, or win more leads? Perhaps, you are only interested in closing more sales. Whatever the goal is, defining it helps in making the work easier.
Define your buyer personas:  This is often underestimated, but it is essentially the secret to creating highly converting content and attracting the right audience. Studying your buyer personas helps you to understand the demographics, pain points, and buyer stages of your prospects. After identifying your target audience, it helps to learn all you can about them. Based on this information, you can confidently create and share content that solves their problems.
Create and distribute content: You want to make sure that you are in the faces of your audience every time, but not in a disruptive manner. you need to provide content at every stage of their buying journey, carefully answering their most bugging questions, and subtly including compelling CTAs. Use ebook and other downloadables to build a subscriber list that you can send out informational emails and newsletters to. Include infographics and nice images in your blogs. You can also embed explainer videos where necessary. As we explained earlier, this should continue even after they have made a purchase. Also, be sure to sprinkle in your brand message and unique story as you do this.
Choose the best delivery platforms: The importance of delivery platforms cannot be overemphasized, but more important is using the right channels to share your content. For instance, if your audience engages more on Twitter and LinkedIn, it means that you'll get more traffic if you share your content on those platforms. If results from keyword research show that more people are searching for businesses in their area, you might want to focus a bit more on local SEO.
Use a content calendar: To help you keep punching out a constant stream of content, consider creating a content calendar. maybe you want to do 4-6 blogs per month, build your social media following, and track your result once each week. With a content calendar, this is easier to do.
Get customers' feedback and analyze your results: Luckily, there are metrics that you can use to understand your progress, as well as make improvements where necessary. You can analyze your site SEO rankings, inbound links, conversion rate, ROI, click-through rate, etc. With this information, you can optimize your inbound marketing strategy for better results.
Benefits of Inbound Marketing
Now, you are probably wondering how is inbound marketing going to improve your business results. Far too many businesses think about their websites as broadcast channels for addressing a large group of people. However, your website serves you best when its content, design, and layout are built with a human touch. Instead of writing copies to impress your competitors, focus on creating copies and experiences that your visitors and customers will love and share.
In most cases, inbound marketing costs less and offers a higher ROI than outbound marketing. According to a recent report by HubSpot, inbound marketing leads actually cost 62% less than outbound leads. They also found that businesses using mainly inbound marketing save over $14 (£10) for every new customer acquired. To help you visualise all the marketing activities that can go into a week-defined Inbound Marketing funnel, we have included this great graphic found on the MOZ blog by Slingshot SEO.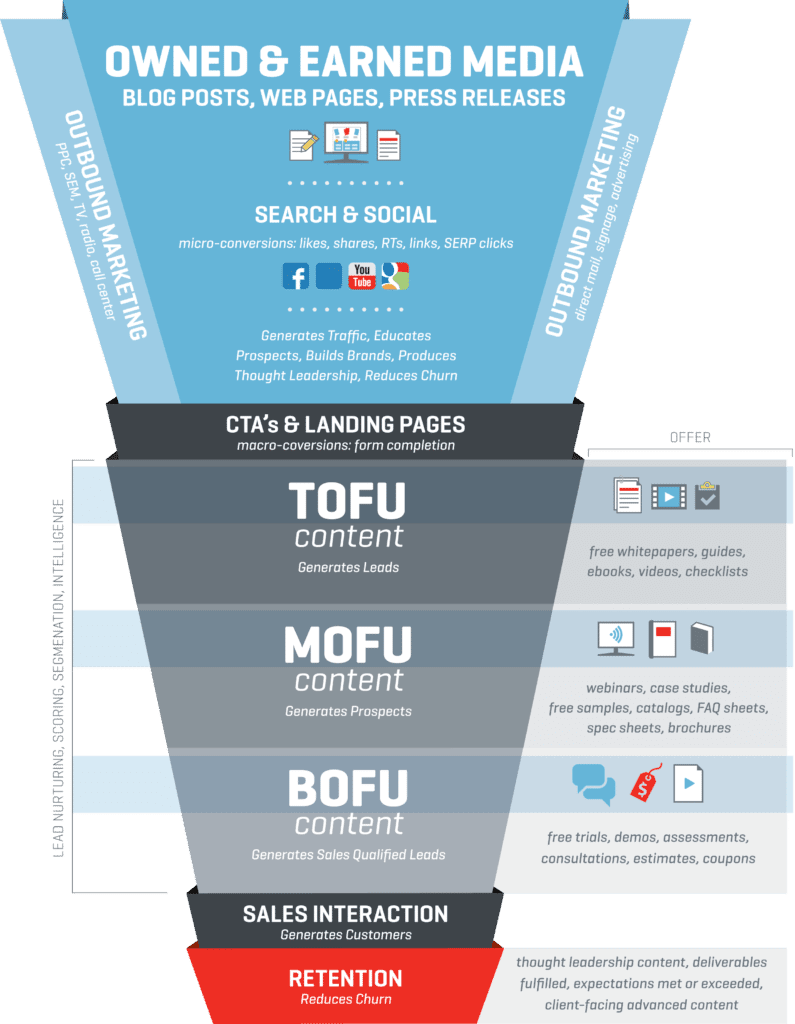 An inbound marketing strategy has five ordered sections, and all of them are necessary for widening your sales funnel, build acceleration through it, and optimize the impact of your marketing efforts on revenue. According to Kuno Creative's Content Marketing Manifesto, publishing five to ten posts per week led to a 633% increase in leads versus just two to three posts per week.
Instead of interrupting people with television ads, they created videos that potential customers want to see; rather than buying display ads in print publications, they created their own blog that people subscribe to and look forward to reading; instead of cold calling, they used relevant and informative content and tools to attract people looking for more information.
Other key benefits of inbound marketing
Whther you run marketing for a large corporation, a small business, or startup, here are some more benefits that inbound marketing can offer your business.
Reduced expense: According to HubSpot, inbound marketing saves you more than $14 for every newly acquired customer.
Higher trust and credibility. The more informative and useful your content are, the more trust and confidence you are able to build in your visitors.
Quality traffic and leads. This is as a result of defining your buyer personas. Instead of throwing out ads that are not optimized, you only focus on people who are ready to buy.
Opportunity to learn and evolve. As you get feedback from your customers, you can combine this with insights from your aanalysies to optimize your results.
Attract and convert more visitors and into leads: The Content Marketing Institute shows that inbound marketing generates three times more leads per dollar than traditional methods
Nurture leads into customers: Your chances of converting leads into paying customers are higher since you are focused on a target audience.
Delight customers: With inbound marketing, you can continually delight your customer and potential customers using by providing the right content at every stage of their journey with you, especially before they buy.
If your business is not already implementing inbound strategies, you'll likely lose out to your competitors sooner or later. You want to also consider getting getting help to implement an effective inbound marketing strategy for your company, in case you are too busy to find the time.
At Munro Agency, we help our clients continually provide value to their new and existing customers, which helps them build referrals and generate new upsell opportunities. we focus on delighting your customers, who in turn, become promoters of your brand,  evangelists that support your marketing efforts, helping to drive better traffic and generate more quality leads. To find out more about Inbound Marketing, get in touch with us for a free consultation.