10 Reasons Why Email Marketing Still Works
Email Marketing Still Works! But does it? When the internet was new to consumers, everyone loved email. One of the best parts of logging onto AOL was the knowledge that after minutes of agonising squeals, you'd be treated to that wonderful phrase, "You've Got Mail!"
But after a couple of decades of Nigerian prince schemes, Spanish lotto scams, and mountains of unsolicited spam (which is never a good marketing tactic), how do people feel about email now? Is it still a worthwhile tactic for small-business owners and marketers to pursue?
The simple answer is yes. In fact, email generates $42 for every $1 spent, according to Litmus. Also, Hubspot email marketing stats show that 64% of small businesses use email marketing to reach customers, and 78% of marketers that use email marketing see an increase in email engagement within 12 months.
Indeed, email is still very powerful, but how is that even possible, especially with the increased rate of scams and frauds? Here, we'll walk you through the top 10 research-backed reasons email marketing remains an effective tool for businesses of all sizes:
1. Personalisation and Segmentation
Email marketing gives you the luxury of quickly personalising campaigns, so you can be more specific in targeting your intended audience. If your product or service is intended for a certain demographic, you can easily stylise your emails to reflect their interests. This allows you to target niche markets and make instant changes to make the campaign more effective. In comparison to a direct mail campaign, this can be done quickly and more efficiently – avoiding printing restrictions and incurring costs. Personalisation helps businesses put their offerings in front of the right audience, thereby increasing their chances of getting engagement from the audience.
Here's an example of email personalisation: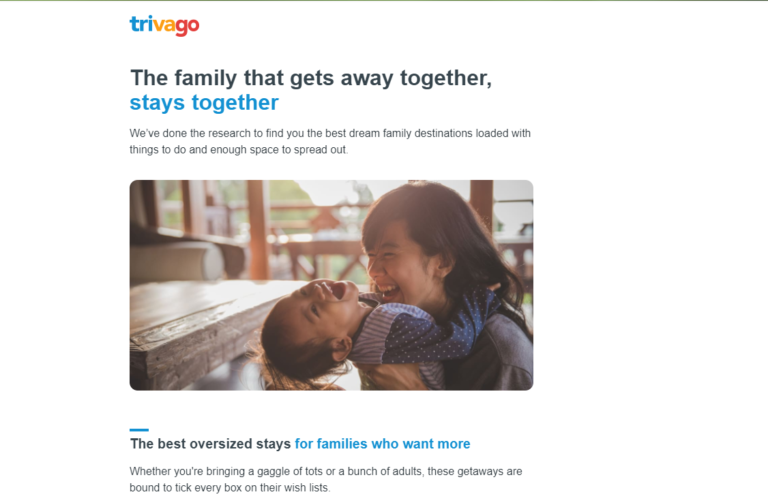 2. Increased Measurability
Email marketing campaigns offer a range of in-depth analysis and tracking tools, allowing marketers to see recipients who opened their emails and the specific links each recipient follows. Depending on how inclusive your analysis tool is, you can profile your ideal customer by finding out a range of demographic information to aid your future campaigns.
A great feature is the 'unsubscribe' button, which alerts you of recipients who no longer wish to be on your list or receive your communications. Respecting their preferences saves you from making it to the spam list, where you'll most likely be penalised.
3. Still the Most "Businessy" Medium
Although there are upward trends in the way that companies communicate online to provide customer service, when it comes to building business relationships, the best medium is still email. Not only do emails suggest a more serious, grown-up conversation, business professionals generally do not go on to social media websites for private, business-related discussions. In short, people still use emails as the official means of communication.
4. Volume of Users
Email tops the list of active accounts and users. It has nearly three times the amount of users than Facebook and Twitter combined. That's an enormous 2.9 billion users! In other words, both Facebook and Twitter make up just 0.2% of the number of emails sent every day (not including spam). Many modern marketers will state that they've "tried it, but it didn't work". In that case, you might be missing something in your campaigns, or there's something you're not getting right. Ideally, email marketing ought to be an integral component in your marketing and sales approach. For instance, if you are targeting an older audience, a lot of your prospects may not have any social media account.
The closer you can get to a written letter, the better!
5. People See it as a Transactional Medium
Many people expect to receive offers by email. They are more likely to be primed and in a buying frame of mind when they view your message. When compared to other forms of marketing, such as social media marketing, messages get less attention as customers are in a frivolous, non-business or transactional state of mind. People are predominantly on social media to chat with their friends, share photos, and catch up with the celebrities they follow. This is far from looking for anything to buy. In fact, when they want to buy, they go to places like Google or their favourite online stores.
This does not mean that social media marketing is not effective at all. Rather, when you compare selling on social media to marketing via email, you are more likely to get more qualified leads and even faster. Social media marketing is still a great way to build brand awareness and get your messages out there.
6. Testing
Email marketing allows you to quickly identify sections of your mailing lists that aren't engaging or responding to your campaigns. This means that you can tweak and revise your messaging to better communicate with your ideal customers. There are several techniques that you can use to test your email marketing. Whether you choose to split tests or try out more involved methods, testing will allow you to tailor your emails to address each customer's interests and needs.
Examples of email testing tools that you can use include:
Litmus
Mailtrap
EmailReach
Inbox Inspector, and
Email on Acid
These tools can help you test how your email design and content are impacting deliverability and engagement. With the insights you gain from this, you can make necessary adjustments to improve your results. But in some cases, your email service provider (ESP) may provide you with this service.
7. Reduced Expenses
Direct marketing can incur lots of costs by way of designing, printing, and posting expenses. Telemarketing can involve a lengthy process of prospecting for customers, qualifying them, and closing the sale. This can put significant pressure on sales teams and absorb a lot of their time. On average, email marketing is likely to cost less than 10% of a direct marketing campaign, whilst reaching a considerably larger audience. Email marketing can cost as much or as little as you want and has very little up-front costs.
In essence, you get to decide how much you spend on email marketing. Spending less never means compromise. Email marketing allows you to create campaigns quickly and efficiently, without driving up expenses. Litmus – an enterprise email marketing service provider – maintains that email marketing generates $42 for every $1 spent. This is an eye-popping 4,200% ROI, making it one of the most effective digital marketing strategies available.
8. Less Intrusive
Almost everyone at some stage has been disturbed by a cold call or skipped through television adverts to get back to their programme. This is because we are frequently interrupted in prior activity with messages that we often do not solicit. Email marketing works because customers actively open your email and are engaged with your message when they see it. If you've done an excellent job designing your email, customers will look forward to seeing what you have to say! Keep in mind that the content and aesthetics of the email play an important part in building engagement.
9. Targeted
Traditional forms of advertising are based on the notion that if you reach out to thousands of people, you are likely to receive a few responses. Unfortunately, most of these people may find your message irrelevant, and worse, intrusive of their privacy. On the other hand, email marketing works more efficiently because you are sending out targeted messages to the right audience.
This can be based on their preferences, location, local market conditions, and other influences. Email marketing allows you to build lists, which you can also segment by age, gender, marital status, income, interests, etc. This eliminates a lot of the uncertainty that makes other forms of marketing ineffective.
10. Interactivity
Emails are an amazing marketing tool. Though there are several social media platforms that offer advanced interactivity, email marketing is perhaps the best example of how interactive marketing can take your messages to a different level entirely. Your audience can:
forward your emails to friends
Click on your links to view more information
Add products and services to their shopping carts
Access their personal accounts, update subscriptions
Visit and read your blogs
Post to your Facebook page and follow you on Twitter
[easy-tweet tweet="You' can't click on a Newspaper advert – 10 reasons #email #marketing still works!"]
And they can do all these right from one email you send out.
Do you have a business that could benefit from optimised email marketing campaigns? Now is the time to explore the benefits of email marketing and improve your business results. Now that you know why email marketing is effective, you too can join the trend, and see for yourself.
But guess what? You don't even need to stress to implement email marketing. With our email marketing automation tool, you can enjoy the benefits of email campaigns without needing to write and send out emails manually. Give us a call today at Munro Marketing to ask for a free trial. We are a Marketing Automation Agency that specialises in Lead Generation, helping you make the most out of your marketing efforts.