Why does a business need newsletters?
Newsletters are foundational to any kind of digital strategy. A newsletter is not just a distribution strategy; it is a relationship-building tool and an essential component of your email marketing strategy.
One of the keys to using newsletters productively is allowing yourself to talk to your most connected audience. Instead of looking at it as something you have to do, think of it as something you want to do. Newsletters are a powerful content marketing tool, especially for businesses that want to maximise their inbound marketing strategy.
Let's dive into how newsletters can be beneficial to your business and how you can leverage them to increase engagement.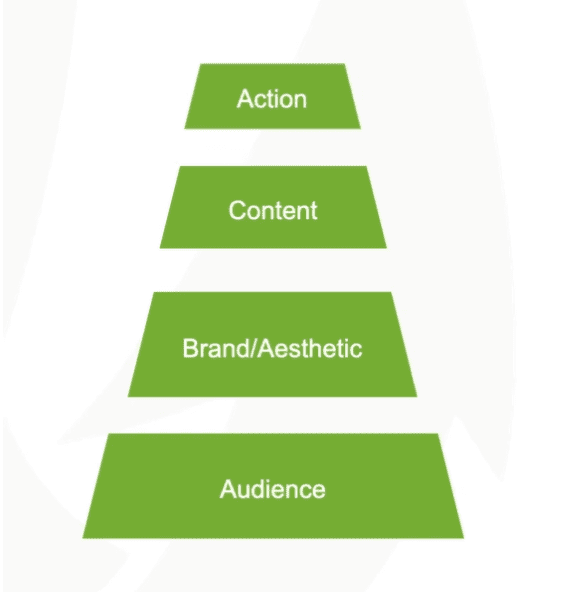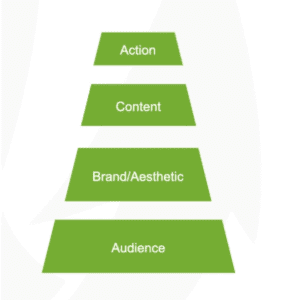 Action
Action is what you do to increase engagement. There are several things you can do to connect to your audience better. You can increase engagement by using offers, gated content, and surveys. 
Content 
Newsletters convey ideas, opportunities, and descriptions. They need to be fresh, exciting, and relevant to help you connect to your audience base. Make sure that your content is dynamic and engaging enough to grasp the attention of the recipients.  
Brand/Aesthetic
Aesthetics is important because it allows people to be comfortable with communication. They know where to find things, and they know the tone in which things are being communicated. These are some of the things that significantly contribute to engagement because your newsletter becomes identifiable. Ensure that the design/branding on your newsletter is consistent with the branding on your website to maintain the user experience.
Audience
Audiences are the people you are sending out the newsletters to. The newsletter should be for people who are invested in what you are sending out. Marketing segmentation is your friend when it comes to choosing your audience. 
When it comes to your newsletter audience, the bigger it gets, the better for your business. But you also need to audit it to make sure that you only have relevant people receiving your newsletters.  For example, if someone has not engaged with your monthly newsletter in two years, you probably need to remove them from your audience list.
Newsletters are essential for a variety of reasons which include;
Establish and maintain engagement
It is essential to maintain your email contacts, and a good way to do this is by using a newsletter. Creating a newsletter gives you a great reason to send content. It allows you to reaffirm the connection you have with your audience. Having a consistent outreach to people that you know are receptive is very helpful, and newsletters facilitate help in facilitating that. 
Creation on a schedule
One of the most common 'New Year resolutions' is the creation of new habits. For marketers, content is the habit you need to get into. Having to produce a newsletter on a schedule will keep you and your team members engaged. Giving yourself a deadline is important when it comes to maintaining productivity. You will be able to focus and organise your thoughts when you schedule things. Over time, this allows you to maintain consistency.
Opportunities to expand relationships 
Newsletters give you the ability to expand relationships and stay connected. Empowering your members to refer people is one great example of this. Many relationships are based on timing, where having a consistent connection allows you to explore a relationship in a variety of ways. 
A newsletter helps you establish your expertise and build brand authority. It helps affirm that you are the expert in a particular topic, and you can leverage this opportunity to build your overall brand.
Building a Better Framework 
There are many different ways in which you can express your ideas in a newsletter. The last quarter of 2020 saw SharpSpring get the greatest volume of newsletter sends since it was established. Here are some concepts that worked for some companies, which you can also emulate to create great newsletters:
News Vs Letter
The news is a critical component when it comes to what goes into this kind of communication. You can take a news approach rather than a letter approach when it comes to creating highly engaging newsletters. 
Tone of Voice
Having a branded tone of voice is the key component of a letter. The tone of voice has to do with expressing things in a way that stays true to who you are. 
Calls to action 
A newsletter should have a call, not to action, particularly in a manner that drives sales, but in a way that drives engagement. 
You can also play with visuals and numbers when creating newsletters. So, it's important to have a clear header at the beginning of the newsletter. For example, let us look at some samples of creative newsletters you can adopt in terms of presentation and content.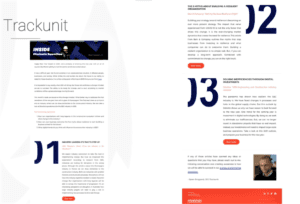 There are content details on the footer of this newsletter. The content is quite direct, and the newsletter is more of a springboard for someone looking for more information. Each section gives you some insight into what their blogs will be but does not give you all the details. This means that it drives you to their website, and you want to engage more with their content. The branding on the newsletter is quite consistent, which makes it identifiable instantly.  
Here is a different newsletter sample: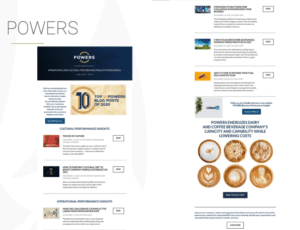 From the layout and design, you can see that this newsletter is very clean-cut and focused. It has a clean header with a consistent banner. The concept here was their 'Top 10 blog posts of 2020'. The presentation was very well executed, as it allows a reader to continue to do things that resonate with them. Also, the newsletter uses negative space (which means a lot of white space) to let the content breathe. The newsletter has a gallery-like look in terms of the visuals, which shows that they are tapping into modern trends.
Here is yet another example of a well-done newsletter;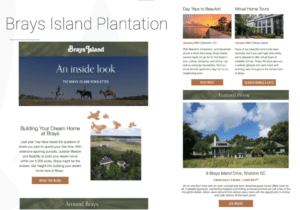 This newsletter focuses more on the engagement aspect, where they diversify the different components of what they are talking about. It has a well-played colour scheme that blends in well with the content and the layout. The content itself is tasteful and not overstuffed, which allows the reader to go through it easily and not get overwhelmed. It is a clean and simple newsletter that is set up for success. 
The above examples are quite similar in terms of structure and approach. Here is a different effective method for creating your newsletter. Let's first look at how the newsletter looks when it gets to a recipient's email.
The subject lines are typically non-newsletter-based. They are just pieces of the content that is featured within the newsletter, like a preview. The newsletter comes from the president of the company, which is an uncommon approach that tends to be quite successful. It is a creative way to connect to their audience base to drive better engagement. Here is an example of what this type of newsletter looks like:
The design of the newsletter takes a minimalist approach so that the viewer does not get overwhelmed when looking at it. It communicates to the audience and maintains a connection and engagement. The newsletter takes a letter approach that includes a personal touch. 
Having a good template is the key to success, and this is what we offer you. You can edit parts of it to suit your preference. It allows you to be more productive in terms of how you organise your thoughts. Since you will be using the same template every month, you can plan your content and make it more impactful and meet your deadlines. 
A newsletter is a great way to be consistent, not only with creativity and establishing engagement, but also with branding. Once you have created your newsletter and sent it, you can use the template again to create more content. Our newsletter template gives you good presentation, symmetry, and structure.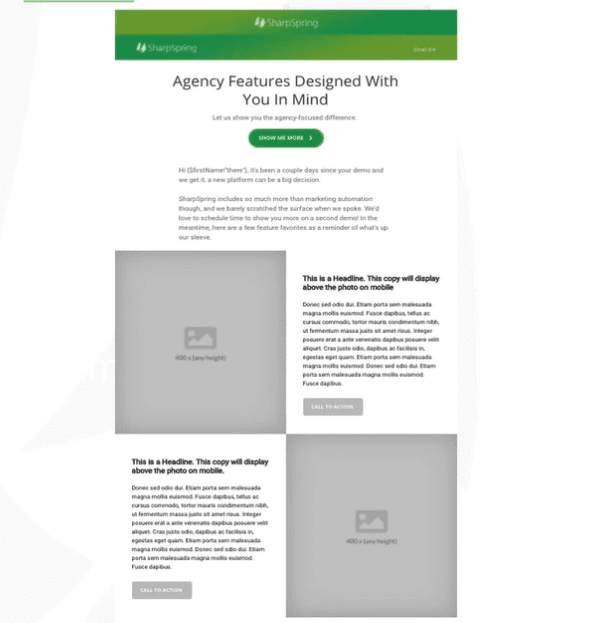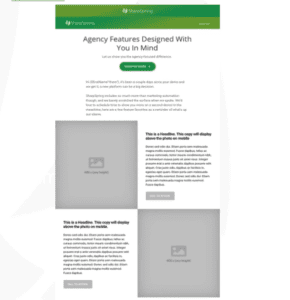 Deployment/Segmentation Strategy 
There is no right or wrong way to create a newsletter. It should be a reflection of what you do as a company and how you want to interact with your clients. The newsletter should represent your brand and how you want to represent your company to your base audience.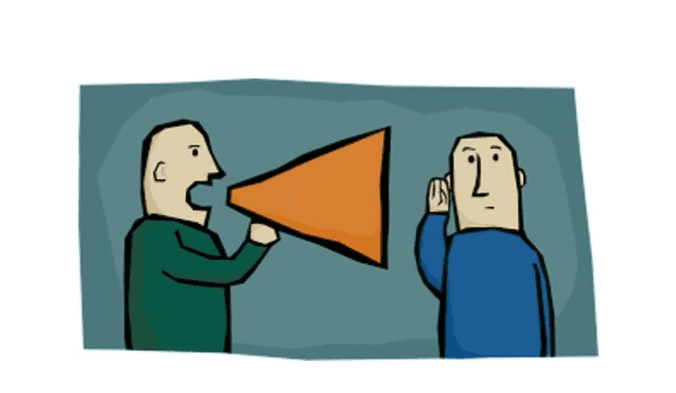 Meanwhile, you want to keep in mind that not all newsletters are the same. Here are a few typical types of newsletters that we see from time to time:
1. Weekly digest. This is one of the most common newsletter types. It could be weekly or bi-weekly each month. It provides recent updates, news, and sneak peeks of the content you want to offer your audience. 
2. Promotional for products and events. These kinds of newsletters are participatory. They drive excitement and in-person engagement. They are also excellent relationship builders. You get to put things of value in front of your base and get extended engagement. 
3. Internal communications. These newsletters types provide a way for you and your leadership to communicate to people in a way that you are comfortable with. They can be used for staff and customers alike and should have an inclusive tone.
While these are not the only newsletters types there are, they are the most common ones. You can even choose to blend all three of them. 
How to Spot Success
You need to define what success really looks like when it comes to sending out newsletters.  Here are some ways you can identify whether you are succeeding:
Membership
People in the digital marketing arena have the mind frame of 'the bigger, the better'. While you want to extend as far as possible, you also want to make sure that you are reaching out to the right people. Establish a registration process and monitor registration totals. You will know that you are doing well when you have high membership rates from your total audience. 
Frequency
This means how often you are sending out your newsletters. Being consistent will maintain the connection you have with your base audience and also drive more engagement. Based on monitored newsletter send-outs, it was found that the best performing newsletters on average were those that were sent monthly. This was followed by those that were sent biweekly and then those that were sent quarterly. There is, however, no right or wrong frequency, but you can look at and stick to what works best for you. 
Results 
This has to do with what you want to see in terms of engagement. Look at your open rates and click-through rates. Traditionally, success was defined as 15-25% open rates and 3-6% click-throughs. When it comes to newsletters, your goal should be at least a 40% open rate and a click-through rate of 10%. These are attainable goals you can achieve with the help of Munro Agency. 
Ideas for the Future
Explore the digital trends in 2021 to become better. There are some things you need to think about when you are creating content for your newsletters. Here are some ideas that we pulled together from Good Emails and Litmus, two industry leaders in the world of email construction:
Use of nostalgia. People tend to respond to nostalgia. Having a historical presentation with a '90s or '80s theme is something that resonates with people.
Inclusion. Having a wide array of people in terms of age, gender, aesthetic, and race really resonate with people. Try to feature people from a variety of groups to increase engagement. 
Simplification. This is in terms of how you communicate ideas. People prefer simple language and ideas to complex ones. 
Shapes. Find a playful way to present your information so that it can draw people's attention. Shapes provide a great way for you to do this.  
Data usage. People are slowly moving towards talking about hard numbers. Back up what you are communicating in your newsletter.  
Emphasis on science. We are in an age of endless information, and people are looking for credible information that can be proven by scientific evidence.
Photo Album Grids. Since we are in a time where many people are working from home and using webinars and zoom calls a lot, the photo grid structure really resonates with a lot of individuals in terms of a design concept. 
Be open to R(evolution)
Here are new ways to approach your newsletter audience: 
Engagement Tiers. Segmentation is crucial to success. Use engagement to segment your audience. Work with content that drives more engagement, rather than a general list to get the most out of the relationships you have established with your audience.  
New Look & A/B Testing. Think about different ways to present things in your newsletters. Leverage on A/B testing to get the highest performance. Try out different colour schemes, headlines, content, and calls to action to increase connection and engagement.  
Relationship Opportunities. Have tailored calls to action and establish your expertise. Be careful not to seem too salesy with your call to action. Remember that you are looking to increase engagement from your newsletter.  
If you are looking for better results and need a Specialist Lead Generation Company to help generate more business leads, then get in touch with us. Munro Agency is a high-quality, one-stop shop for all your marketing needs. We are a SharpSpring Platinum Agency dedicated to helping you bridge the gap between your sales and marketing efforts. We can help you create engaging newsletters that will drive traffic to your website and increase engagement. If you are a small business or just starting out, be sure to check out our small business marketing services.