Growing a SaaS company in a highly competitive environment takes a lot of work. In this guide, we discuss SaaS marketing in detail. The guide provides a comprehensive SaaS marketing definition and outlines its core goals, benefits, common challenges, and core components of an effective SaaS marketing strategy. You will also learn how to increase sales for any SaaS product.
What is SaaS Marketing?
Software-as-a-Service (SaaS) refers to a cloud-computing method that delivers software to users through the internet. End users can access the platforms and infrastructure of a cloud application without the burden of purchasing, installing, and maintaining the software.
SaaS providers manage the architecture behind cloud applications, including data storage, platforms, servers, and all software requirements. The provider is also responsible for upgrades, software maintenance, and fixing bugs. On the other hand, customers require fast internet connections for the best service performance.
SaaS marketing involves generating leads and increasing sales for SaaS products. Customers often pay a subscription fee to access cloud-based applications on demand. Hence, marketing activities should attract new subscribers while maintaining existing customers.
SaaS providers use data to determine each plan's subscription fee and the number of users. Customers can upgrade their plans as their businesses expand. SaaS businesses need robust marketing plans to increase subscriptions and upgrades.
Goals of SaaS Marketing
The goals that guide SaaS marketing are similar to the goals of product-based marketing. The core goals that SaaS companies and marketing agencies should pursue include the following:
Brand awareness: About 7,000 SaaS solutions already existed in the market by 2018. The number has increased since the survey results were published and the latest data suggests that approximately 30,000 SaaS companies exist worldwide. This statistic highlights the need for intensive marketing campaigns to build brand awareness and help you stand out from the competition.
Lead generation: Consistent lead generation is essential, given the stiff competition among thousands of SaaS brands. The marketing team or agency must have a clear strategy to reach the right target audience. Content marketing is crucial to achieving constant lead generation and customer acquisition.
Customer relations and retention: Building good relationships with existing customers is important when marketing web-based solutions. Dissatisfied customers have multiple options to migrate to if the current SaaS provider needs to address their issues promptly.
Converting leads into sales: Dependable lead generation is good but insufficient. Marketing campaigns should convert the leads into paying customers. SaaS marketers sell value to increase conversion rates.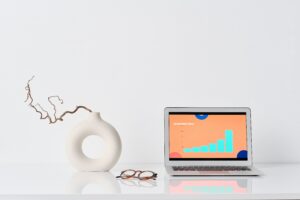 The Benefits of SaaS Marketing Strategy
Every business model requires a marketing strategy to maximize its sales and maintain its competitive position in the market. However, marketing software comes with different challenges, especially for SaaS companies. Investing in a successful SaaS marketing strategy is necessary for the following reasons:
1. Retaining Existing Customers
With traditional software, customers buy, install, and maintain the apps internally. Traditional software is somehow tangible, unlike cloud-based apps. Customers can decide to cancel their subscription anytime and seek an alternative provider.
Delays in fixing bugs or unwanted software upgrades can lead to cancelled subscriptions. SaaS customers rely on their providers to maintain software at peak performance. Users switch from one provider to another if they prefer to avoid upgrades or changes in subscription fees.
SaaS marketing focuses on maintaining subscribers by increasing value. For instance, marketers can engage customers when SaaS providers are rolling out new features. Marketers ensure that customers get the best out of their current plans while giving them reasons to upgrade to gain more value.
2. It is Cost-effective for Providers and Customers
Product-based marketing requires customers to spend substantial money to test a new product. Businesses must ensure that the product meets the customer's needs and quality expectations for a repeat purchase.
SaaS marketing invites customers to test software at a small subscription fee. Purchasing traditional software involves significant upfront costs. With cloud applications, a customer can try an app with the cheapest plan or a free trial and upgrade when satisfied with the performance.
SaaS involves providing the same software to multiple customers. Hence, SaaS providers do not incur significant development costs to serve new subscribers. SaaS companies can invest more in effective marketing strategies and maximise subscriptions at a reasonable cost.
3. Easy Lead Generation with Customised Online Demos
SaaS providers offer online demos to their customers before a subscription. Providers can schedule online demos and trainers for many prospective customers. The attendants have a real-time experience with the software.
A common strategy is to include managers and employees in an online demo. The potential users will ask all the questions during the demos. Lead generation and conversions are easier after such demos.
Since customers access the software via the internet, SaaS businesses do not need physical meetings. Traditional software requires such physical interactions and lengthy training to generate leads.
A CTA at the end of a scheduled online demo is enough to generate new leads and sales.
4. Shorter Sales Cycles
The sales cycle for SaaS is shorter than that of traditional products. Customers can make a quick decision after a demo to purchase the software. The sales cycle is also shorter than the cycle for conventional software.
The process of installing, customising, and maintaining traditional software is lengthy. Customers require a competent IT team to pick the right software and train employees to use it. SaaS marketing relies on online training and demos that shorten the sales cycle.
5. SaaS Marketing Simplifies Upselling
Effective marketing builds a strong community around a SaaS brand. It creates a community of loyal and satisfied customers, especially when SaaS products simplify their work. Marketing attracts businesses and single users to try automated processes through software.
Upselling to satisfied existing subscribers is easy. SaaS companies can develop additional products targeting existing customers. Marketing to a warm audience is cost-effective.
6. Instant Feedback and Insights
SaaS marketing agencies can access real-time insights from users. The agencies can make immediate decisions to improve their marketing strategies. In addition, marketers can offer timely advice to SaaS companies to adjust their product strategy to keep up with their competitors.
Digital marketing enables businesses and marketing agencies to engage customers on online forums, social media, and instant chats. Daily customer feedback is crucial to understanding their expectations and needs. Consequently, marketers can customise their campaigns to reach their target audience.
Effective SaaS Marketing Challenges
This business model comes with some challenges, as it's about selling a product without a physical presence. Here are some of the difficulties that SaaS marketers face daily:
1. Easy Cancellations and Downgrades
The advantage of a short sales cycle is sometimes a disadvantage to the vendor. It takes a minute or less for a customer to cancel their subscription. The cancellation may not affect their business, given the thousands of alternatives in the market. However, the vendor loses revenue immediately.
The antidote to such quick cancellations is to build long-term relationships and contracts with customers. SaaS companies can customise their products for top buyers and sign long-term contracts. Customers cancel subscriptions when the product no longer meets a pressing need.
2. The Product is Intangible
Marketers face a huge challenge trying to convince customers that an intangible product is worth purchasing. Some technology users are still stuck to the traditional software they can install and reinstall. Hence, cloud-based software sounds like a scam.
Such customers require testimonials and customised demos to understand how cloud applications operate. The sales process may take longer, but the marketer will eventually convert them into long-term customers.
3. High Competition in the Market
As mentioned earlier, over 7,000 marketing solutions exist, including SaaS products. New entrants face the odds of outdoing their competitors, especially top-rated brands. A new product must offer extra features or serve an unreached market segment to succeed.
For instance, matching the architecture and infrastructure of tech giants such as Microsoft, Google, or Adobe takes a lot of work. Consequently, marketing companies must design creative campaigns to create demand for alternative SaaS solutions.
4. External Economic Factors
Many businesses have faced financial challenges after the 2020 shutdown. Such external factors affect SaaS marketing as firms reduce costs to survive. The marketing budget is always the first thought for accounting departments.
Sometimes businesses experience internal economic challenges that affect their marketing campaigns. A decline in demand for their core products affects revenues, impacting their marketing budgets. SaaS marketers contend with inconsistent marketing budgets affecting their performance.
How is SaaS Marketing Done?
SaaS marketing requires a deep understanding of the target audience, a clear value proposition, and a willingness to experiment with various marketing channels and strategies to find what works best for the company.
Every SaaS vendor needs an effective marketing plan to withstand market competition. The competition will continue to intensify as businesses discover the benefits of cloud applications. The following tips are essential when developing an effective SaaS marketing strategy.
1. Identify your Target Customers and their Needs
The first step when marketing any product is to define the ideal customer. The marketing team should determine the organisations or individuals that require the SaaS product. The team can then determine the customer personas.
The process leads to distinct market segments that guide marketing activities. Some of the characteristics that the team or marketing agency should consider are demographics, influences, sources of information, and values.
For B2B marketing & Led Generation, SaaS sellers should consider the customer's business background and expertise. The step should also include identifying specific needs that the SaaS product can solve for the target audience.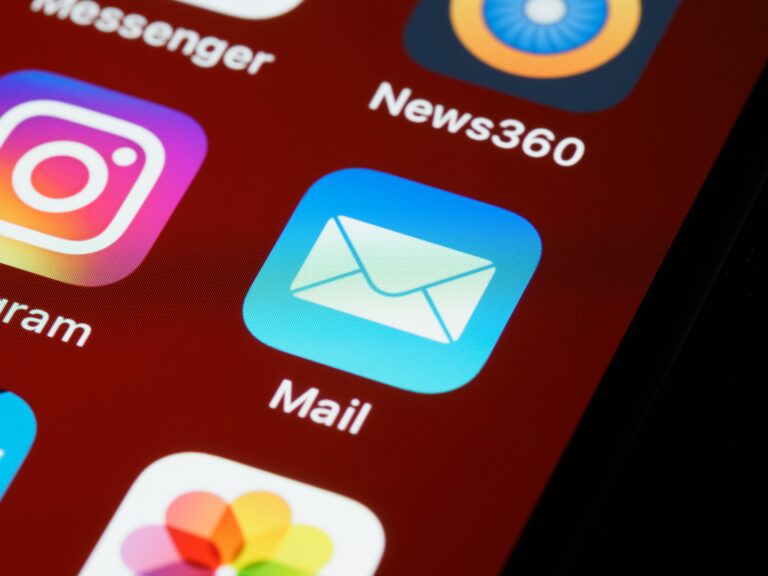 2. Choose the Appropriate Marketing Channels
Developing specific customer personas is critical because it helps identify the best marketing channels. For instance, if the ideal customers spend most of their time on news channels, television and radio stations are appropriate to reach such customers.
If your target customers are online, social media, blogs, magazines, podcasts, and emails are ideal. Print advertising and billboards are perfect for creating brand awareness among the masses. Most businesses require multiple channels to reach all market segments.
3. Use the Right Platforms to Share Product Videos
Product videos are essential when selling SaaS products. Ensure that the video content highlights all the features and benefits of the app. The content and presentation determine if customers sign up or seek an alternative.
A SaaS SEO strategy is necessary to determine the right keywords to use to rank on search engines. The strategy should include keyword research, link building, and content marketing plans. A SaaS SEO agency can help vendors with SaaS SEO and video marketing.
Video marketing activities should cover product demos, training, and value creation. The content should help organisations understand the present and future benefits of SaaS. In addition, the CTA should be clear and compelling.
4. Maximise Growth through Strong Communities
Marketing efforts should go beyond reaching ideal customers to building strong communities. SaaS companies should create a strong community around a Saas brand, given the rising competition and ease of subscription cancellation.
The community members become long-term clients and brand ambassadors. In addition, the interactions within the community help marketers and SaaS companies to identify unmet needs. The exchanges should also guide software updates.
Social platforms and forums offer cost-effective channels for building strong communities. Potential customers can verify the genuineness of cloud applications by interacting with other users. Hence, the SaaS marketing plan should include building and engaging a community.
5. Create and Market Engaging Content
The market segments and personas you develop in the first step define the best content to create. The content is different for each persona and stage of the sales funnel. The shared content should be relevant and engaging.
The next step after creating engaging content is to define the content marketing strategy. There needs to be more than a blog on the business websites in a highly competitive market. Here are some cost-effective content marketing methods and platforms for SaaS businesses:
Videos
ebooks and audiobooks
Images and infographics
Podcasts
Articles and blog posts
Social media posts
Emails
Case studies
Webinars
Testimonials and interviews
Whitepapers
Industry news and surveys
Offline conferences and events
Influencer content marketing
A good content marketing strategy is to create content that the company can share on different platforms. For instance, the team can convert long blog posts into short videos or infographics. Such content forms are easy to share on social media platforms.
The shared content should prove that you are an expert in the SaaS industry. Hence, you must keep up with industry trends and build relationships with thought leaders. Your audience expects accurate and data-backed information to make sound decisions.
6. Determine the Right Metrics
How do you determine if the SaaS marketing strategy is effective?
Choosing the right marketing analytics is important to measure your success. SaaS marketing analytics can help you run successful campaigns; it refers to the process of measuring all SaaS marketing efforts to create a feedback loop which lets your marketing teams know if their strategy is effective or if it needs to be adjusted. Using tools like Google Analytics and SaaS marketing analytics will allow you to gain insights into your website's traffic, user behaviour, and marketing strategy effectiveness.
The metrics may differ from one campaign to another. Metrics help the marketing team to estimate the return on investment (ROI) for each campaign.
Customer acquisition cost is another metric that you need to consider to help you understand the efficiency of your customer acquisition efforts and identify areas where you may be able to reduce costs or increase revenue. It also allows you to benchmark your performance against competitors and make data-driven decisions about your marketing and sales strategy.
An evaluation of the chosen metrics at the end of a campaign shows the parts that require improvements. Consequent campaigns achieve better results. The marketing goals and objectives can help in selecting metrics.
The standard metrics in SaaS marketing include the following:
The number and cost of people reached
Number of video demo views and cost per view
Number and cost of engagements
Click-through rates
Cost per click
Number and cost of link clicks
Increase in website traffic to the landing page
Number of lead conversions and cost per conversion
New followers gained on social media
Monthly and annual recurring revenue
Customer lifetime value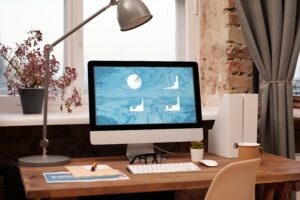 7. Increase Brand Awareness
A SaaS vendor's marketing campaigns and activities should increase brand awareness consistently. Potential customers are at the top of a SaaS sales funnel. The initial ads or campaigns should introduce the brand and cloud software to potential customers.
The marketing team should refrain from assuming that ideal customers are aware of the brand, even famous brands. Some business owners are opening up to the idea of cloud software slowly. Hence, brand awareness campaigns must continue to reach potential customers.
Informative or educational content is necessary to turn potential customers into a warm audience for other marketing activities. The campaign may start by highlighting the benefits of SaaS products to businesses.
8. Capture and Convert Leads
Sometimes businesses focus on brand awareness and forget to capture each lead. Lost leads represent lost long-term customers. After rolling out a marketing campaign, potential customers begin to engage with the content.
Every engagement with an ad or post represents a potential customer. The sales funnel and technology should record such engagements for retargeting. After potential users engage with your content, they should get follow-up messages to subscribe to the SaaS product.
The content for a follow-up to convert leads may include the following:
Invites to online training and demos of the product
Link to a webinar or educational videos
Testimonials or interviews with satisfied customers
Free access to a trial version of the software
Invite to email or newsletter subscription for more information
Request to join an online community or forums of product users
Email marketing remains an effective way of converting leads into sales. Ensure that each campaign prompts the target audience to provide their email address. Sign-ups to a newsletter or product information clearly indicate interest in your SaaS product.
Provide premium content to subscribers, including customised advice for their type of business. Email outreaches should be constant but not intrusive. Always give subscribers an option of unsubscribing to your emailing list and appreciate their subscription.
9. Build Strong Relationships with Customers
We talked about building a strong community around a SaaS product. Building solid relationships with customers is equally important. Some customers will never join an online community or follow the vendor on social media platforms.
The SaaS marketing plan must include constant communication with subscribers. Listen to the customers' concerns and feedback on the product. Address any complaints immediately before they turn into a cancellation.
Excellent customer service is essential when building customer relations. Customers should access prompt technical support when they troubleshoot issues. A delay in solving problems or fixing customers may be costly for businesses depending on the software to serve their customers.
10.  Focus on Providing Value
After implementing the marketing plan, the SaaS vendor should focus on providing value consistently. Marketing activities cannot replace the necessary upgrades on software. In addition, SaaS businesses must provide more than a product to potential and existing customers.
For instance, entrepreneurs need education and training in building successful businesses. Purchasing the right software is a part of the process. SaaS companies should communicate to customers the contribution of their products to business growth and competitiveness.
Additional Tips to Increase Sales for your SaaS Business
A SaaS marketing plan with the core elements in this article will bring new customers. However, you need to distinguish your product further to maximise sales. Here are some tips to help your SaaS business increase sales and revenue:
Offer a free trial: Offer trials are effective in selling SaaS products. After watching the online demos and reading your educational materials, customers need to test the product. A free trial helps the customer understand the product's suitability to meet their needs.
An alternative is to offer a freemium model where customers have a free version for life but pay a fee to access premium features.
Offer few pricing plans: The temptation for many SaaS businesses is to offer customers many options or pricing plans. A limited range of plans simplifies the choice for customers. Here is an example from Salesforce: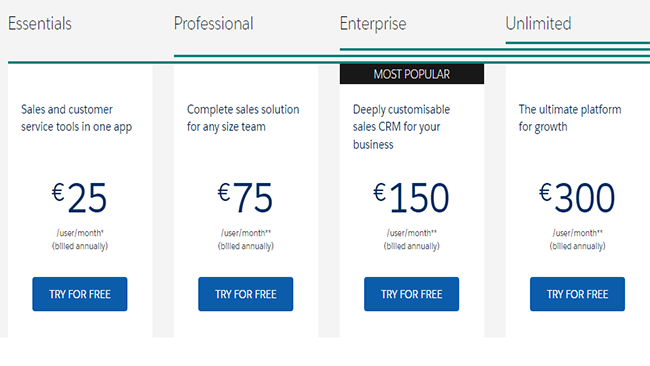 SaaS customers can choose any of the four plans based on their budget and needs. Each plan has a free trial version to simplify the decision further.
Be transparent with pricing: Many companies selling products online prefer to hide the pricing plans from website visitors. The idea is to generate as much interest as possible before the visitor can explore pricing options. The strategy is suspicious, especially when visitors must leave the landing page to sign-up.
A better approach is to be open about the pricing options on the landing page. Create a landing page that displays the value that customers get for each pricing plan. A website visitor may read about the software elsewhere and expects upfront information to make the final decision.
Make the sign-up process easy: Signing up for the free trial version should be simple. A short sign-up form is attractive. You do not need to ask for payment details for the trial version if you expect to build long-term customer relationships.
Simplify the onboarding process as well after the customers sign up. Remember that online buyers have multiple options in the market. One obstacle or request for unnecessary personal details may change their minds instantly. Keep the process simple.
Give occasional discounts: Customers look forward to discounts to buy products at lower prices. SaaS marketers should schedule discounts and deals, especially for premium plans. Such promotions bring in long-term customers who are looking for the cheapest deal to start.
Improve the user experience: Given the competition in the market, SaaS providers must give the best user experience to retain customers. The interface and experience must be top-notch right from the trial version. Constant upgrades are necessary to keep up with industry trends.
Maintain constant communication with subscribers: The marketing strategy initiates communication with potential users. The interactions must continue after closing the deal to retain the customers.
Upsell and cross-sell the subscribed users: Upselling is a proven way of maximising sales for SaaS businesses. Clients who have signed up for one cloud application are more likely to purchase a complimentary product than a new audience is. Consider such a warm audience when introducing new products or premium features to existing ones.
Share success stories: Testimonials from existing customers convince leads to sign up for the product. The success stories must be genuine and visible to potential customers. Social media is a great platform to share multiple stories of satisfied clients and the product's value to businesses.
Should you Outsource SaaS Marketing?
SaaS developers can implement this guide in-house and record exponential growth in sales and revenue. However, outsourcing the marketing function to a digital marketing agency has multiple benefits.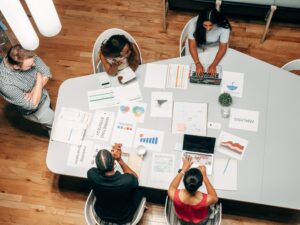 Outsourcing SaaS marketing is cost-effective because the company pays only for the necessary marketing functions. A SaaS company can minimise the marketing budget and avoid additional overhead costs. Hiring an in-house marketing team is expensive.
Another benefit of outsourcing is that SaaS vendors can choose marketing agencies with various services. For instance, most agencies offer digital marketing, SEO, PPC campaigns, content marketing, web design, and email marketing.
In-house SaaS marketing would require the company to hire and train several professionals to handle all the activities. Outsourcing gives affordable access to expertise as SaaS developers focus on improving product features and functionality.
Outsourcing is flexible. A SaaS business can engage the marketing agency on flexible contracts that reflect product performance. If the marketing activities are effective, the company can extend the contract and intensify the marketing efforts.
Many agencies hire experts with years of experience and marketing acumen. SaaS companies would pay high salaries and benefits to such experts. In addition, the professionals would require permanent work contracts to offer their expertise.
Marketing agencies enable SaaS companies to grow their businesses and maximise their ROI. An agency can advise the developer on product development and improvement to boost customer satisfaction. Market insights also help SaaS vendor rate their product and competitiveness in the market.
In summary, outsourcing marketing activities to a SaaS marketing agency is viable for startups and established brands.
Final Remarks
An effective marketing strategy is essential to build a profitable SaaS company. SaaS marketing enables businesses to build brand awareness, generate new leads, increase sales, and boost customer retention. SaaS marketers achieve these objectives in a highly competitive environment. Outsourcing SaaS marketing to experts is advisable for startups to maximise their ROI. Contact The Munro Agency for support and customised advice on SaaS marketing.