What is Marketing Automation Software?
Marketing automation refers to the process of using technology to streamline marketing activities to make them more effective. There are many repetitive and manual tasks that marketing teams need to carry out daily. Some of these tasks include social media posting or ad campaigns.  Marketing automation software allows marketers to perform these tasks in a much easier and effective way. By automating these tasks, marketing teams can free up more time and resources for other more important tasks.
Marketing Automation was once the preserve of only the most financially successful businesses the technology needed to create the systems required heavy investment and was built in-house. Regularly the cost of building the software outweighed the cost savings.
However, thanks to a proliferation of third-party suppliers, sophisticated automation software is now much more readily available to B2C and B2B companies both large and mid-size. Especially in 2021 Marketing Automation is set to proliferate within the small and medium-sized business sector.
Marketing automation is a powerful tool, and for it to work, you'll need to understand what makes up marketing automation and how you can make the most out of it. We have compiled all you need to know about marketing automation, and much more. Let's get to it. 
When did marketing automation start?
Marketing automation started back in the 1990s. However, the industry started to gain a foothold in the mid-2000s. During this time, email marketing was the centre of marketing automation. Marketing automation would then, later on, develop as a result of the aggregation of marketing technology, email marketing, web analytics, and marketing resource management, into one software. 
This kind of software was only accessible to a few large businesses (mostly tech and manufacturing companies) since the existing marketing software providers at the time charged fees as high as monthly rents. As the marketing automation industry got revolutionised, more services and marketing automation software became available, making it more affordable. The Internet was also gaining momentum fast and this meant that more companies could use marketing automation. 
Shopping habits have also changed over the decades, influencing more businesses to adopt a model that complements the new way of doing things. The customer is no longer at the end of the funnel, they are at the centre of it. Marketing automation focuses on creating customer-centric experiences, both for B2B and B2C companies. From the initial point of contact between the lead and the company, there should be positive interactions that drive them further down the funnel until they make a purchase.  
Marketing Automation is quite affordable today and many small businesses can now opt for automation marketing. Another reason why the cost of marketing automation is declining is the competitive nature of the market. There is a solution for all businesses, irrespective of company size or budget. With the incredible value that marketing automation typically adds to regular marketing efforts, it is gradually becoming an essential component of every marketing strategy.  
How does marketing automation work?
What marketing automation does is that it uses some special tools to automate some processes in your marketing strategy.  Some of these processes may include sending emails, posting on social media, or lead segmentation based on actions. It gives you access to several personalisation and customisation features that are suitable for your company.  You can also categorise your leads into groups and offer each group automated pieces of content that are personalised for them, based on specific parameters that define each group.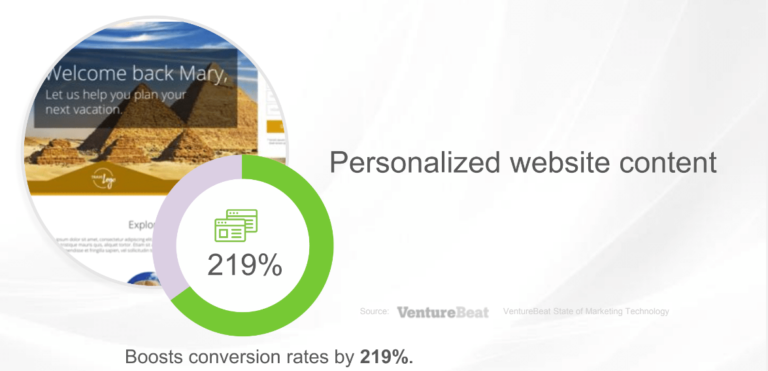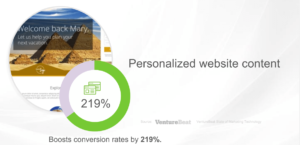 Also, you can effortlessly build relationships and scale up your business with marketing automation. You can use the different features to provide each lead with a consistent experience. This will help you establish prospect relationships that are more meaningful since you are giving them information that is relevant to what they need each step of the way.
As an example, here is what a basic automated email workflow could look like:
Step 1: You send an email invitation to download your latest ebook to a targeted list of contacts
Step 2: Next, you send a thank you note to all the people that downloaded the offer
Step 3: A few days later, you send a follow-up email to the list of people who downloaded the ebook, offering them a case study relating to that topic
Step 4: Finally, when someone downloads that case study, your sales team will get a notification so they can follow up with them (this person is now much more qualified, as they are farther down your sales funnel and is most likely a ready buyer)
What is marketing automation software?
A Marketing Automation software is an advanced marketing platform structured in a manner that helps marketers to attract new leads, analyse lead behaviour and campaign performance, and improve marketing efficiency. This kind of platform is a combination of different tools and features such as web marketing, email marketing, analytics, and multi-channel marketing.  Based on a comprehensive study, here are some of the best marketing automation software providers available in the market. 
ActiveCampaign 
This marketing automation software is currently used by more than 90,000 small businesses and is one of the best platforms available in the marketing automation industry. The ActiveCampaign platform initiated the visual sequence builder and they continue to release new features that are ahead of the curve. What stands out about ActiveCampaign is its pricing. They are one of the most affordable marketing automation platforms, which makes them great for small businesses and mid-sized businesses.  
Sendinblue
Sendinblue is one of the smartest and most intuitive marketing automation platforms for growing a business. They have a range of features which include the visual marketing automation builder, real-time deliverability reporting, and SMS messaging. This is a relatively simple and stable marketing automation tool that will guide your business through the right sales and marketing tools. 
Autopilot
Autopilot allows you to automate the journey of your customers with visual marketing automation software. You will be able to organise all the information you get on your leads in one place and build your customer journeys. If you are looking to build email automation sequences, they have one of the best-designed canvas tools. You can annotate each sequence with stickers, emojis, or explanations. Teams can work together in real-time and collaborate easily on creating sequences. 
Hubspot
Hubspot offers a variety of marketing tools in one powerful platform that is easy to use. Their marketing software is aimed to help you grow and convert more visitors. They also provide you with sales CRM software that automates your tasks, gives you deeper insights into your leads, and helps you close more deals. The main focus of this marketing automation software is the inbound marketing methodology to get the most out of each feature.  
Omnisend
Despite Omnisend being a relatively new marketing automation tool in the market, this tool is great for eCommerce businesses. Their templates and tools are designed as a solution for challenges that eCommerce marketers may face. They have several innovative features such as Facebook Messenger and WhatsApp integrations aimed at helping marketers automate tasks across multiple channels. You can trigger campaigns and see reports on how automation is impacting your sales. 
Marketo
Marketo offers marketing automation features that cover every channel and engagement. Its list of automated tasks multiplied when Adobe acquired it. Marketo uses a full feature software that handles a wide range of marketing automation including account-based Marketing and social media. It is a great tool for large-scale marketing operations.
Blueshift
Blueshift has a design that enables you to create omnichannel expenses for your customers. Its features include single customer views, audience segmentation, personalisation and AI predictions, and decision making. Blueshift features help you run multi-channel campaigns that are targeted and personalised.  
Pardot
Pardot is a marketing automation platform that is tailored to solve the challenges that B2B marketers face. It is now part of Salesforce, making it a robust platform for marketing and sales teams. Their solutions run from account-based marketing solutions to B2B analytics. It is designed to help marketers create meaningful relationships and generate pipelines that help them close more deals. 
User.com
User.com is a marketing automation platform aimed at increasing conversions and boosting engagement. This software allows you to set up and run campaigns with automated processes. They have automated email campaigns that help you turn visitors into users. You can then follow up on them with omnichannel messaging. User.com provides you with a complete package when it comes to customer communication and lead outreach.  
SharpSpring 
SharpSpring is a marketing automation platform that has robust features, impressive performance, and excellent functionality. It is one of the most flexible marketing automation platforms the market has to offer, including a suite of sales and marketing automation features like behaviour-based email marketing, lead scoring, deliverability reporting and so much more. It is an affordable platform, which is also easy to use. 
How to use marketing automation software
The best way you can identify how to use marketing automation to grow your business is by looking at how other companies have used marketing automation to their benefit. Let us look at some case studies on this:
Case Study 1
One business found that although they were getting many leads, none of the leads were qualified.  They decided to implement marketing automation to generate quality leads that had higher chances of converting. 
Marketing automation made it possible for them to use a lead scoring model to come up with a lead segmentation process. This was based on lead behaviour and engagement. Through this, they were able to obtain the right information about their leads and offer them information that was more relevant to their stage in the buyer's process.  
The outcome of using marketing automation software is that they recorded a higher number of qualified leads and their conversion rate has increased exponentially. They also noticed a significant improvement in their sales and marketing activities.
Case Study 2
The next case study is about a software company that wanted to find a way to improve the targeting behind their marketing campaigns and to improve ROI. Using marketing automation software, this company can be more agile in its marketing initiatives. 
They soon started personalised marketing where they would customise all their landing pages and emails using the automation tools. This made it possible for them to build email campaigns much faster than they could before, saving them both time and money. When they implemented marketing automation software, their gross revenue increased twofold. 
What are marketing automation tools/features?
Although marketing automation systems differ widely in terms of customisation, integration, and personalisation, common features for a range of processes do exist. Here are some of the common marketing automation features:
Forms
A form builder is a marketing automation tool that makes it possible for you to build and edit your lead generation forms. This feature provides you with a code that you can add to your website pages. The information that a person inputs into the form goes into your marketing automation database. You can collect lead data such as names and email addresses using this tool.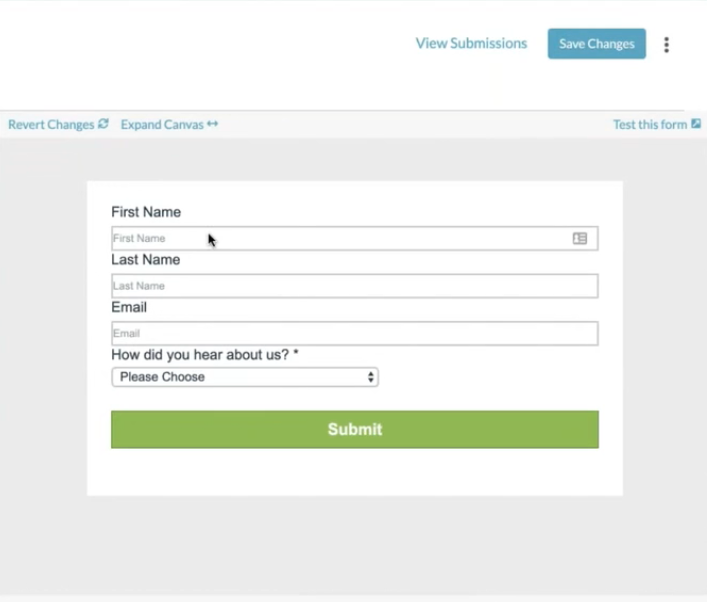 Dynamic personalisation 
Personalisation is an essential component of marketing today. Through dynamic personalisation, you can tailor your content to any person you are connecting with. For example, you can use personalisation components, such as merge variables and dynamic content, to build an email that is personalised specifically for the recipient. This ensures that each email has a personal feel to it. 
A/B testing or split testing 
A/B testing refers to the process of comparing two versions of marketing content, typically a web page or an email, to determine which version produces better results. It is also known as split testing.
Marketing automation makes it possible for you to test out your content before you send it out. Through A/B testing, you can run many versions of the same email and gauge which email is best suited for your audience. You can also analyse which emails have a better engagement rate based on the performance of the emails.
Email marketing automation 
With Marketing Automation, you can send batch emails to segmented groups of people. They also have email builders where you can use templates to build your emails. You can customise the templates and add personalised features to suit your subscribers. You can also set up behavioural trigger emails that will be sent out to leads when an action is completed. This proves you a competitive advantage. 
Lead database
You can evaluate lead behaviour using your lead database in a marketing automation platform. The lead database collects information on how your leads are interacting with your website, their social media activities, and how they are engaging with your emails. From these activities, you can get each lead's scoring for analysis.
Drip campaigns
Drip campaigns are one of the most used features in marketing automation platforms. They allow you to run automated email campaigns and send content to your prospects easily. In a drip campaign, the content will be sent to a lead based on the lead's action or time period,  based on the triggers you have set. Many drip campaigns are through email, but some incorporate other channels such as social media.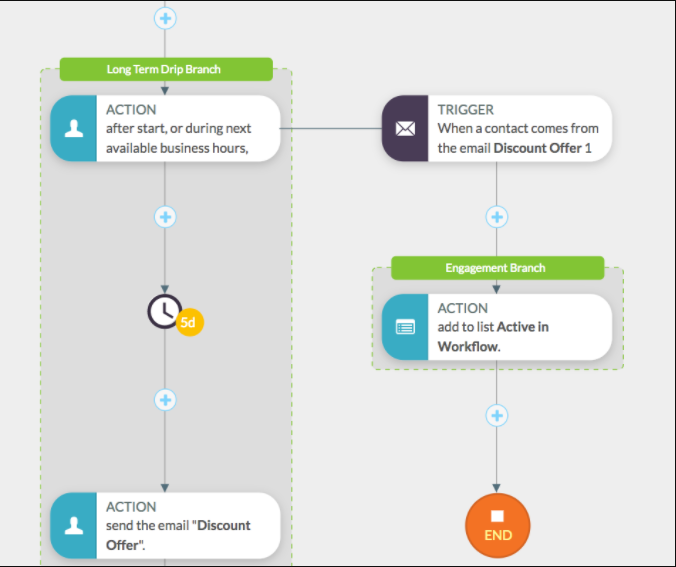 Lead scoring 
Lead scoring is where you rank your leads based on their potential to make a conversion. The potential customers that have a higher lead scoring are more likely to make a conversion. Marketing automation software automatically sums up the lead scoring for your leads. You can adjust your lead scores based on customer behaviour.  
Social media management 
Marketing automation platforms make social media management much easier. They help marketing teams schedule and distribute content on their social media accounts from one central interface. Using tools in the software,  you can schedule your posts days, weeks, or even months in advance. You can also send direct messages to your social media contacts and engage with them from the platform.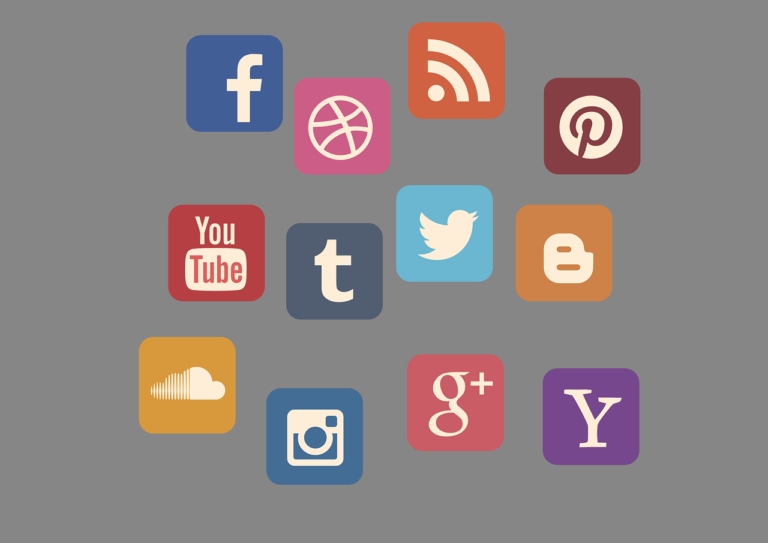 Task Automation 
The main aim of using marketing automation software is to have automation handle the manual repetitive tasks for the sales and marketing team. Marketing automation lets you set up tasks through notifications and alerts to help the team complete tasks in a streamlined manner.  Tasks automation also ends up saving you a lot of time and resources.  
Social listening
Social listening refers to monitoring interactions and conversations on social media to evaluate customer feedback and your brand perception. The social listening features search social media sites trying to find mentions of your product, service, or brand so that you can stay up to date with what is happening.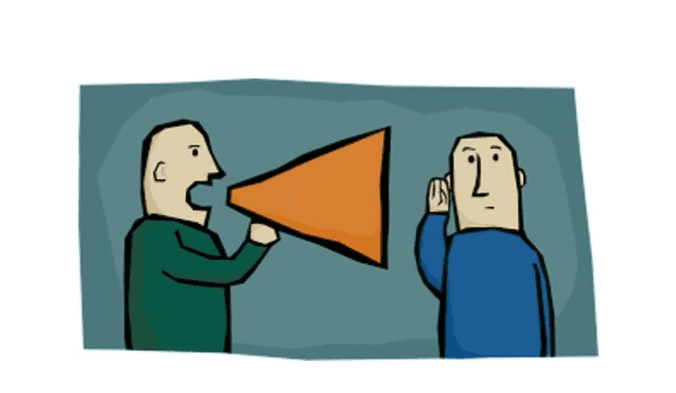 Multi-channel Analytics 
Marketing automation makes it possible for you to not only get analytics about your website, but for other channels, too. You will get an analysis of your content marketing, email marketing, and social media marketing. Make sure you connect your automation interface to data from your PPC campaigns, social media, direct mail, organic search, and eCommerce platforms.  
Lead funnels
Marketing automation helps you understand how your leads are interacting with your content using engagement metrics. Collecting this data across your marketing channels gives you a clear picture of how your campaigns are performing and what your funnels look like. You can then create lead funnels that work, using visual dashboards and funnel visualisations.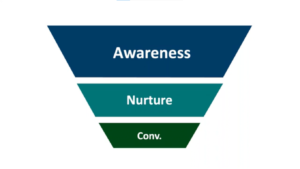 Advanced Segmentation
Leads rarely follow the same pattern. This is why marketing strategies for specific buyer personas are created. Marketers may use advanced segmentation to automatically separate leads into groups. They may then utilize their findings to evaluate certain groupings of traffic data and make better marketing selections.
Content Management System (CMS)
Content Management Systems (CMS) are software platforms that allow marketers to produce online content for their websites or blogs. They usually include all of the necessary tools for creating, editing, scheduling, and even A/B testing content. Your marketing automation software should work with a range of content management systems.
Lead nurturing Workflows
The practice of managing relationships with leads who aren't quite ready to buy is known as lead nurturing. The goal is to secure their business when they are ready to purchase.
A lead nurturing workflow involves following up with leads automatically, leading them through the buyer's journey, and eventually turning them into customers.
Why use marketing automation software? 
Marketing automation helps you focus on your marketing strategy by automating the manual and repetitive tasks that the marketing team needs to handle. Here are some of the benefits that come from using marketing automation software:
Lower operating costs
Marketing has many manual and repetitive tasks that may sometimes require extra staff to complete if you are using human hands. Automation takes care of these tasks, meaning that you can get things done with a much smaller marketing team, saving you some operational costs. Some of the manual tasks that automation can do include sending out an email when a form is filled, scheduling a social media post, and making notifications when there is a change in lead status. You will save time and lower costs. 
Centralised tool for the entire marketing team
One marketing automation software is all you need to bring your entire marketing team on one interface. You can obtain a streamlined platform through which your team can post on social media, contact forms, send emails and even create content. This gives you more control of what everyone is doing, thus easier management.  
Free up time to work on strategy 
Marketing needs are ever-changing and your team needs to be prepared to tackle every challenge that may come up. Marketing automation handles the small tasks that take up much time and frees up time for your team to spend on strategic and creative thinking.  They can spend the extra five and resources thinking about growth and strategy. 
Analytics and tracking made easier
The best marketing automation software for your business is one that has analytics and reporting features that provide you with information about your running campaigns.  Getting reports helps you build better campaigns when you identify what is working and what is not. Marketing automation analytics is focused on sales and marketing campaigns to provide you with insights that will help you grow.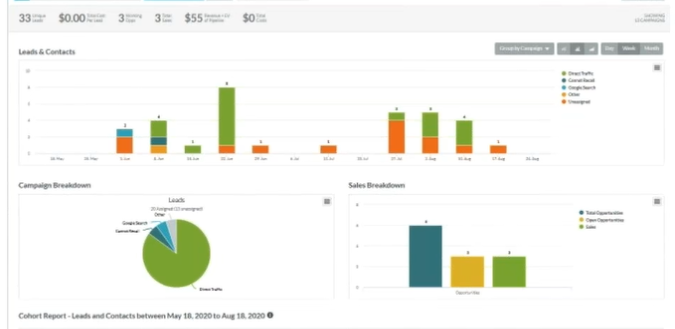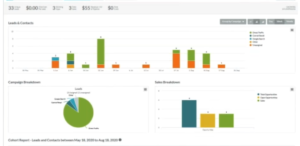 More data
Marketing automation takes all your data and creates a database that helps you better understand your funnels, customers, financial and operations. This is information that your team can use to build better marketing campaigns and segment customers to increase conversions. You can also use data from reports to improve your lead generation efforts. 
Deploy wider marketing campaigns 
Marketing automation makes it possible for your team to Deploy wider marketing campaigns.  This is made possible when you bring together information from various touchpoints such as website interactions and email engagement. You can then qualify and prioritise leads to drive wider campaigns through trigger-based marketing campaigns and personalised emails. 
In fact, marketing automation will also empower your organisation to do the following:
Add dynamic content based on an individual's specific user profile. For instance, you can send targeted offers based on website patterns.
Categorize customers and prospects by common behaviors, interests, and demographic details. These will be dimensions for segmenting your customers.
Develop optimal marketing patterns. Marketing automation can help your company test different variables like email send times, subject headings, and ideas for personalization.
Integrate marketing channels to deliver a more comprehensive and better cross-platform user experience. Make sure that every touchpoint is carefully planned for optimal conversion optimisation.
To what extent are companies using marketing automation software? 
Half of all firms polled expect top-line benefits from their marketing automation strategy, with the most significant goal being "increased sales income." However, how can they overcome the most difficult roadblocks to marketing automation success?
SharpSpring and Ascend2 conducted interviews with 317 business and marketing experts as part of a Marketing Automation Strategy Survey. Based on this research, 95% percent of companies use or plan to use marketing automation. Virtually all companies believe marketing automation is important to the success of their marketing programs.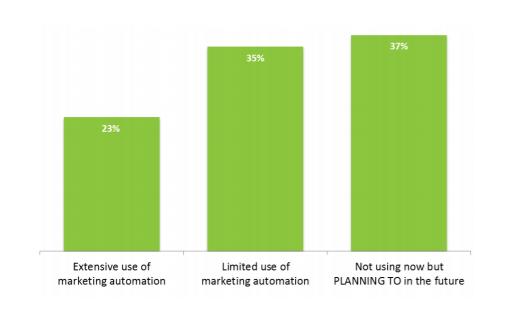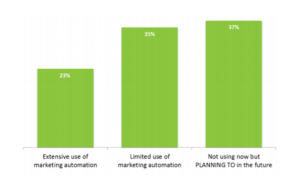 Increasing sales revenue is the top goal companies are targeting and achieving with marketing automation. Some other important objectives for companies using marketing automation include increasing lead generation, improving lead nurturing, improving customer engagement, improving market productivity, improving marketing productivity and performance measurability, improving campaign targeting, and improving marketing-sales alignment.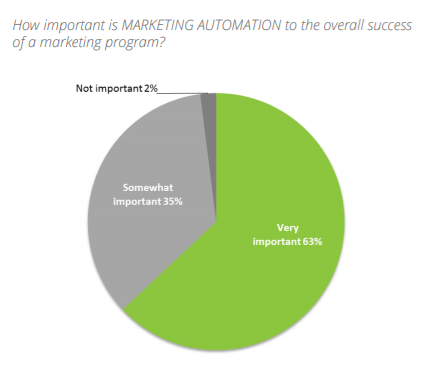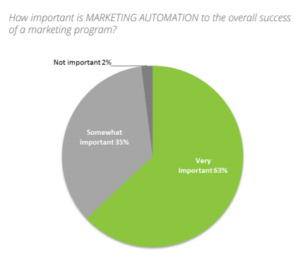 61% of the companies also stated that marketing automation has helped them achieve their important marketing goals. Companies implementing marketing automation look to agencies to provide an effective marketing strategy and marketing automation expertise.
Traditionally, achieving goals like increasing leads, improving conversion rates, and increasing engagement has necessitated the use of various platforms, as well as a great deal of attempting to combine data from all of those platforms to evaluate success. Marketing automation eliminates these obstacles by offering data on a centralized, comprehensive platform, giving you real-time insight into your performance.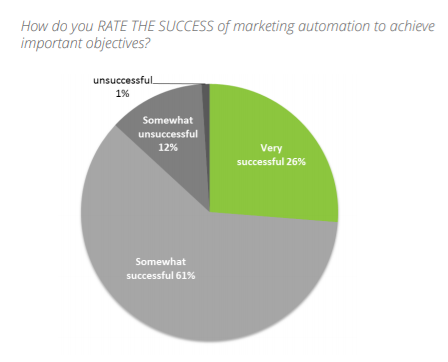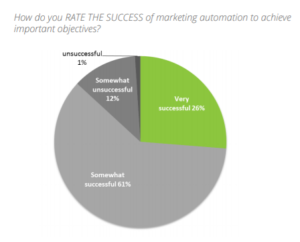 Based on the results gathered from the research, the most challenging obstacles to marketing automation success include lack of an effective strategy, complexity of marketing automation, budget constraints, lack of quality content, lack of employee skills, insufficient data quality, lack of management support, and lack of marketing-sales alignment. Analytics and reporting, as well as lead nurturing, are the most valuable features of a marketing automation system. Digital marketing agencies like the Munro Agency can assist businesses to get their marketing automation initiatives off the ground by advising them on how to overcome these challenges.
The most useful metrics for measuring marketing automation performance include conversion rate, revenue generated, leads generated, and cost per lead. Marketing automation isn't just a fad or a buzzword. It is driving staggering revenue results across nearly every vertical, and the marketing industry has taken notice. Most companies plan to increase their investment in marketing automation in the coming year.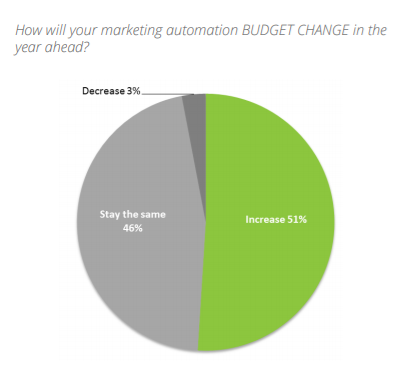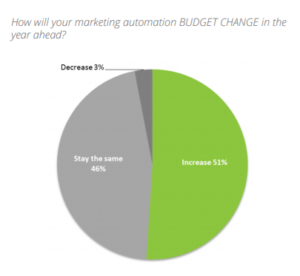 Best practices for developing your marketing automation strategy 
If you are just starting out in marketing automation, here are some of the best practices to follow:
Define Buyer Personas
The first step in your marketing automation strategy would be to develop buyer personas. A buyer persona refers to a fictitious version of your customer or your prospect. Understanding your buyers and their needs is the foundation to implementing a marketing strategy that is ideal for them. All your marketing activities, including your workflows, content, and communication needs to trace back to your buyer persona. You can look at your analytics dashboard to get an understanding of your potential customers.  
Build workflows based on the buyer's journey 
Since buyers vary from each other, their buyer's journeys will also not be the same. This means that the information they are looking for will be different, and so will their needs. You need to map your content to fit the needs of your leads at each stage of the lead funnel. Ensuring that there is relevant information for each stage of the buyer's journey will make sure that you are delivering the right message each step of the way. 
Capture lead information 
The amount of information you need to collect about a lead will depend on which stage they are on in the buyer's journey. If they have just made the initial contact with your brand, you will need to gather as much information about them as possible.  This may include their name, location, email address, and contact information. You can collect this information gradually as they move further down the funnel. 
Create solid content
There is a lot of information on the Internet today and the information you provide to your customers needs to be unique and high-value content. When you understand the buyer persona and the information that your prospects are looking for, you will be able to create content that is most relevant to them. This can vary and may include blog articles, videos, webinars, ebooks, and much more. Make sure that you target each stage in the buyer's journey with suitable information. 
Establish a lead scoring model
A lead scoring model is a feature that is designed to help you analyse which leads are more likely to convert. It assigns a score to each of your leads based on their engagement and interactions to help your team identify where they should place their efforts. You can identify which leads are just testing the waters, and which ones are looking to make a conversion.  
Why choose marketing automation software over other software options?
Compared to other tools, marketing automation software has so many functionalities. It combines the power of workflow automation, email service providers, workflow automation, project management, social media automation, project management, and data visualisation software. This means you have all the features you need to automate all your marketing activities right in one interface. Marketing automation covers a scope that other forms of automation do not reach.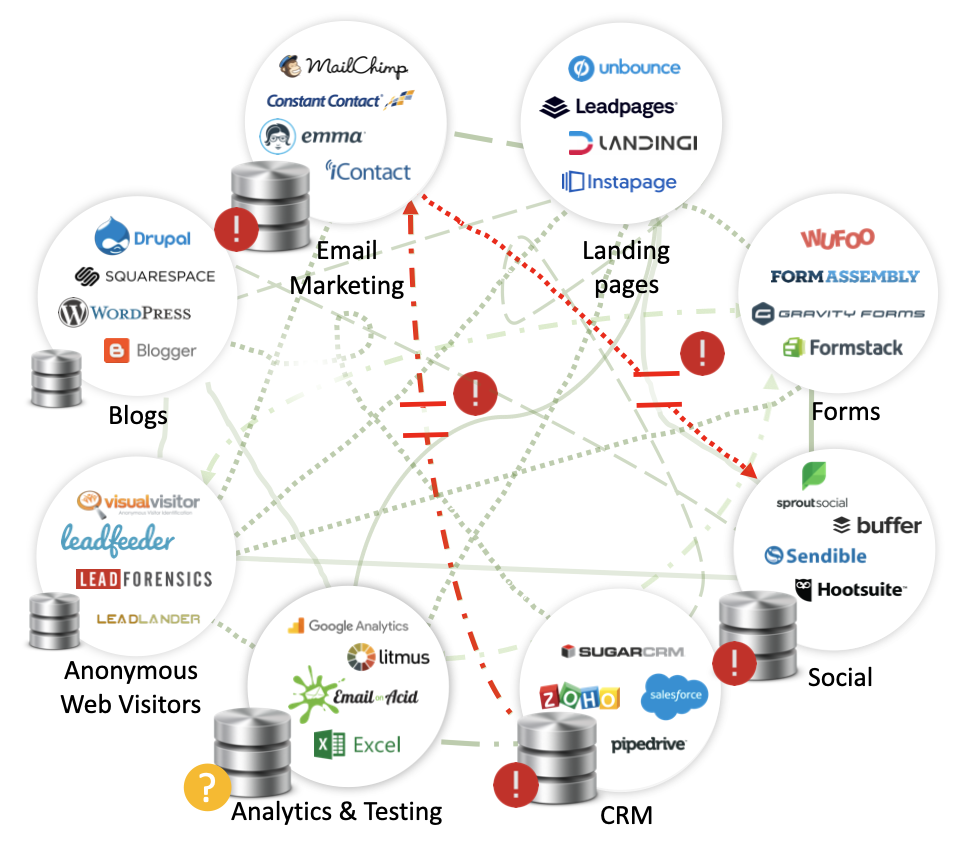 Instead of getting individual tools to help you manage social media, business intelligence,  email marketing, customer relationship management, forms, blogs, databases, you get one interface that does what they can all do.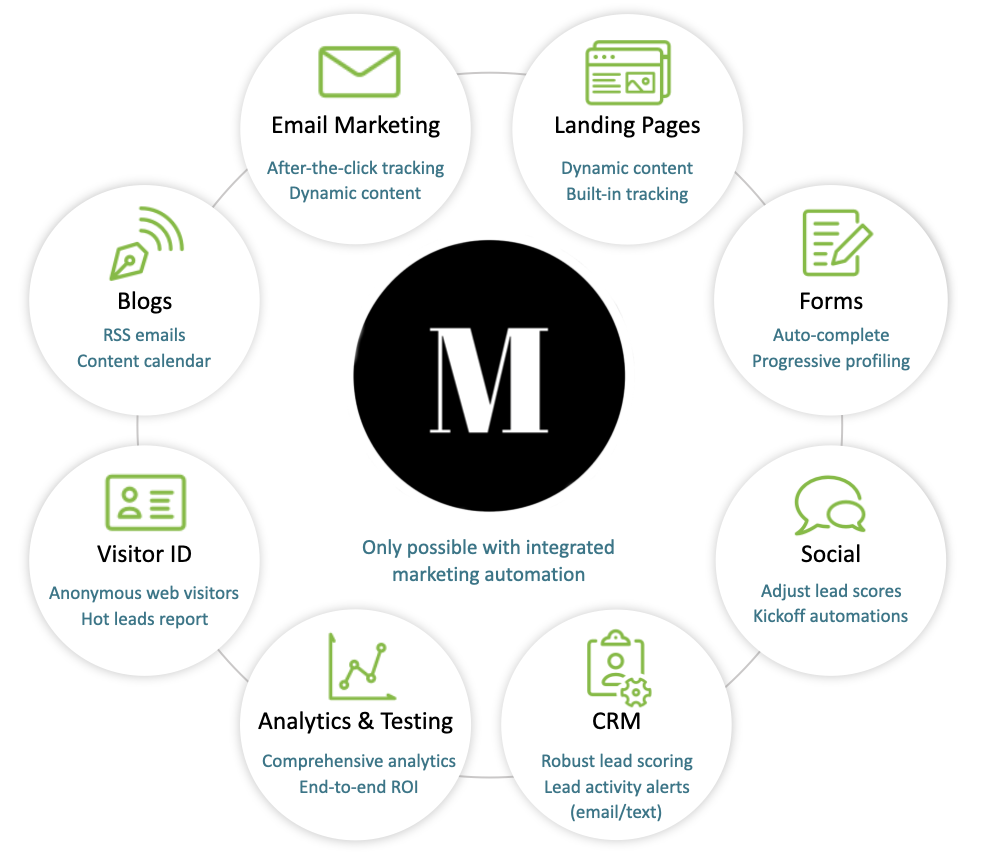 ESP vs. Marketing Automation Software: What's The Difference?
Marketing Automation (MA) vs. Email Service Providers (like MailChimp). This is a comparison of marketing automation's easy-to-learn functions with Email service providers (ESP) such as MailChimp, ConstantContact, and Vertical Response.
| | | |
| --- | --- | --- |
| MA | ESP | Feature |
| x | x | Importing lists of contacts |
| x | | VisitorID for identifying anonymous web traffic |
| x | | Dynamic form fields for building complete contact profiles |
| x | | Third-party and native-form integration |
| x | | Simple CSS adoption to make your forms blend in |
| x | | Automatically connect on social media |
| x | | Qualify leads based on position in the sales cycle |
| x | | Schedule an email to a single contact for future delivery |
| | | |
| --- | --- | --- |
| MA | ESP | Feature |
| x | x | CRM integrations |
| x | x | Easy-to-use email designer |
| x | | Notification sent to the sales team about a lead's online activity |
| x | | Automatically segment your leads based on their behaviour |
| x | | Target messages for near one-to-one communication |
| x | | An illustrated timeline of all emails each contact received |
| x | | Increased engagement and segmented messages |
| x | | Sales process automation and follow-up reminders |
Proving ROI
| | | |
| --- | --- | --- |
| MA | ESP | Feature |
| x | x | Open rate and click through rate tracking |
| x | | ID for identifying anonymous web traffic |
| x | | Build complete lead profiles using dynamic form fields |
| x | | Online and offline monitoring of leads activity |
| x | | Automatic return on investment calculations |
| x | | Sophisticated marketing campaign attribution |
| x | | Sales cycle management |
| x | | Pipeline value and close rate analysis |
CRM vs. Marketing Automation Software
Both CRM and marketing automation software are important tools for a business. These two systems help maintain contact with a prospect all through, from the point of contact until they make a conversion. However, there is a difference between them when it comes to the point of focus.
Marketing automation software focuses on lead generation and lead-nurturing across multiple channels and campaigns. CRM often picks up from marketing automation, analysing the data obtained by marketing automation to facilitate the sale process. Many businesses combine the use of marketing automation and CRM to manage the lead funnel. 
Generate More Leads
| | | |
| --- | --- | --- |
| MA | CRM | Feature |
| x | x | Import CSV files of leads |
| x | | Identify anonymous web traffic with VisitorID |
| x | | Build complete lead profiles using dynamic form fields |
| x | | Create powerful blogs and landing pages |
| x | | Qualify leads based on position in the sales cycle |
| x | | Integrate with native or third-party website forms |
| x | | Schedule email campaigns in advance |
| x | | Get notified when a lead returns to your site |
Drive Sales
| | | |
| --- | --- | --- |
| MA | CRM | Feature |
| x | x | Score leads based on engagement and sales-readiness |
| x | | Gain valuable insights on leads' interests/attributes |
| x | | Receive automatic notifications when leads are sales-ready |
| x | | Automatically segment leads based on their behaviours |
| x | | Send targeted messages for one-on-one communication |
| x | | See a graphical timeline of a lead's interaction with your brand |
| x | | Personalise your email and web content automatically |
| x | | Automate your sales & marketing process with automation |
Prove ROI
| | | |
| --- | --- | --- |
| MA | CRM | Feature |
| x | x | Record deals won and deals lost |
| x | x | Record deal value and customer lifetime value |
| x | | Gain visibility through detailed performance analytics |
| x | | Eliminate wasteful spending practices |
| x | | Monitor lead activity both online and off-line |
| x | | Get automatic results on ROI calculations for marketing |
| x | | Assign marketing campaigns via first and last touch attribution |
| x | | See social media contribution to lead score and value |
If you are looking into Marketing Automation and need to see which vendors are best – please use our handy Marketing Automation Vendor Comparison
These are some of the reasons why a company will adopt marketing automation:
Save time – multiple campaigns can be scheduled way ahead of time and released as per your own settings, therefore working hours can be utilised for other activities.
Efficiency – it provides a streamlined automatic alternative to traditionally manual processes. Time and labour can be reduced, therefore costs can be reduced too.
CRM integration – it can help to make sure that leads don't disappear off the radar after a couple of unsuccessful contacts.
Data collection – automated marketing offers a touch-point to clients or customers that isn't necessarily sales-driven. It can help provide better insight and be used to collect specific data to improve future campaigns or communication.
Multichannel management – whereas it was possibly easy enough to manage a single email channel, now thanks to the multiple channels that consumers can be found on, it's getting harder and harder to keep track of them all. Marketing automation can help you keep tabs on any channel.
Consistency – Incorporating all your marketing efforts in one process can help keep a unified brand tone-of-voice.
Personalisation – automation helps tailor the experience to the user, creating a unique and more inviting experience that's entirely relevant and will more likely lead to conversion.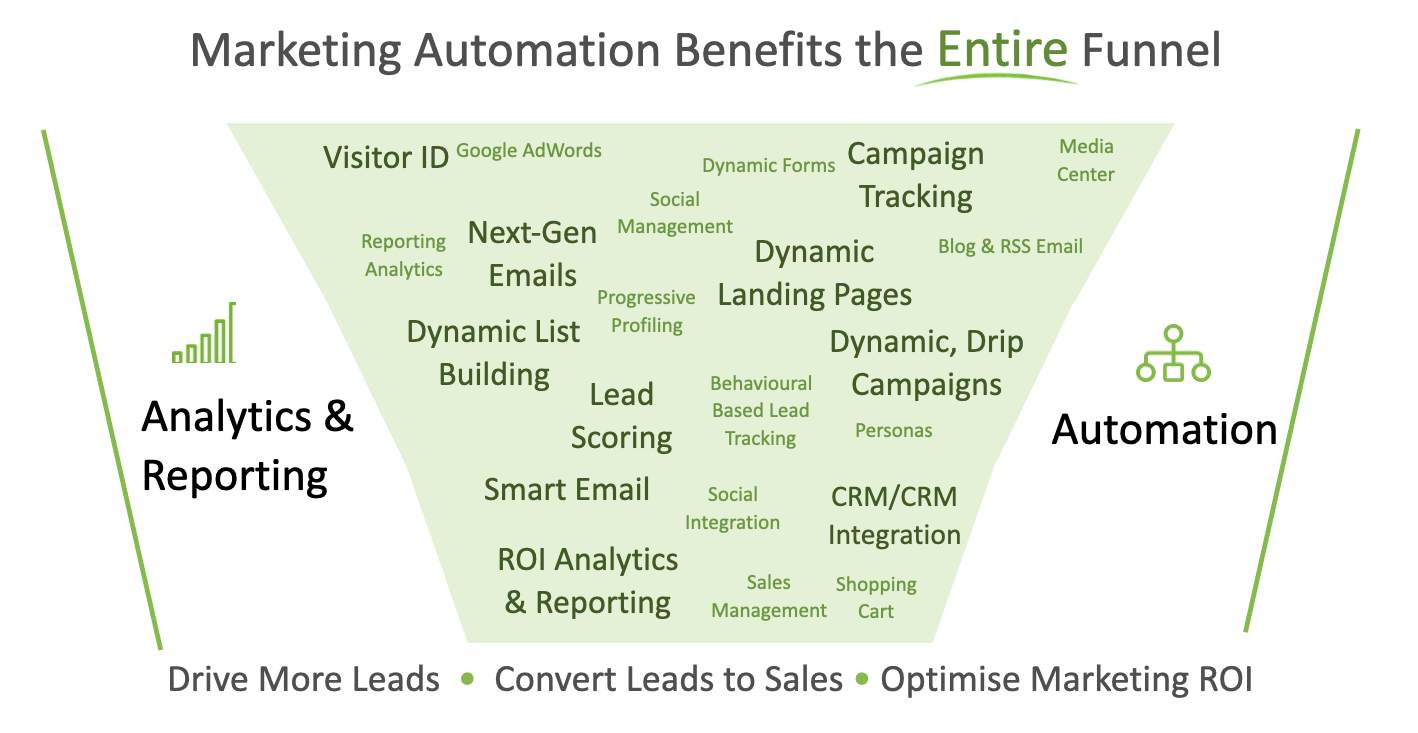 Now that you understand what Marketing Automation Software is and how it can impact your business growth, the best time to implement marketing automation for your business is now. If you'd like to learn more about how you can leverage Marketing Automation to support your business growth in 2022, or you're looking to improve your marketing automation results, feel free to reach out to us at Munro Marketing and request a free trial. Munro Marketing is a SharpSpring Platinum Agency. SharpSpring is a marketing automation platform with a wide range of features and we can help you make the most out of these features in line with your marketing goals.